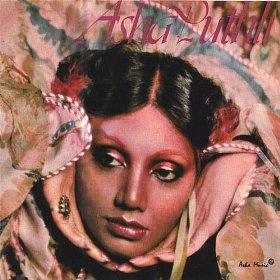 "May I help you?" asked the handsome young man opening the heavy doors to the Museum of Modern Art.
"If you really want to help me, you should marry me," replied the stunning girl eclectically attired in a gold-threaded red midriff-baring blouse and skirt, topped by a fox-headed stole purchased from a thrift shop. It was 1970 and Asha Puthli's year-long student visa was about to expire and she would have to rebound to Mumbai (then Bombay). This vocalist with her unique five octave range had just been discovered by John Hammond, the legendary record producer who had first signed Billie Holliday, Bob Dylan and Bruce Springsteen. And now he wanted to guide Asha. What could she do?
Such was Asha's charm, the young man replied, "Absolutely! I've never seen anyone as beautiful as you." Although he had not been seeking a wife, Asha and the Man from MOMA married and she was soon in a New York recording studio working with Hammond.
While the other well brought up young Indian ladies were headed towards arranged marriages to men of their own caste or careers in medicine and engineering, Asha Puthli was singing with avant-garde jazz saxophonist and composer Ornette Coleman, dancing at Martha Graham's school and appearing semi-nude in a Merchant-Ivory film. Asha was a complete iconoclast and a citizen of the world . She wasn't part of an isolated Bollywood entertainment culture. There were then no internationally renowned Indian or Indian descended actresses like the 21st Century's Freida Pinto, Archie Panjabi, Reshma Shetty, Ashwarya Ray or actress-writer-director-comedian Mindy Kaling. There were no world recognized female authors such as Jhumpa Lahiri, Arundathi Roy or Anita Desai. No Tamil rockers like M.I.A. Or fashion designers along the lines of Rachel Roy.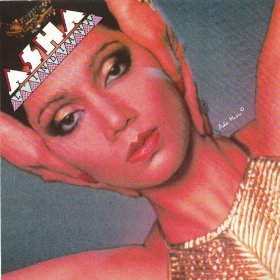 Asha Puthli was to become the first female Indian pop star, vocalizing breathily pre-Donna Summer, implementing her stupefying trills, scats and roars on numerous recordings in various genres and in multiple languages.
The GRAMMY Museum in downtown Los Angeles, through August 31, features a display of albums and wardrobe from the two Indian music-makers they have deemed as worthy pioneer crossover artists: the late sitarist Ravi Shankar...and Asha Puthli. But while, with a little help from his friends The Beatles, Shankar brought Indian music west, Asha transcended national origins.
After working with John Hammond and lending her extraordinary pipes to Ornette Coleman's groundbreaking album Science Fiction, Asha won a Down Beat Critics Poll as Best Female Jazz Vocalist. But Asha didn't want to limit herself to avant-garde jazz. She had trained in opera in India, and in classical Indian singing, taught by Pandit Laxman Prasad Jaipurwalle, but she idolized Ella Fitzgerald and Elvis Presley and was eager to compose and sing contemporary music.
An appearance on a British talk show brought offers overnight from major record companies including Polygram, EMI and CBS. The European media was bowled over by the vibrant witty personality in conjunction with that mesmerizing voice.
Asha, whom I am proud to call a dear friend, explains the significance of the material being exhibited in the GRAMMY Museum. She indicates that on the first CBS album, Asha Puthli (1973):
I was not encouraged to do my own songs. They wanted me glam, more Shirley Bassey than Joan Baez. I insisted upon including at least one of my own songs, just one. They (the CBS record producers) already thought I was difficult because I wouldn't change my name. There is a cognitive dissonance when you have a name like mine.
What did they wish to rename her? "They gave me suggestions like Ann Peters, Ann Powers. I said no as I had already won the Down Beat at that time and had a fan base in India. As Asha Puthli."
She continues, "This cover was shot by Mick Rock, one of the classic rock photographers, formerly David Bowie's official photographer." She describes how she included traditional Indian jewelry (some in the display) on the cover and that the placement of her hands is typical of a classical Indian performer's 'Mudra'. "That's one of my motifs. In all of my albums I've tried using my hands. In Indian dance, we study 'Mudra', the language of the hands." She shows me, with her unusually long expressive fingers, "This is a deer, this is a flag."
She points to an abbreviated top and skirted bottom, a classical Indian entertainer's costume. She notes, " I would fuse these very traditional pieces with more American items. For example, I'd wear leotards on top with this skirt or hot pants with this blouse. Hot pants and boots and tribal stuff." The dead foxes over these traditional costumes, which won her the timely husband, also captured the attention of Diana Vreeland, Andy Warhol and Salvador Dali, all early admirers. She began to streak her then black, now blonde, hair with strips of blue and pink.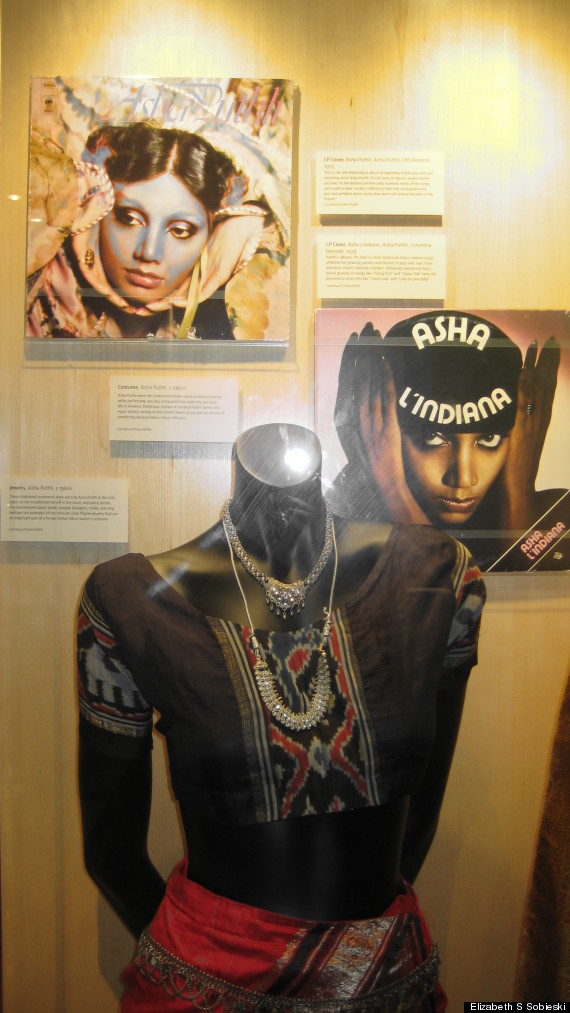 Her purring, giggling, throaty cover of 'I Dig Love' by George Harrison is on this album. Molly Sims once listed it as one of "These Ten Songs Will Make You Dry Hump Your Stereo System."
"Space Talk" (written by Asha Puthli, from her influential Devil is Loose album) has been sampled by The Notorious B.I.G., P. Diddy , 50 Cent and Jay-Z. Asha notes, "That song became a grandfather. It's got its own progeny. Now it's gone into space and aliens are listening to it. " It was sent from Goonhilly, the British Satellite Earth Station to celebrate the 40th anniversary of the moon landing.
There have been twenty-five additional records released by Asha since the 70's, in genres including pop, soul, jazz, funk, electronica, classic Indian music and even one expressly made for young children. She is currently working on a special tribute CD, highlighting the music of the giants of jazz she had the great honor to know and collaborate with: Duke Ellington, Cy Coleman, Lionel Hampton and Ornette Coleman.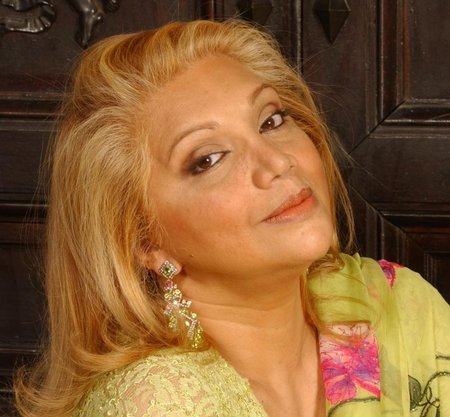 "Grammy Museum Spotlights Indian Music in August," part of I Love LA: Celebrating Los Angeles's Musical Melting Pot series, through August 31, 800 W. Olympic Blvd, Los Angeles, CA
The Smithsonian Museum in Washington presents: "Beyond Bollywood: Indian Americans Shape the Nation" from December 2013-November 2014, featuring music by Asha Puthli.