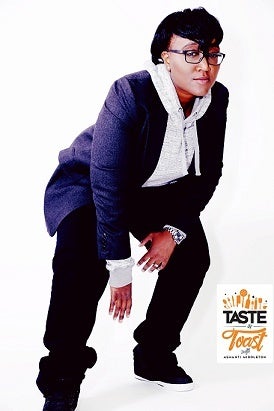 In every episode Taste and Toast, host Ashanti Middleton raises her glass and lowers her fork to review the best foods, beverages, and cocktails at eateries across the country.
She takes viewers into the belly of the feast with a casual style and high-class swagger combination that has won the hearts of foodies from all walks of life!
Taste and Toast speaks to a new generation of socially networked, mobilized, tech-savvy, culturally aware individuals seeking the most adventurous, interesting, culturally relevant, and tasty restaurants around.
Lucky for us, we spoke with Middleton on location in NYC while she was shooting Season 2 of TASTE AND TOAST and got to ask our readers favorite questions:
What is your favorite word? Ummm...juxtapose lol
What is your favorite color? Purple
What is your favorite city? Vegas, definitely
What is your favorite season? Spring and Fall
What is your astrological sign? Cancer
Who has been the most positive influence on your life? My 3 nieces, Aiyana, Britnay, and Kaylah
What trait do you find most attractive in other people? Hmmm....I would say their kindness
What is something most people don't know about you (Hobby, Favorite TV Series you never miss or Film you have seen many times or Secret Talent)? I can speak (almost) fluent Spanish
What inspires you creatively? I would say David Bynoe, my fake little brother, has inspired me the most creatively. He's an actor and Production Assistant. He's also my photographer and Second DP.
Favorite curse word? Lol, probably mutha*****
What sound do you love? Secretly, ASMR whispers 👀
What is your favorite food? I love me a good medium-well steak and garlic shrimp dinner
What is your favorite beverage? Hennessey neat, with ice, or in a cocktail, hands down. I loveee it.
Career plan B? A Music Industry Executive of some sorts.
Definitely time to raise a glass and fill your plate at:
REAL LIFE. REAL NEWS. REAL VOICES.
Help us tell more of the stories that matter from voices that too often remain unheard.
This post was published on the now-closed HuffPost Contributor platform. Contributors control their own work and posted freely to our site. If you need to flag this entry as abusive,
send us an email
.