It's never any fun when police officers show up to your Fourth of July party. That is, unless giant waterslides are involved.
Officers Carrie Lee and Joe Jones of Asheville, North Carolina, took a ride down a homemade slip-and-slide on Sunday after responding to complaints that the slide was blocking the road, according to the Charlotte Observer.
The officers reported to the block party to assess the danger, but once they determined there was no problem, they decided to join in on the fun.
"The first thing I said [was], 'I'm not here to come break up your fun,'" Lee said she told partygoers, according to a video tweeted by the Asheville Police Department.
That's when Lee made the call to ride down the slide, which was built on a hill in the neighborhood. According to the officers, Lee put on a trash bag and scooted herself down the water slide.
"When the female officer asked for a garbage bag, we almost didn't believe it. But she took off her radio and went for it!" Katlen Joyce Smith, a resident who was at the party, told ABC News. "They told us to have a great day, posed for some pictures and thanked us for the fun!"
Knowing he couldn't fit in a trash bag as easily as Lee could, Jones thought their mission was complete. Then the neighborhood kids brought out a large inflatable raft.
"I'm too big to fit in a trash bag so I was like, 'I'm getting out of it,'" Jones explained. "But then the kids pulled out this big raft, and so I had no choice."
Jones took his place in the raft along with a neighborhood kid and, with more weight, the two slid easily down the hill and landed in a small pool.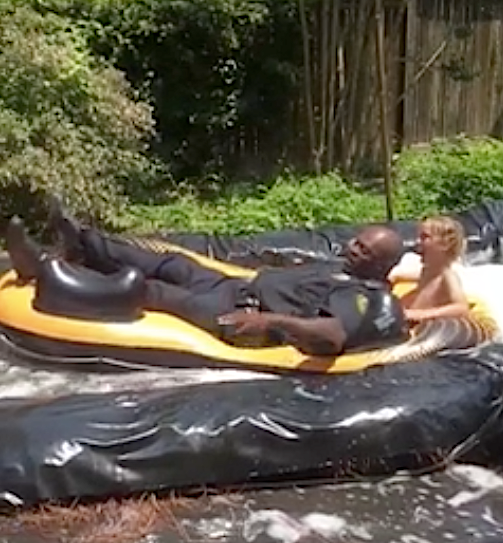 Jones' splash landing ended up being the most memorable one of the Independence Day weekend.
"He was the only one that made it all the way from the top to the bottom," Travis Eagledove, the resident who filmed the video, told ABC News. "It was the best slide from the three days of it being there."
Ashville Police shared the moment on Facebook on Monday with advice for other law enforcement officers.
The department wrote on Monday: "When it's hot...and your [sic] responding to a street complaint...and there's a fun way to cool down...you take advantage of a giant slip and slide."
Popular in the Community