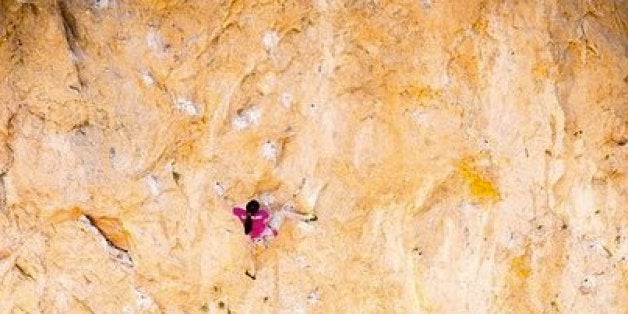 A 13-year-old girl may have made climbing history by ascending what could be the most difficult route ever completed by a female.
"I was really excited and happy," Ashima told The Huffington Post via Skype.
She says she was surprised by how quickly she scaled the route after days of practice and planning.
"For every hard climb, especially Open Your Mind Direct, the hardest part is the mental game," she says. "I've worked through all the moves, I know I can do each move. But doing each move all together [is a lot harder]."
The wall is tough on her hands, too:
Still, there's some ambiguity about the difficulty of the climb Ashima scaled. American climbers rate routes according to the Free Climbing Yosemite Decimal System, which ranks climbs from 5.0 to 5.15. Here's a breakdown of those categories from Mountain Madness.
5.0-5.7: Easy for experienced climbers; where most novices begin.
5.8-5.9: Where most weekend climbers become comfortable; employs the specific skills of rock climbing, such as jamming, liebacks, and mantels.
5.10: A dedicated weekend climber might attain this level.
5.11-5.15: The realm of true experts; demands much training and natural ability and, often, repeated working of a route.
The 5.15 category contains even more subcategories, marked by letters. The climbers who tackle these insanely difficult routes reach a consensus on whether a route is a 5.15a, b or c.
Climbing blogs and websites note the Open Your Mind Direct route that Ashima scaled has become harder since a key hold broke off. It hadn't been climbed since then, so the climbing community hasn't reached a consensus on the rating of 5.15a.
"We will know [the difficulty] eventually, but it may take time," explained Parker Alec Cross, the outdoors photographer who traveled with Ashima and her father to Spain.
Either way, it's an amazing achievement. After all, Ashima is the youngest person ever to climb the route and perhaps the first female to complete a 5.15a climb.
Ashima, who said she celebrated with ice cream, announced her victory on Instagram.
The achievement was also hailed by her sponsors.
"Obviously it's an incredibly impressive ascent, to be pushing the limit of what a woman's done, but what makes it really impressive is that she's going back to 8th grade," Justin Roth, of climbing brand Petzl, told HuffPost.
"Ashima's focus and can-do approach, at such a young age, is an inspiration to everyone," The North Face's Katie Ramage added.
Ashima grew up in New York City and trains at the Brooklyn Boulders indoor climbing gym. The daughter of Japanese immigrants, she first began climbing at age 6, clambering up boulders in Central Park.
Ashima says her father, who stretches with her, uses his past experience as a dancer to help her overcome her nerves. "He knows a lot about preparing yourself mentally, getting yourself focused and relaxed," Ashima told HuffPost.
So, how does she feel about perhaps being the first female to climb a 5.15a route?
"I think that now it's not always the guys that are pushing the limits; it's also girls who are strong and focused and inspired to climb," she said with a shy smile.
Calling all HuffPost superfans!
Sign up for membership to become a founding member and help shape HuffPost's next chapter
BEFORE YOU GO
PHOTO GALLERY
42 Fierce Halloween Costumes For Girls