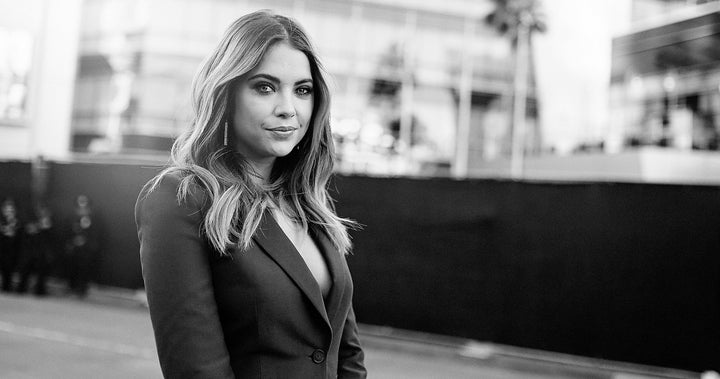 Happy New Year from Hollywood: Here's a new story about casting directors doling out abusive remarks about a (perfectly healthy and attractive) actress' body. 
Ashley Benson, the former child actor and model who plays Hanna Marin on Freeform's (formerly ABC Family's) "Pretty Little Liars," revealed in an interview with Ocean Drive that she'd recently been told she wasn't skinny enough for an unspecified acting role.
"I'm a size 2! I cried for 30 minutes," she told the magazine. "But then you have to let it roll off your shoulders or it could cause a serious eating disorder." 
"A lot of people in this industry hear they need to lose weight more times than they should," she continued. "It does make you stronger, though. Because if you let that affect you, you can't be in this industry -- you'd go crazy." 
Benson, 26, tries to keep things in perspective. Far from new to the image-obsessed world of entertainment -- she signed with Ford Models at age 8 -- this isn't the first time Benson has voiced criticism of the industry's impossible standards. In 2013, she commented on a "Pretty Little Liars" ad on her personal Instagram, writing, "We all look ridiculous. Way too much photo shop [sic]. We all have flaws. No one looks like this. It's not attractive." And last fall, a photo of herself covering up facial blemishes garnered over 400,000 Instagram likes.
Benson explained that she likes showing off undoctored photos because she wants "to show people I'm not perfect -- no one is."
"I hate to think that girls are like, 'She's so skinny! Her skin is so perfect!' I have pimples just like they do," she said.
While more women in Hollywood are speaking out about the industry's sexist image standards like Benson has, Oscar-winner Jennifer Lawrence noted at Comic-Con in San Diego that only the biggest stars in the world have the power to score new roles without conforming to a mold. 
"Once you get to a certain place [in your career], people will hire you," Lawrence said.
It's telling, though, that even a star like Benson faces pressure to lose weight based on some odd casting director or producer's idea of beauty.
For more on Ashley Benson and the new season of "Pretty Little Liars," head to Ocean Drive.
PHOTO GALLERY
The Best Celebrity Photos Of 2015
REAL LIFE. REAL NEWS. REAL VOICES.
Help us tell more of the stories that matter from voices that too often remain unheard.