Co-authored by Ellen Dobbyn-Blackmore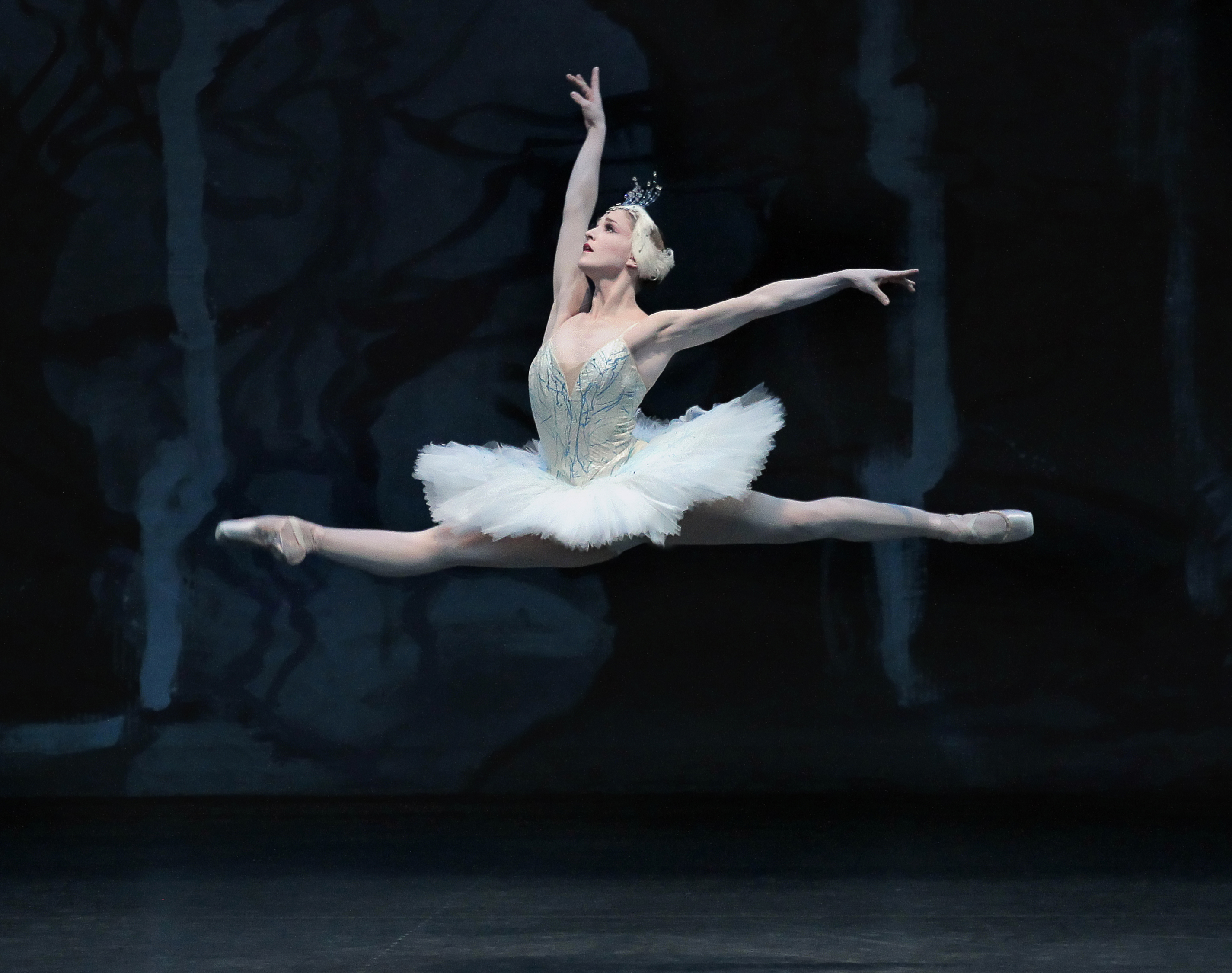 Ashley Bouder, White Swan in Peter Martins' Swan Lake, photo by Paul Kolnik
Taken individually, each component of Ashley Bouder's physique can be bested by another dancer in New York City Ballet. There are dancers with more perfect looking feet, many can get their legs higher and others conform more closely to the ideal proportions of a ballerina. She knows herself that she was not given a perfect instrument. Nonetheless, Bouder is perennially one of NYCB's most popular dancers. Certainly it's true that she's probably the fastest dancer in the company but that's not what makes her so popular. It's her happiness. She radiates her ecstasy in dancing from the stage. She combines that joy with a particularly effective musicality that seems to leave her hanging in mid-air half the time. Ashley Bouder is by far my personal favorite at NYCB so I leaped at the opportunity to watch her rehearse Swan Lake with Andrew Veyette and then picked her brain afterward. The following is our condensed and edited conversation.
Andrew Blackmore-Dobbyn: Beyond the fact that everyone classifies you as an allegro dancer with the jumps and the turns, I like the way you use music.
Ashley Bouder: I get a lot of corrections for rushing. I will take off and speed up so that I can hold something or jump higher later. I don't hear that I'm doing it. Then I get the correction -- you know you're rushing that? And I say, you didn't let me get to the end of it... I was going to hold it.
I've noticed that you're more active on social media than other dancers.
AB: I think it's extremely important. People aren't reading magazines anymore. People now want to connect with you personally instead of having that barrier. I've talked to a lot of people about this divide between the stage and the audience. I think there are older patrons who think that ballet should still be ethereal and untouchable and then there's a younger generation that thinks that's an elitist attitude. The only way they'll come is if they have a personal connection with the person or whatever it is that they're seeing. That's why I'm so active on social media.


On Arriving at the Mid-point of her Career:
When I watched you performing last spring I thought, here's a dancer who is at the absolute peak of her career and I wondered, where do you go from here?
AB: Down! (laughs) There's tons of stuff left to do here that I haven't done. It's come to that point where I have to break out of the stuff that I'm doing and try new things.
When I was watching Serenade last season, I thought, dancers come into this company (or any other company) and they get typecast or there's a decision made. You're this kind of dancer... you're the Russian Girl type of dancer... when, really, you could dance any part in that ballet.
AB: I've broken out of that in certain ballets but there are others where I haven't. You can't change someone's opinion of your dancing. If they think that you should be doing this role it's really hard to convince them otherwise. When there are other dancers who naturally do that type of dancing and they're standing right next to you, they're obviously going to get picked. It's hard. You have to fight for it.

You seem like you're not reluctant to assert yourself.
AB: I've been a principal for eight and a half years and there comes a point... I know I'm not going to be able to jump forever and I know my technique is going to slide at some point and I have to start adding other kinds of roles to my repertoire. Otherwise I'll find myself with nothing to dance because I haven't begun the change. I have to start searching now.
So you're planning for it already?
AB: Yes. I don't know when my jump is going to end. I could have a serious injury tomorrow and lose it. I'm almost thirty. It's time to change into a different type of dancer if I want to last until forty.
On Swan Lake -- Black and White
On September 18 and 21 Bouder will be dancing in Swan Lake. It's a ballet that plays to her strengths and tests her weaknesses like no other. There is no one dancing today who does Odile, the Black Swan, better. It goes to her strengths as a dancer of blistering speed and crackling energy. The surprise is the newfound lyric beauty and exquisite control of her Odette, the White Swan.
You seem to have a pretty clear idea of what it is that you should be doing.
AB: Well, I've made a lot of mistakes and I've had a lot of time to think about it. It's been seven years (since her first Swan Lake).
Do you look at a lot of video?
AB: I have in the past. Now I think I have to let them all go because you start copying things that aren't right for you. Now I've seen every single version there is and I need to decide what I would like to do with it. When I keep watching it I get this thing in my head that's maybe not suited for me.
Your White Swan port de bras is a lot less fluttery than other versions.
AB: I don't do it because on me it looks harsher. I think, because I'm smaller I look like a little bird when I do that. I have to do bigger, sweeping movements in order to look like a big swan rather than say, the Firebird. It's the way for me to look like the character because of the difference in my body.
There's a lot of speed to NYC Ballet's Swan Lake as compared to other companies.
AB: I think it's just a different energy that we bring. I think other productions are too slow. For a dancer like me who doesn't have long legs and huge extension, if it's too slow, it's hard for me to fill out the music and it won't be as beautiful as someone who has that type of body. If you watched Lucia Lacarra do White Swan, she could be standing in arabesque for thirty-two counts and you'd still watch it because it's that beautiful. I don't have that same ability. Many of our dancers here don't have that. We're not chosen for that body type.
Your coda for the White Swan pas de deux... that was amazing. I couldn't believe how fast it was, especially the piqué turns.
AB: That was really fast today. I'm really dizzy at that point. I can't see anything. Not a thing.
I thought your control in rehearsal of those double ronds de jambe (in the second act variation) was extraordinary. You're coming down off pointe with such control.
AB: I had an amazing rehearsal last week with Darci Kistler. We were practicing that step for a very long time. She taught me a completely different way of doing it. It completely changed my whole concept of it. I was doing the rond de jambe before the relevé and I was doing it en dedans. She told me to come through first position and do it (the rond de jambe) on pointe and en dehors. I was doing it backwards. When you do it inside you come off your foot. You don't have those upper seat muscles engaged when you're going it en dedans.
What has been your biggest evolution in Swan Lake since your first performance?
AB: I'm more confident even though it's still hard. I think carrying the story the whole way through is easier now. I understand it more and I'm more into the character. I'm calmer. I was totally freaked out the first time doing the second act. People are not helpful sometimes. You know that the second act is not your thing and you know that it's hard for you and then people tell you that and it's like, "Thank you!" It gets stuck on your head, this is not your thing, this is not your thing, and then you're standing backstage in a white tutu thinking, this is not your thing.
In rehearsal, Susan Hendl was saying that your line was looking so much longer -- what are you doing differently?
AB: This is something that Susie and I have been working on for years. In Theme and Variations and Tschaikovsky Piano Concerto No. 2, because I'm short and strong, I tend to hold things close to me, like my arms, it makes them look short. They're not. Actually I have long arms. By elongating my arms I get a whole different look in the chest and it's in the demeanor when you're not doing anything. We've just worked on extending through the whole body for years now.
Other Dancers:
Who do you see that really excites you among dancers in other companies?
AB: My favorite is Diana Vishneva right now. Absolute favorite. I love her artistry. I just got to dance with her in Japan and watch her backstage which I had never been able to do before. It was incredible. I love Aurélie Dupont, but she's at the end of her career. A lot of my favorite dancers are now leaving.
Who have you partnered with outside of NYC Ballet?
AB: David Hallberg, Denis Matvienko, Marcelo Gomes, James Whiteside, Joaquin De Luz... ironically I don't partner with Joaquin here... Daniil Simkin, Sascha Radetsky.
Out of them, which one gets the best performance from you?
AB: Denis is really fun. I mostly do galas with Joaquin. I did Giselle with Robert Tewsley which was really nice. I really like dancing with Marcelo, though.

Personal Sacrifice:
Bouder knows better than anyone that getting to the top requires sacrifices. Many dancers with abundant talent never make it to the top because of a little bad luck, an injury, a lack of drive or an unwillingness to make the necessary sacrifices. Compared to other companies, NYCB dancers are on stage more frequently and their repertory is probably the most technically demanding of all in terms of speed. Getting injured is a fact of life. Bouder worked through injuries to keep her repertory and stay on track to make principal. She is cognizant of what it has cost her but has no real regrets.
Capitalizing on Her Opportunities
AB: I would say that I wish that I hadn't pushed my body so much and had so many injuries but I feel like, especially in a company like New York City Ballet, being injured because we do so many things, you lose a lot of opportunities really quickly. There are so many ballets that come around and there are limited windows of opportunity to get into things and they're mostly based on other dancers' injuries, or who's retired or left the company, and I got a lot of my opportunities because of dancers who had injuries and I got thrown into things at the last-minute.
AB:I tore my hip right when I got promoted to soloist before my first Sleeping Beauty and my physical therapist and the doctor didn't want me to do the shows and I was like, No! This is my first Sleeping Beauty and I can't pull out! I'm not going to get the surgery and I'm going to push until I get to principal because if I don't do it now I might never get there. I've seen it happen in other companies too. I'm really glad that I pushed through to principal because I felt like my opportunities were coming and I was having many successes and stopping would have taken everything away. I regret that I've had so many injuries but I don't regret pushing as hard as I did. I'm going to pay for it. I'm already paying for it. I have arthritis in my back already.
Do you have any regrets about the things you had to give up to be a ballet dancer?
AB: Not really. When I was eighteen I didn't know what I wanted to do anyway. If I hadn't had ballet I would probably have ended up going to college and majoring in something that I didn't really care about. It took me a long time to decide what I actually liked. I don't think I was equipped with the knowledge of myself to figure out a career path besides this. Now, I'm back in school and declaring a major in college, political science. I would never have picked that at eighteen or even twenty.
Ashley Bouder is that rare dancer who makes the most out of her strengths and works uncompromisingly hard to minimize her weaknesses. Where once she was notable for falling during performances, that is now a thing of the past. She has spent countless hours working to lengthen her line and become a softer, more lyrical dancer. Her strength of spirit is as infectious as her tremendous lightness and ability to take off like lightning in even the hardest of Balanchine's ballets. At this point in her life, she is at the top of the dance world and every performance of hers is an opportunity for us to see an artist who has made the absolute most of her gifts. The complete package that makes up Ashley Bouder the ballerina is never less than a thrill to watch.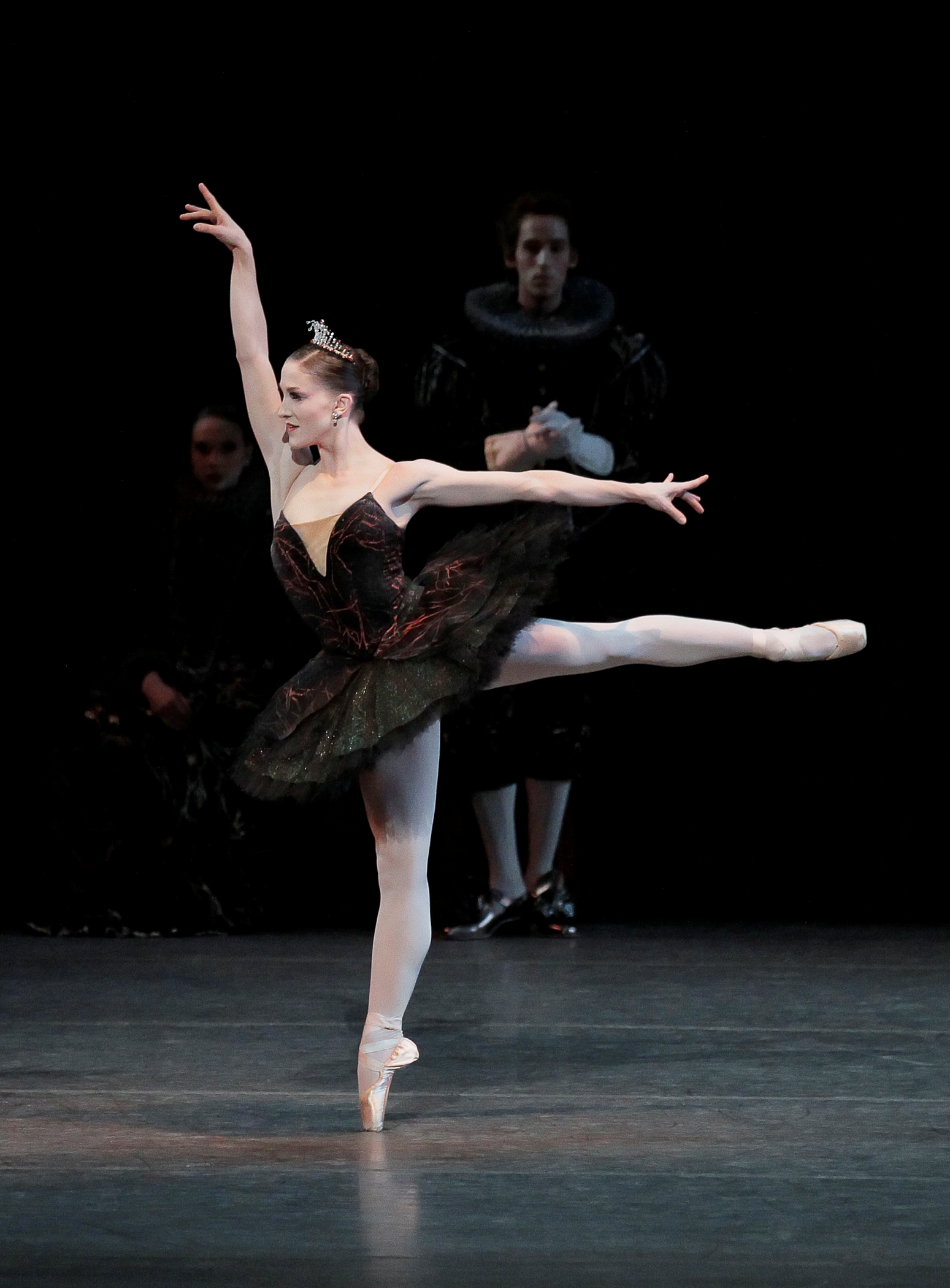 Ashley Bouder, Black Swan in Peter Martins' Swan Lake, photo by Paul Kolnik
Related
Popular in the Community