Ashley Bush is a young member of an old American family. She is the granddaughter of former President George H. W. Bush, niece of former President George W. Bush, sister of fashion model and FEED founder, Lauren Bush Lauren, as well as sister of Pierce Bush, Vice President of Development for Big Brothers and Sisters Lone Star. Although Ashley comes from a well-known family, she holds her own when it comes to the scale of success she has managed to achieve at such a young age.
Ashley was co-creator of the web series, Route By Route, which journeys into the worlds of what drives successful women entrepreneurs in the United States. She is now working on a documentary of the famous flower show in the small town of Tyler, Texas under Stick Figure Productions. And later this month, Ashley plans to travel to Saudi Arabia and Israel alongside my teacher Rahilla Zafar to embark on a journey of cultural understanding while building on her research of powerful women at a global level. I was granted the wonderful opportunity to interview Ashley for my entrepreneurship class.
I began our interview by digging deeper to the roots of Ashley's passion of storytelling. She claims that her love of storytelling comes from her desire to know what makes people "tick," meaning she always wants to know more about what drives people to be the way they are. Ashley believes that it is storytelling that improves a community and each community needs a storyteller, as it is important to the past, present and future of every society. Starting from a young age she would always make videos with her best friend, creating their own worlds and stories. As she grew up, her love for journalism grew whether she was expressing it through words or images. Through her past experiences she has found that film journalism tends to reach a different audience than other forms of journalism, which is why she finds that using visuals in her work can be so powerful.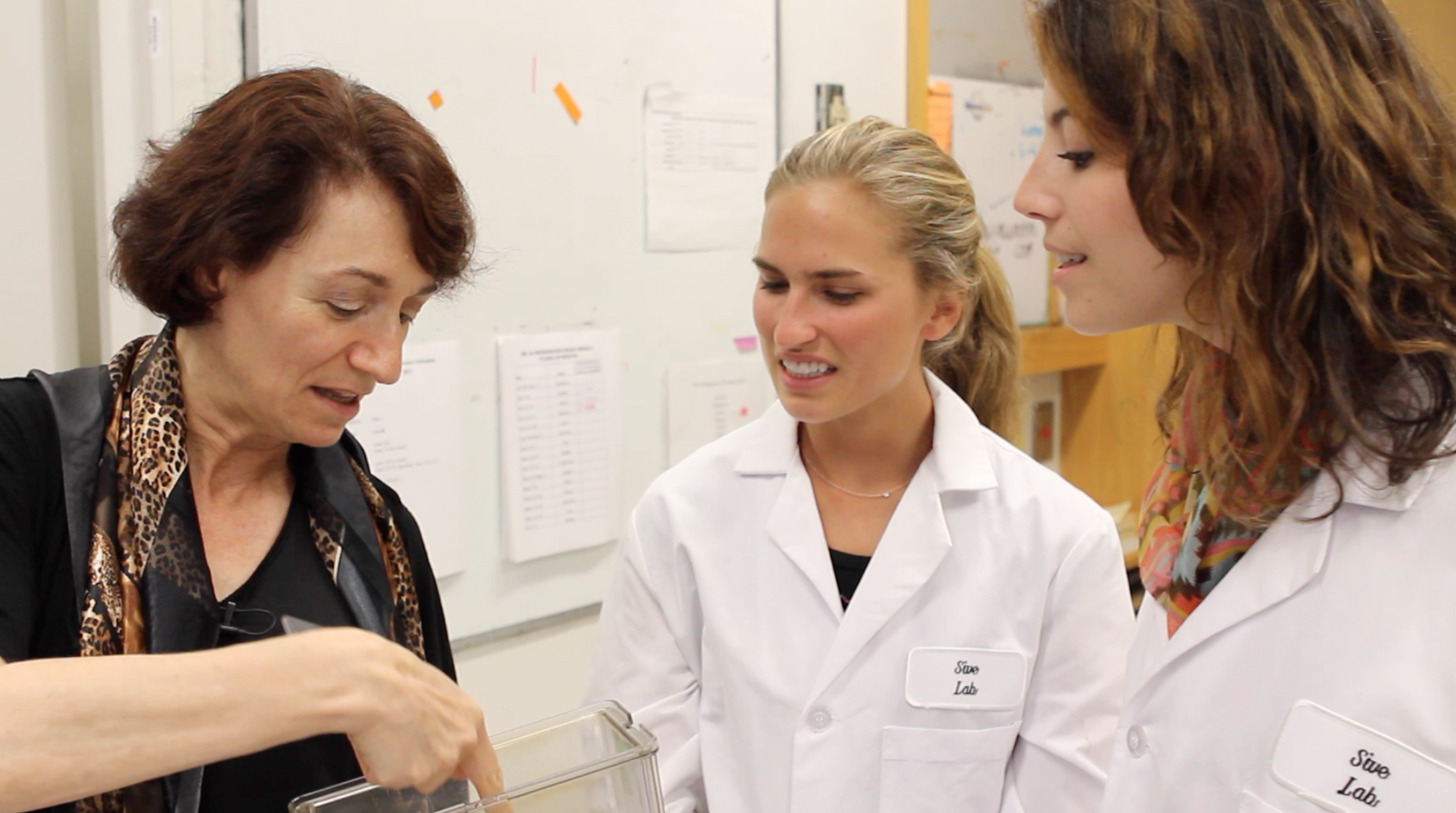 "My friend and I interviewing an MIT scientist, Professor Hazel Sive. She joined the faculty 20 years ago, when females were a rarity. Now she is the Associate Dean of the School of Science."
After graduating from Barnard College, Ashley and her classmate, Raffi Sapire, started a web series that showcased the lives of working women in the Northeast. They traveled around the region searching for women who were particularly passionate about their work and dug deeper into what makes these women love what they are doing. Through their research, Ashley and Raffi were able to hear about the struggles and successes of the different entrepreneurs and truly understand what it took for these women to make a business. The young journalists started this series because they felt that the world needed more female stories to be told, and what better way to do it than through female storytellers? Ashley said that she came out of this experience more inspired than ever. She states that "seeing and understanding how various women juggle their careers and their homes has been extremely inspiring and empowering. From entering various women's lives, I've been lucky to see firsthand examples of amazing women breaking society barriers and making it work."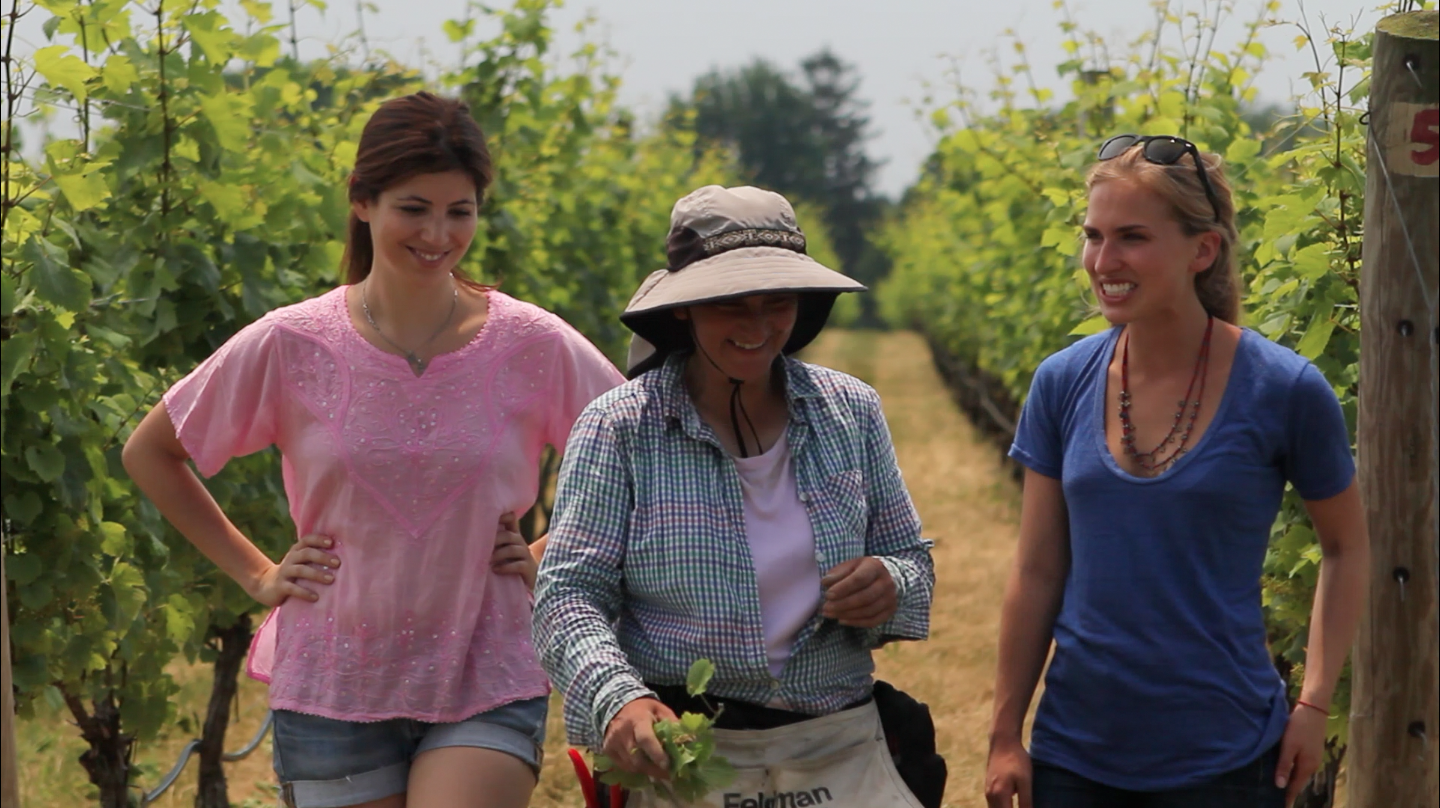 "Raffi and I interviewing a winemaker, Claudia. We learned that she was the only female in her Long Island area who solely owned her own winery. Claudia spent 12 hours plus in the field tending to her grapes."
Presently, she is a producer for TV and film at Stick Figure Productions. For the television aspect of her job, she is in charge of production coordination. Ashley is the person who makes sure that everything needed to shoot is ready before the production kicks off. As far as her position in film production goes, she is currently working on a documentary in the small town of Tyler, Texas. Ashley is part of a team that is researching the 80-year-old tradition of the flower show that is held in Tyler and working through the energy that is put into the show and the experience that comes out of it. She told me that she was excited for this project because small towns fascinate her in the way that they are so unique. However, there were still some challenges that she faced when working on the documentary. As an unscripted film, it is difficult to predict what people will say and how certain situations will end up. Nonetheless, this experience has been one that Ashley was proud to put work into.
Ashley and I spoke about her upcoming trip to Saudi Arabia and Israel for an excursion unlike no other. She is traveling with the Ibrahim Leadership and Dialogue Project, a program that helps to spread knowledge about cultures of countries in the Middle East through personal interactions. She also plans to meet some entrepreneurial women from whom she can learn the ways in which they have broken the mold for traditional Middle Eastern women and have ventured into their own entrepreneurial conquests. Ashley is very excited about this trip and hopes to come out of it with a deeper understanding of Middle Eastern cultures. She is also excited to learn about the unending drive of inspiring women from this region.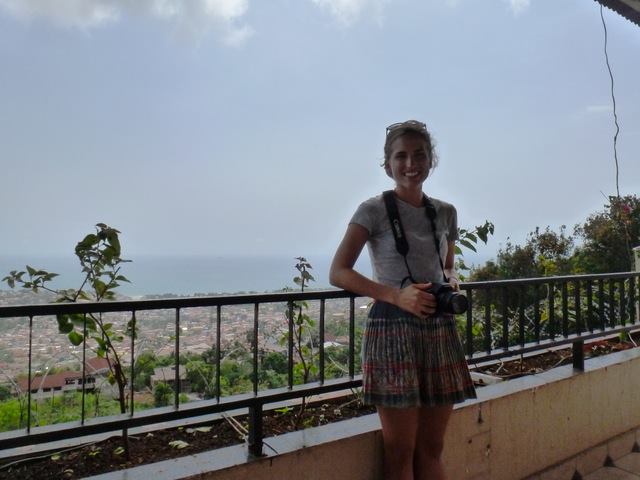 "Me in Sierra Leone. I went to Liberia for three weeks last May to document the progression of women in Liberia. The first time I went, two years ago, I wrote this piece, and then I went back with my camera to capture the women the following May."
Learning about Ashley's life was very intriguing to me. As someone who wants to become a writer and storyteller, I found it interesting to learn about her path to success and what inspired her to do what she does. By talking to Ashley, I realized that it is better and easier to write about something that you believe in, as opposed to what the outside world may believe. She chose to produce pieces about women and their careers because that is what sparks her interest. She has inspired me to write more about what interests me, such as traveling or foreign cities, as I embark on a future in storytelling. Also, through my interaction with Ashley, my mind was opened to different types of journalism that I had not thought about before, such as film. I was fascinated by the skill and time it takes to produce a film piece and attracted to the idea that it touches a whole new audience. Needless to say, I was truly blessed to have the opportunity to interview such a successful woman as Ashley.
Popular in the Community