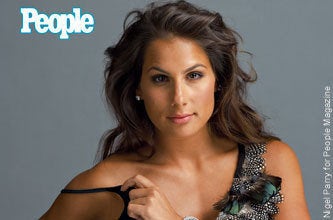 She was the tabloid sensation at the center of the sex scandal that brought down New York Gov. Eliot Spitzer. But in her very first interview, Ashley Alexandra Dupré tells PEOPLE, "I am a normal girl."
"Everyone knows me as 'that girl,' but I'm not just 'that girl,' " the 23-year-old former escort says in the new issue of PEOPLE, on sale Friday. "I have a lot of depth, a lot of layers."
Enduring a media spotlight that included seeing her MySpace photos splashed on front pages "has been really hard," the New Jersey native explains. "But I'm a survivor."
Her descent into tabloid mayhem began the night of Feb. 13, 2008, when Dupré - who had worked as a high-end escort to help pay the bills on and off since 2004 - met a client who turned out to be the Governor of New York.
Dupré claims she had no idea who the man was that night, recalling that he was a "polite" client who didn't want a lot of chit-chat. In fact, she didn't find out who he was until March when, just days after learning she was mixed up in some sort of FBI investigation, she saw the Spitzer apologizing on TV. "It was surreal," Dupré says of seeing the client she had met a month before. "I felt like I was sinking."