Ashley Graham is currently leading the movement to shift perceptions of beauty in the fashion industry and beyond, so it's no real surprise she has something to say when the subject of size comes up.
Graham is Cosmopolitan's August cover star, looking absolutely stunning in an Ashley Stewart bodysuit (it's still available for just $26.50, thank-you-very-much). But inside its pages, the supermodel spends part of her interview talking about a different magazine completely.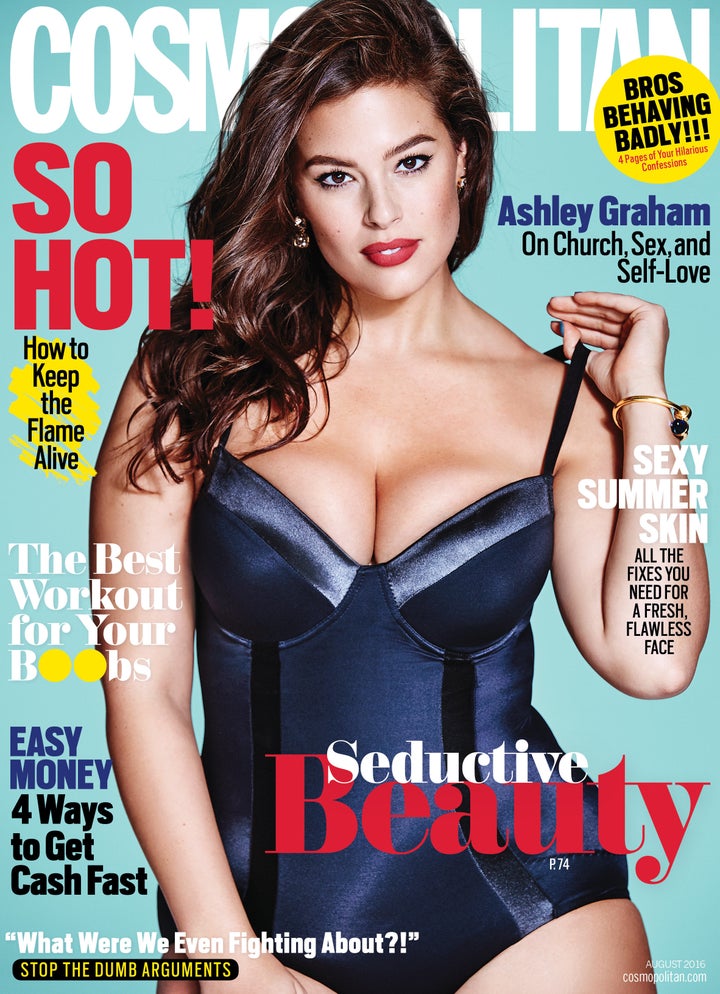 Schumer argued that including her in a plus-size issue (without asking or telling her first, she noted) was "not cool" because it could have a negative impact on how her young fans view their own bodies. Schumer, who pointed out that her size runs "between a size 6 and an 8," is certainly not considered "plus." Glamour editor-in-chief Cindi Leive later clarified that the magazine was not labeling Schumer as plus, but rather grouping her in with "women that inspire us" thanks to her "completely hilarious and constant, consistent message of body positivity."
Graham told Cosmo she felt Schumer's public response to being included "felt like a double standard."
"I can see both sides, but Amy talks about being a big girl in the industry," she said. "You thrive on being a big girl, but when you're grouped in with us, you're not happy about it?"
When it comes to labels in general, however, Schumer and Graham are on the same page. Schumer said later that what she learned from the experience is that "we don't need these labels. We don't need 'em."
"Just because I'm not calling myself plus size doesn't mean I'm not representing a woman who is… I'm giving curvy women a seat at a table that we've never been invited to before ― a table with high-end fashion people who have never considered us beautiful," she told Cosmo.
And in case you were wondering if the comments put a rift between these two equally inspiring women ― don't. Schumer responded to Graham's comments on Thursday, explaining that she "totally understands" her feelings.
Head to Cosmopolitan to read more, or pick up a copy when the new issue is released July 12.