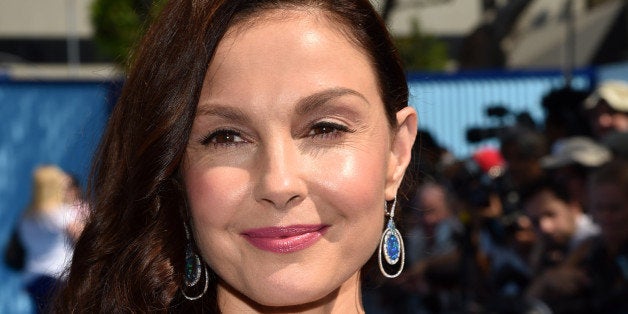 Recently Huff/Post50 had the opportunity to chat with actress and humanitarian, Ashley Judd, 46, about her experiences with caregiving. Judd spoke about her "adopted" grandfather's struggle with Alzheimer's disease, how she coped during his final days, and why you should consider long-term care planning.
On her "Papaw's" battle with Alzheimer's
We have a beautiful, functional intact family of four adults within 20 minutes of the home in which they were raised. He and the whole family really needed that home healthcare which was used robustly for two years. It's not just for families with adult kids far away. It just gave a quality of life to Papaw. He was in his own bed; in his own recliner he used the same remote to watch evening shows and still got the paper on his porch. Whether it was fall season for the grandkids' baseball or trick-or-treating, he could stay a fully integrated part of the family.
Mennie (his wife of 50 years) was able to continue to work, to do some traveling and engage [with her] social network, and have her own self-care intact. Therefore she was less exhausted. She has a really strong faith, loves to get up and do readings… and so that part of day is integral for her. She had the nurse come and do morning stuff with Papaw.
On women as caregivers
Caregiving is quite gendered. It disproportionately falls on girls and women… and that could be because of expectations, family structure or employment. We bear a lot of the emotional responsibility as well. I think it's in our best interest to have the awareness and take some action to plan for it. If women are also disproportionately responsible for childcare and child minding, we're looking at caring for older as well as caring for younger people simultaneously. There's only so much one person can do.
On taking care of herself as a caregiver
I was with my family for the last couple of weeks and made the transition with them. I was in bed with him at home, sleeping with him, and he died in my arms.
I had my own support. I had my own pastoral care, where I had people within my family with whom I could visit. I also made sure that I had my own emotional support network.
Exercise was mandatory. I felt like it was hard to peel myself away. Even if we were just sitting there watching 'Wheel of fortune,' I would feel like I just wanted to stay put, but I made a promise to myself to exercise every single day. So sometimes I did yoga right there watching!
It was also really important to leave the house, go for a walk or run -- a couple times we made mani-pedi appointments. It's important to do that, to take those little breaks. Self-care isn't selfish, it's self-esteem.
I like to be able to give from a place of being full and abundant rather than from scarcity and depletion. There's a real difference between caregiving and care-taking. If I'm care-taking, I'm taking something away from the other person; their dignity, their autonomy. If I'm giving, then it's truly a gift that I can give for fun and free, out of love, care and concern. I think the motivation is an important distinction. I can't transmit something I don't have.
On long-term care planning for herself
I'm so glad my first experience with it was such a positive one. I felt really empowered with it. It was comforting and empowering for my family. I am really excited about making sure I have my own home healthcare in place. People might think that it's something for which the timing isn't right for me, but I'm young and I'm active… and I just like to take care of myself in all departments.
On approaching 50
I call it growing up. I remember being a teen and someone asked, 'What do you want to be when you grow up?' I said, 'I just want to be myself, just more so.' That's a philosophy I still embrace. I'll continue to be myself, just more so.
I just did my first 200-mile relay and signed up for another half marathon. I spend a good time of backpacking in the mountains. It's [age] not a number pegged to the way I feel in my activities.
Judd is an ambassador for Genworth, a long-term care insurance provider.
Calling all HuffPost superfans!
Sign up for membership to become a founding member and help shape HuffPost's next chapter
BEFORE YOU GO
PHOTO GALLERY
7 Tips For Caregivers