De Re Gallery's beautifully curated "Photo Femmes" exhibit opened on Wednesday evening in Los Angeles putting the gorgeous photos of Ashley Noelle, Bojana Novakovic and Monroe on display. In a fine art world dominate by male visions, gallery owner Steph Sebbag opens the door for these tremendous female artists to express themselves.    
The first photograph to catch my eye was "The Goat on Mt. Gobre" by Bojana Novakovic, which was photographed in Sindhupalchok, Nepal as part of her "White Girl In Nepal" series. These photos capture the lives of people in Nepal - free from the drama that Bojana expected and full of life that was present.  One hundred percent of proceeds from all picture sales go to The B Project.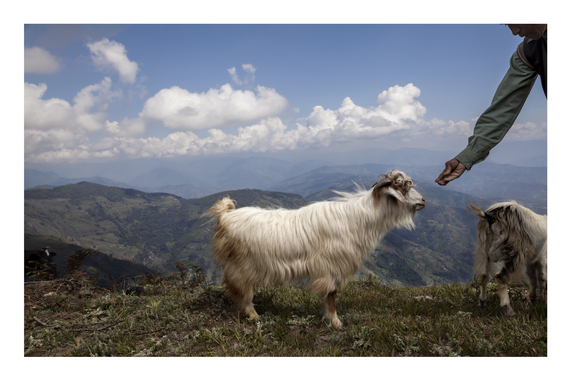 Photo by Bojana Novakovic
Internationally renowned photographer Ashley Noelle shot the next photo to catch my eye: "June 25, 1963." It embodies a sense of nostalgia that intersects with the present. Model Gigi Hadid serves as an iconic and timeless 60s girl.
For me, the highlight of the evening was the work of Monroe. Exhibiting self-portraits shot in luscious landscapes without assistants, Monroe's "Solo" series embodies great vulnerability and empowerment. The compositions are stunning and all of her shots had a visceral aliveness that jumped off of the prints.  In particular, "Solo two" (below) intrigued me because it appeared so fluid and natural; however, Monroe told me that she shot the photo in the sand dunes in Death Valley in the middle of an intense windstorm; after five shots the camera crashed down in the sand and that was the end of the shoot. She told me that she loved what Michael Jordan said - "You miss 100 percent of the shots you don't take" - and was happy to get off the 5 shots that she did.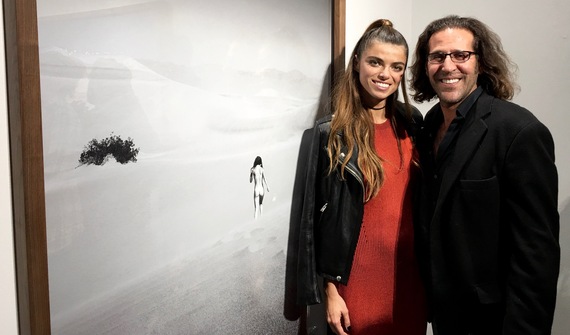 Gallery owner Steph Sebbag explained to me the thought process behind this group show: "After meeting the three photographers this past year, I saw something very unique in each of them. Each had a powerful voice and something special about how they viewed their world. As a father of three girls in an industry where women are underrepresented, I had the creative vision to bring all of them together and present them as emerging artists. As we curated the show, we realized that not only are they distinctive, but that they all work together, as they cross different times and places" said Steph Sebbag.
"Photo Femmes" will be on display exclusively at De Re Gallery from April 13-May 17 in Los Angeles: 8920 Melrose Ave. in the West Hollywood Design district.  For further information on De Re Gallery please visit DeReGallery.com
REAL LIFE. REAL NEWS. REAL VOICES.
Help us tell more of the stories that matter from voices that too often remain unheard.