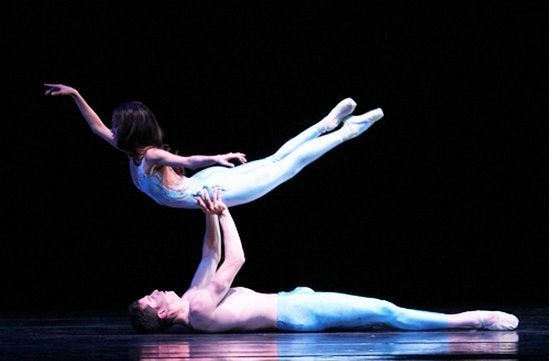 The more dramatic the movement, the harder it is to stay balanced; the higher the leap, the more difficult it is to land it gracefully. Those may sound like universal principles of motion, but you'd never know it from watching Ashley Wheater move. Even though Wheater hasn't actually danced on stage since his last performances in 1997, what he's doing now is probably a more demanding challenge in the motive arts. He's the Artistic Director of the Joffrey Ballet, and one of his most important (and most delicate) responsibilities is the construction of their concerts; Ashley Wheater designs the art and architecture of the Joffrey's uniquely expansive presentation of Dance.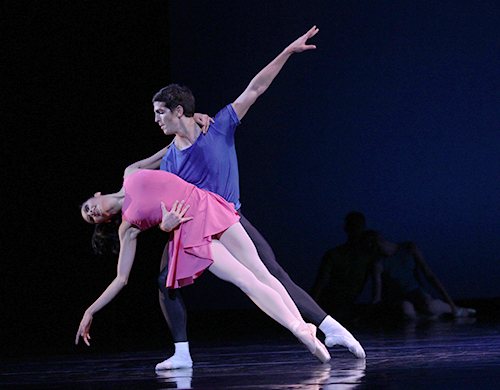 Christine Rocas and Alberto Velazquez in Jerome Robbins' Interplay
Photo by Herbert Migdoll
After a career that included the London Festival Ballet (which he joined on the advice of Rudolf Nureyev, and where he became a principal dancer at the age of 20), the Australian Ballet, the Joffrey, and the San Francisco Ballet, Wheater knows how movement should be put together. This is a larger stage, though, with much more space to cover. Putting together a successful dance concert is essentially a larger kind of choreography, with more variables and even more choices. Moving through all of those choices, with all of those artists and audience members watching, can require balance and grace that would make any solo on stage seem easy.
On February 13, the Joffrey opened its American Legends series at Chicago's Auditorium Theatre, in a program emblematic of Wheater's careful and complex approach. "A good dance program presents material for our mind as well as our heart," he says. "I would like to think we can learn something about our experience as Americans by looking at the creations of several artists working across a span of nearly 70 years."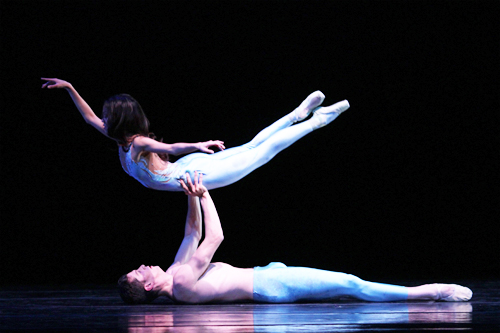 Jeraldine Mendoza and Dylan Gutierrez in Gerald Arpino's Sea ShadowPhoto by Herbert Migdoll
That's only the beginning, though; watching the riveting diversity of American Legends unfold, as the Joffrey moves through works by Jerome Robbins, Gerald Arpino, Stanton Welch and Twyla Tharp, you can only wonder how Wheater could navigate all of the possibilities that such a program must have presented. "One of my challenges was editing the many available choices," he explains. "I might have built a program around the work of Agnes de Mille, Paul Taylor, Martha Graham, Mark Morris ... the list goes on." One of his secrets is the clarity of his focus; although he may be balancing an intimidating matrix of practical considerations, he does so with a consistently artistic perspective. "I wanted to present choreography with emotional resonance and a broad range, demonstrating the dynamism of the art form in America."
Wheater builds his works on a carefully thoughtful foundation; to begin with, he's vividly conscious of the communication involved in dance, and in programming dance. "Dance has the advantage of utilizing and engaging many of our senses," he observes. "Humans probably began communicating with one another through gesture, and dance is one offspring of that first form of expression." That's only part of the art form though; that's only the beginning of the art of making Dance Concerts. It can get much more complicated as you include more different visions, yet Wheater can embrace the much more complex communication involved in presenting an entire evening to an audience with the same clarity. "The human mind is able to process very diverse work and make connections between different ideas," he says, and adds, "we are designed to compare and contrast; part of a survival strategy to be sure, but also one source of human meaning."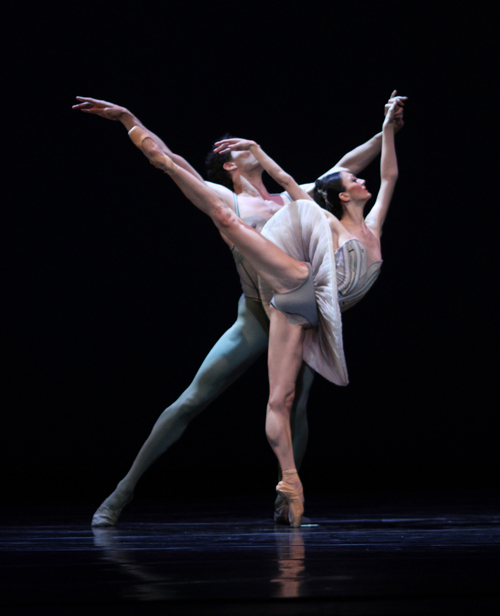 Victoria Jaiani and Fabrice Calmels in Stanton Welch's Son of Chamber SymphonyPhoto by Herbert Migdoll
American Legends showcases all of that and more. It includes Gerald Arpino's Sea Shadow, a sensual, balletic duet set to Ravel's Concerto in G for Piano and Orchestra, and an intensely effective new work by Stanton Welch, entitled Son of Chamber Symphony and set to John Adams' composition of the same name. Sea Shadow is lush and lyrical, while in Son of Chamber Symphony, Welch constructs a vibrant and large-scale success. Each work, although in very different ways, reflects a classical heritage, and both showcase the virtuosity of truly accomplished performers. Yet it's in Wheater's choices for the other two works in the Joffrey's American Legends series, Jerome Robbins' Interplay and Twyla Tharp's Nine Sinatra Songs, where you see how imaginatively he can mix a montage of different masters.
Wheater describes Interplay as "a work imbued with an American spirit and youthful exuberance," and its history is distinctly American; Interplay's 1945 premiere at Broadway's Ziegfeld Theatre shared the bill with three comedians and a puppet show. Its costumes and textures are more Broadway than ballet, and the Morton Gould score, American Concertette, is full of the jagged jazz edges of rhythm-driven movement, yet it's architecture is rich and deceptively complex. Wheater says, "It could only have come from a master like Robbins." Including Twyla Tharp's Nine Sinatra Songs is just as imaginative; the score is Hollywood from the nineteen-sixties, and the movement design, elegant and artistic, is a showcase for the intricate partnering talents of the Joffrey dancers.
How does Wheater put it all together? "I spend much time watching, learning and reading about what is going on in dance. I have a network of colleagues, both within the Joffrey organization and across the world, who are as excited by dance as I. I collect inspiration from the things I have seen and the people with whom I speak." It's an immense realm of choices, but for Wheater, so much the better. "Fortunately," he says, "there is no shortage of creativity."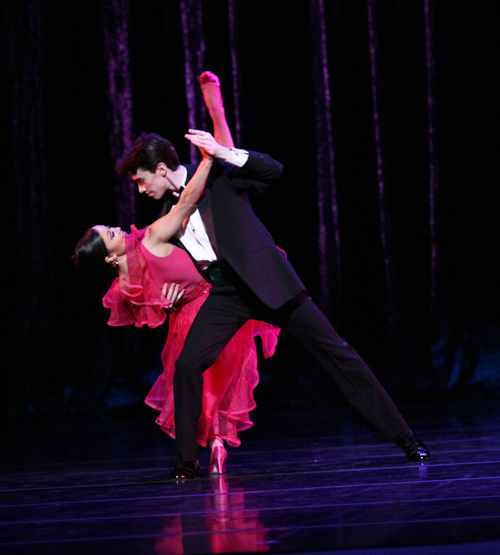 Anastacia Holden and John Mark Giragosian in Twyla Tharp's Nine Sinatra SongsPhoto by Herbert Migdoll
Ashley Wheater makes an art out of it, putting dance concerts together. It's a creative process whose complexities are almost never-ending; the meetings, phone calls and emails with artists, composers and choreographers are underway for every season between now and 2018. It's a series of creative decisions that progress from abstract ideals to practical planning as real as a packed house, and that lead to the sequence of complex and colorful experiences that the Joffrey brings to their audiences. It's a wide world of possible choices, but Wheater knows what he's looking for. "I like to think of each program as the 'next step' in our progression as a company," he says. "The work should challenge our audience and our dancers, expanding our understanding of the possibilities of the art form."
REAL LIFE. REAL NEWS. REAL VOICES.
Help us tell more of the stories that matter from voices that too often remain unheard.