Ashley Yong knew her dad wasn't going to pay for prom, so she started saving money. But when it finally came time to prepare for the big night, the high school student didn't spend the money she saved on the perfect dress or even a prom ticket. Instead, she used it to make a much longer lasting impact.
The 17-year-old from Darien, Ill., skipped her senior prom to help homeless people in her community. She spent the money she saved for the dance on items like socks, toothbrushes and food and packed them into 20 boxes. Then, she personally delivered them.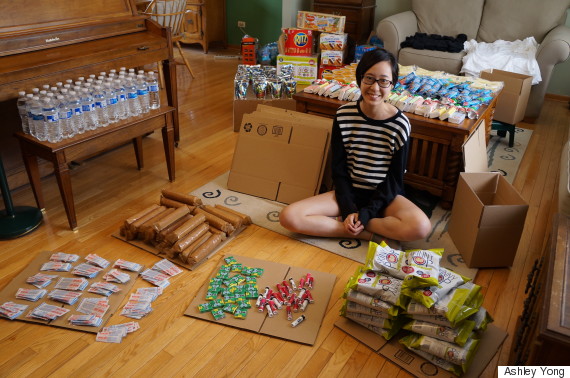 Ashley said she decided to ditch her prom experience after spending hours on Pinterest searching for inspiration for her dress, hair and makeup.
"After a while, I realized what I was doing was pretty vain and self-absorbed," she said in an email to The Huffington Post. "I was so consumed in figuring out how to make one night the best night of my life."
Ashley admits she was sad as she saw pictures of her friends at prom on April 25, but once she distributed her boxes on April 26, she knew her project was worth it. She said the homeless people were "incredibly kind and grateful." A specific encounter with a woman and two children left a lasting impression.
"Her smile said it all, and my heart burst with happiness," Ashley said. "As my dad and I drove away from the children excitedly rummaging through the boxes, I started crying. I told my dad I couldn't believe how blessed we were."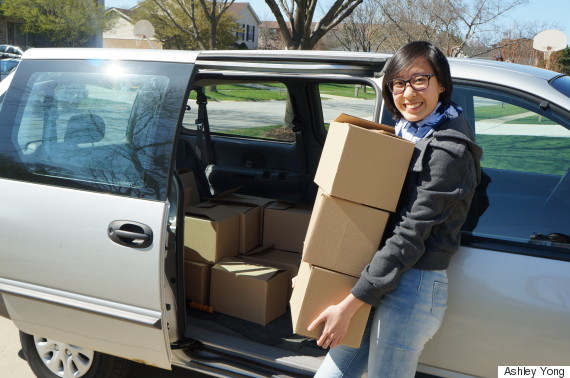 Since completing the project, Ashley has received love and support from teachers, fellow students and even strangers. She has also received criticism from people at her school saying she did it for attention. According to Ashley, they're right. She did do it for attention, but not for herself. She did the project to raise awareness for homeless people and filmed it all to prove that giving back can be easy.
"I'm a high schooler with no job, car or really anything I own to sustain myself," she said. "Giving isn't hard, and it most definitely is not impossible."
Ashley spent $214.74 of the $250 she saved on products for the homeless and plans on using the rest for her next distribution, which will be a bigger project thanks to her successful GoFundMe campaign. She's already raised $300, exceeding her $200 goal. She also wants to expand her impact by starting a nonprofit organization to help homeless people when she is older.
"I want to get involved in the cause for which I am advocating giving my own time and work, not just my money. It's the experiences you have hands-on volunteering and meeting people that make you a better person, not putting money into a cup."
REAL LIFE. REAL NEWS. REAL VOICES.
Help us tell more of the stories that matter from voices that too often remain unheard.
BEFORE YOU GO
PHOTO GALLERY
Homeless Man Refused To Abandon His Dog