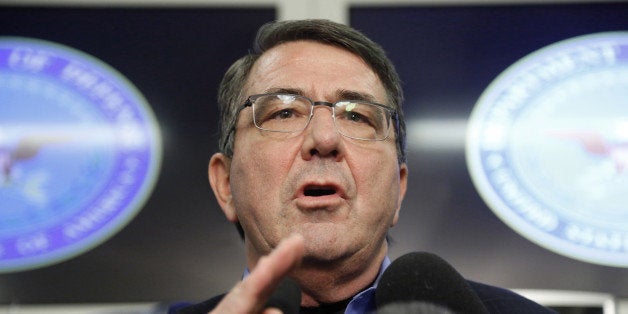 WASHINGTON -- Newly installed Defense Secretary Ashton Carter said Sunday that he's "very open-minded" about transgender people serving in the U.S. military -- a sign that the department may be moving closer to lifting its ban.
Carter, who became defense secretary this month, was asked for his thoughts on transgender people serving in combat during a Q&A with troops in Kandahar, Afghanistan. The U.S. military explicitly prohibits transgender people from serving, though an estimated 15,500 transgender people are serving anyway, in secret, according to a 2014 Palm Center report.
"I'm very open-minded about ... what their personal lives and proclivities are, provided they can do what we need them to do for us. That's the important criteria," Carter said. "Are they going to be excellent service members? And I don't think anything but their suitability for service should preclude them."
White House press secretary Josh Earnest said Monday that President Barack Obama endorses Carter's comments.
"The president agrees with the sentiment that all Americans who are qualified to serve should be able to serve, and for that reason, we here at the White House welcome the comments of the secretary of defense," Earnest said in his daily briefing.
Transgender rights groups hailed Carter's comments, but urged him to go a step further and order an immediate review of the department's ban on transgender soldiers. An independent commission led by Dr. Joycelyn Elders, a former U.S. surgeon general, last year found no "compelling medical reason" for the ban.
"As Secretary Carter pointed out, all that should matter is the ability to do the job," said David Stacy, director of government affairs for the Human Rights Campaign. "Our nation's transgender service members bravely and heroically serve our nation, and they certainly deserve to be able to be honest about who they are."
Defense Department spokesman Nate Christensen said Monday that there is no specific review currently underway regarding the department's transgender policy. However, the department began a review this month of its medical accession policy, which gauges a person's neurologic, vision, learning, psychological and behavioral health. The review will take 12 to 18 months.
"We routinely review our policies to make sure they are accurate, up-to-date and reflect any necessary changes since the department's last policy review," said Christensen.
Former Defense Secretary Chuck Hagel said in May that he supported a review of the military's ban on transgender people.
"I'm open to those assessments, because, again, I go back to the bottom line, every qualified American who wants to serve our country should have an opportunity if they fit the qualifications and can do it," Hagel said.
Calling all HuffPost superfans!
Sign up for membership to become a founding member and help shape HuffPost's next chapter
BEFORE YOU GO
PHOTO GALLERY
Secretaries Of Defense