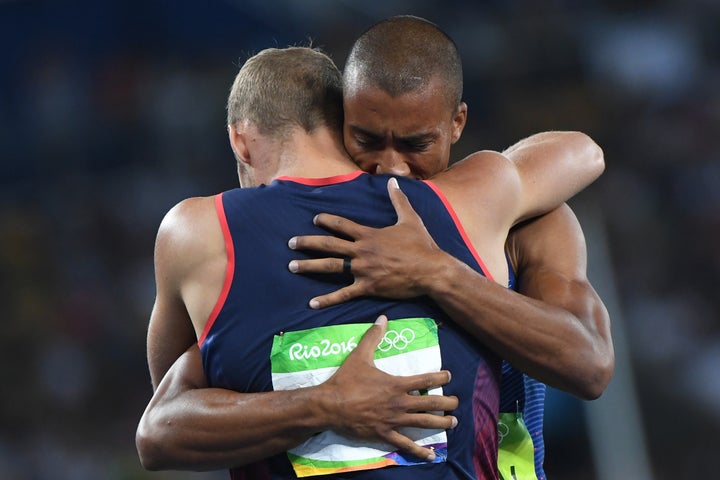 American Ashton Eaton won gold in the decathlon Thursday, a rare repeat victory not replicated by a U.S. athlete since Bob Mathias won back-to-back Olympic golds in the event in 1948 and 1952. 
Eaton finished with an overall score of 8,893 points, ahead of Kevin Mayer of France, who won silver with 8,834, and Damian Warner of Canada, who earned bronze with 8,666. Eaton holds the decathlon world record with a 9,045 point total he set at the IAAF World Championships in Beijing last summer.
Eaton score ties the Olympic record set in Athens in 2004 by Roman Šebrle of the Czech Republic.
"I think the point of life is just trying to improve," Eaton said last summer, after setting the world record. "Do something. Get inspired to do something and then try to do better."
The decathlon itself comprises 10 wide-ranging events that require two days to complete.
The first five events ― the 100-meter dash, running long jump, shot put, high jump, and 400-meter race ― took a grueling 12 hours to finish on the first day, CBS notes. 
Decathletes close out the second day with a similarly rough schedule of 110-meter hurdles, discus throw, pole vault, javelin throw, and 1,500-meter race.
The winner of the decathlon is informally dubbed the "World's Greatest Athlete," because the event requires so many skills: both sprinting and middle-distance running, as well as jumping and throwing events like the shot put and discus. (In the Olympics, the decathlon is a men's event, while women compete in the seven-event heptathlon.)
"You really just have to try to be smooth and treat each attempt with 90 percent effort in a way," Eaton said Tuesday, describing his approach.
Another part of Eaton's strategy? Sporting a "cooling hood" he developed in partnership with Nike to maintain focus between events. Completing the decathlon can certainly be described as a "Herculean" task, and the cooling hood only reinforces that notion: 
"If I reach a goal, I'll feel happy without knowing how much more I might have been able to accomplish," he added. "One of my really good coaches used to say, 'Don't run for the time, just compete and the times will come.'" 
For more Olympics coverage:
REAL LIFE. REAL NEWS. REAL VOICES.
Help us tell more of the stories that matter from voices that too often remain unheard.
BEFORE YOU GO
PHOTO GALLERY
Funniest Faces Of The Rio Olympics