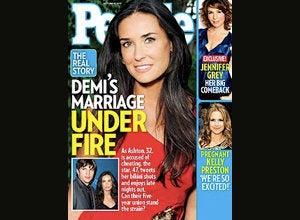 Demi Moore covers the new People under the headline 'Demi's Marriage Under Fire.' The story uses industry sources to magnify the rumors that Ashton has been cheating on his wife (the couple does not comment, at least not in the teaser on People's website).
One source says they have a "don't ask, don't tell policy" around the allegations and another says their age difference has caught up to them.
"Somehow I thought it was going to come back to haunt them," a colleague tells the magazine. "He got married young and, as crass as this sounds, never seemed to have his fill." Still, "they seemed super committed."
Star has published the text messages Brittney claims are from Ashton in this week's issue, out today. A sampling:
After their tryst--and for over a month after their initial meeting--they continued texting and, in one exchanged Brittney asked, "Whens the next time you're gonna have an empty house?" To which Ashton replied, "Not sure maybe the end of the month." Noting at the time he was "w/ my daughter."
Radaronline.com has exclusive photos of Brittney. A source who knows Brittney "extremely well" says Brittney has long been obsessed with Ashton.
"She told me once that he was by far the number one celebrity she'd like to have sex with," the insider told Radar. "And she is totally the type to do it."
Support HuffPost
The Stakes Have Never Been Higher
Popular in the Community