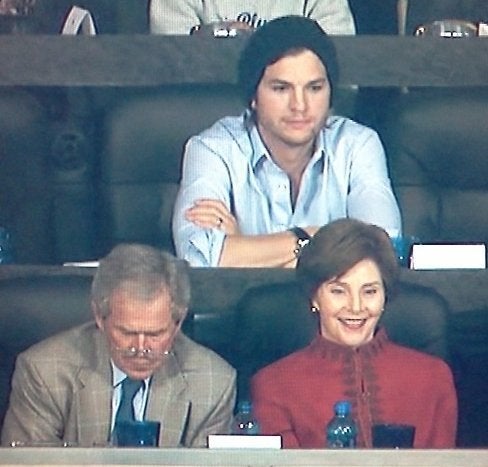 Ashton Kutcher was spotted sitting right behind former President George W. Bush in a luxury suite at last week's Super Bowl, but it turns out the two weren't exactly sharing a bowl of dip and a bucket of hot wings.
"I don't think he's very happy with me," he said. "He just was not very nice to me. He just kind of snubbed me a little bit."
But why the cold shoulder?
"I think I said some mean things [about Bush] during the election. I feel like he probably doesn't like me very much."
In fact, Kutcher campaigned for the Democratic Kerry/Edwards ticket in 2004 in what he called an effort to make up for his vote for Bush in the 2000 election.
"I voted for him because I thought he was like me," Kutcher told a late October crowd in Iowa. "I thought he was a good old boy like me... [he's] not going to fool me again. I'm here to take responsibility for my mistakes."
To listen to the whole clip, including Kutcher's interpretation of Bush's face and more, click over to BBC 1.
REAL LIFE. REAL NEWS. REAL VOICES.
Help us tell more of the stories that matter from voices that too often remain unheard.