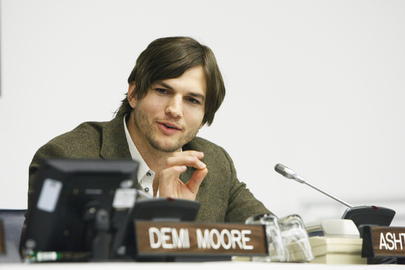 I was fortunate enough to be present at the United Nations Headquarters in New York on November 4 for the launch of the UN Voluntary Trust Fund for Victims of Trafficking in Persons. To be managed by the United Nations Office on Drugs and Crime (UNODC), the fund will provide humanitarian, legal, and financial aid to victims of human trafficking. The initiative is a central element of the new UN Global Plan of Action adopted by the UN General Assembly this past July.
Having worked on other UNODC projects, I can personally attest to how much weight this UN agency throws behind combating one of the great atrocities of our time. This meeting was no exception. Alongside UN Secretary-General Ban Ki-moon sat the meeting's moderator -- two time New York Times Pulitzer Prize winning author-journalist Nicholas Kristof -- and actors Demi Moore and Ashton Kutcher whose humanitarian work in the arena of human trafficking was being highlighted. The couple's organization, DNA, is working to abolish modern-day slavery in the United States and abroad. The meeting took an interesting turn when the conversation shifted to Kutcher's mastery of social networking and how he was channeling his online prowess to serve his nonprofit's mission.
After sobering opening remarks by the Secretary-General on the current scope of the 32 billion dollar international human trafficking trade, Kristof introduced Kutcher, humorously pointing out Kutcher 's 6 million Twitter followers versus the UN's 140,000. In response, Kutcher offered new insight to Kristof's leading question "Why the internet?"
The actor-activist argued that, while having fueled the sex trade with its built-in anonymity, speed, and ease of access, the internet has also given law enforcement and activist groups a strong weapon with which to combat trafficking and offer aid to victims. Kutcher pointed out that part of what makes dismantling and exposing trafficking networks so challenging is the industry's global nature. For example, in just one transaction, several countries will likely be involved. The "broker" will be in Country A, the victim may be abducted from Country B, the transaction will take place in Country C, and the final customer will return home to Country D with his new acquisition. Additionally 76 percent of these child trafficking transactions happen on the internet. The internet, Kutcher argues, is a global solution to a global problem, allowing us to fight and expose human trafficking across borders.
Victim demographics play a factor as well. The average American age for forced entry into the sex trade is 13. While this is a devastating statistic, it plays in favor of using the internet as a tool to reach at-risk adolescents, many of whom are runaways. According to Kutcher many of these kids are still updating their social networking pages once they have left home. Kutcher and Moore have seized this opportunity by creating partnerships with a coalition of tech companies including Microsoft, Google, Facebook, and Twitter with the National Center for Missing and Exploited Children to develop technological solutions to the problem of child sex slavery. Initiatives include the implementation of online predator deterrants as well as PhotoDNA and geo-location technology to help protect children and find and rescue victims.
Kutcher said his Twitter presence has also given him a platform to affect male attitudes about the sex trade. "I can use Twitter to implore men around the world to understand that buying sex isn't cool... when they find out that the average age of entry to the business is 13 and that most of these girls are held against their own will, suddenly it becomes a lot less sexy."
At the peak of the legal slave trade in 1780, an estimated 80,000 slaves from Africa were brought to the New World in one year. Almost 250 years later, the UN estimates that there are approximately 2.5 million slaves in captivity worldwide at any time. As Kutcher pointed out, "we agreed to abandon slavery 62 years ago (with the Universal Declaration of Human Rights adopted by the General Assembly of the United Nations in 1948.) We are not asking for new laws. Let's just enforce the ones we have."
Those wishing to learn more or make a pledge to the UN Voluntary Trust Fund for Victims of Trafficking in Persons can visit the UNODC fund page.
REAL LIFE. REAL NEWS. REAL VOICES.
Help us tell more of the stories that matter from voices that too often remain unheard.