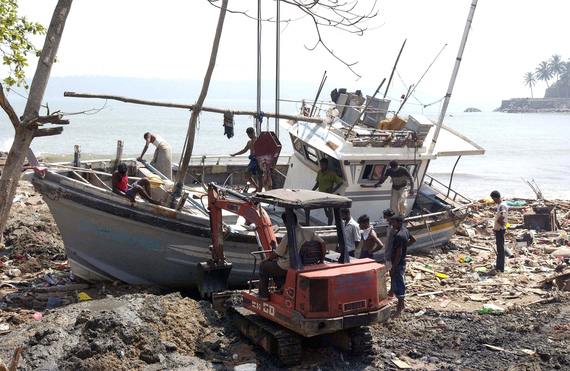 A view of the destruction caused by the tsunami of 26 December 2004 in Galle, a town in southern Sri Lanka, where relief workers and volunteers found another 7,275 bodies while clearing up the debris. UN Photo/Evan Schneider
How to implement that plan in Asia will be one of the main outcomes of the Asian Ministerial Conference on Disaster Risk Reduction hosted by the Indian government in Delhi this week.
The Conference takes place at a critical time, just days before COP22 and will seek ways to enhance coherence between disaster risk management, climate change adaptation and achievement of the sustainable development goals.
Implementation of the Sendai Framework received a major boost earlier this year when the Prime Minister of India, Mr. Narendra Modi, launched India's first National Disaster Management Plan and based it on the priorities for action outlined in the Sendai Framework with a focus on moving from managing disasters to managing disaster risk.
Prime Minister Modi will inaugurate the Conference with a major speech on the subject of disaster risk reduction. Among the audience will be some 2,000 local government officials responsible for disaster risk management at district level across India.
It was the Prime Minister's idea to invite them and it sends a signal across the world about how important it is to drill down from the national level to the local level if we are to achieve substantial reductions in disaster mortality, numbers of people affected, economic losses and damage to critical infrastructure by 2030.
Strengthening disaster risk governance is a priority for achievement of these targets so engaging with local government officials who are on the front line of the response to recurring disaster events is a key part of that.
This is true everywhere but especially in Asia which accounts for over 80% of those killed and affected by disasters worldwide in any given year; 1.35 million people have died in disasters affecting almost four billion people over the last twenty years.
China, Nepal, India and the Philippines all figured in the top ten countries worldwide for economic losses from disasters last year which are now estimated to be running at between US$300 billion to $400 billion worldwide.
In the build-up to this Conference there has been a palpable sense of change in the air. Evidence of this can be seen from the pre-conference sessions taking place in New Delhi engaging a wide range of stakeholders including parliamentarians, local governments, the private sector, science and technology, persons living with disability, youth and children, gender groups, the media, UN agencies, and the Red Cross/Red Crescent.
There have been a number of successes over the last decade. The decline in flood deaths in Bangladesh, China and Nepal is one example. Both India and Bangladesh continue to perform well in reducing loss of life from cyclones in the Bay of Bengal thanks to improved early warning systems and effective management of "the last mile" when it comes to evacuations. Vietnam saw a drop in storm mortality from 5,120 in 1996-2005 to 1,270 in 2006-2015.
Many countries are integrating disaster risk reduction into their overall development and investment planning and there is growing understanding of the importance of a risk sensitive approach to major infrastructure investments in both the private and public sectors.
Nonetheless, it is clear that economic losses across the region continue to act as a major brake on eradicating poverty and freeing up resources for social expenditure in key areas such as health and education.
Nepal provides a vivid example not only of the region's exposure to earthquake risk but the long-term consequences such events have on sustainable development. Last year's earthquakes cost the country one-third of its GDP and a large percentage of its housing stock.
Expressed as a proportion of social expenditure, expected annual losses in low-income countries are five times higher than in high-income countries. The countries with the greatest need to invest in social development are those most challenged by disaster risk.
This further underlines the importance of good risk governance in the form of strong institutions, planning and regulatory oversight and, above all, political commitment to reducing disaster risk.
This will be especially important across Asia where 53% of the world's urban population live. Over 60% of the land projected to become urban by 2030 has yet to be developed. Success in building sustainable cities will help reduce disaster losses in the future. Well managed, hazard-resistant cities offer great opportunities for economic development and access to basic services including health and education.
In terms of outcomes, this Conference is expected to deliver a robust regional plan for reducing disaster losses and a strong political commitment to reducing disaster risk.
By doing so it will send a strong signal that in a warming world where extreme weather events are on the rise and more people are living in hazard-prone locations, the focus needs to be on managing the risks so they do not turn into disasters.
Calling all HuffPost superfans!
Sign up for membership to become a founding member and help shape HuffPost's next chapter