"As Americans, we have the
unfortunate idea that we should and need to learn more about the world, but
it's not a priority. 
"We get to it when we can,
which is seldom," said Dr. Vishakha Desai, president of the Asia Society. 
So began an interview with
a brilliant woman who heads one of the world's largest cultural institutions,
The Asia Society.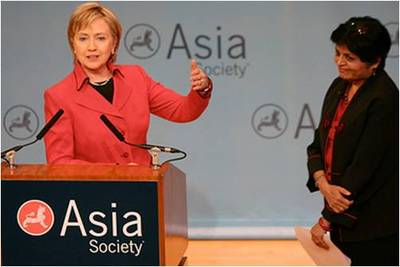 Secretary of State Hillary Clinton make
her first major foreign policy speech at the
Asia Society in February 2009.  At right
is Asia Society President Dr. Vishakha Desai.
(Photo: Bill Swersey/Asia Society) 
Many think of the Asia
Society as a Rockefeller-endowed Upper East Side institution that hosts
incredible art exhibits and extraordinary performances.
It is that, and so much
more.  Now expanded across the world, with ten facilities from San Francisco to
Melbourne, the Society is established in eight countries.  In Asia, the
Society runs programs in the cities of Manila, Mumbai, Hong Kong,
and Shanghai. 
When she arrived to California, it was at the height of the
Vietnam War.  Dr. Desai was astonished to
discover that Americans thought of that Asian country as only a "war."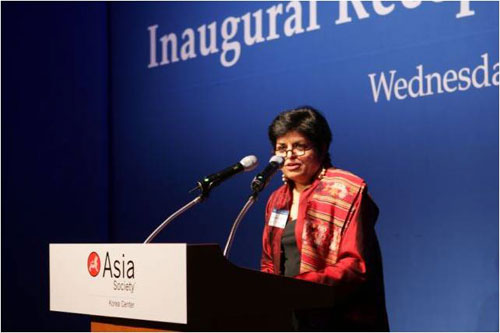 In Karachi,
Dr. Desai announces the exhibition Hanging Fire:
Contemporary Art
from Pakistan, currently on view through January 3, 2010. (Photo: Asia Society) 
There was no thought,
discussion, idea that Vietnam was a nation, a culture, a people, with its own vivid history stretching back in time.  Americans knew, she
learned, sadly little about the world. 
However, much has changed since then.  There is still work to be done.  Dr. Desai is excited about our new president
and expects many great things from Barack Obama, "Our first globally-minded president." 
Not only does he represent
the first non-white American face to the world, but
with his background, he has an international credibility. 
Dr. Desai believes as
Americans, we are intricately part of the world, not
merely sitting beside it.
She was mortified that
one-third of U.S. high school students recently could not identify the ocean
between the Americas and Asia.  I am
confident readers of this column know! 
"More than just that, he
is the son of an immigrant -- from Kenya -- but his mother was also a global
citizen.  An American woman, married to a African Muslim, and studying anthropology in Indonesia.
"Barack was raised
understanding all religions."  In
Indonesia, where my own adopted son was born, Barack was surrounded by Muslims
- but also Christians, Hindus, and Buddhists. 
His mother was committed to teaching him about different religions. 
"We want to partner with
you.  The U.S. will be a player, but not
the only player.  That is our president's message.  How
refreshing! 
States Dr. Desai, "The world believes in Barack.  Americans in general are very
bad listeners.  Obama is an exception – he is a very good listener. 
Based on his life experiences, he is America's first truly global president." 
Dr. Desai heads the Asia Society's
program, "Partnership for Global Learning."  "We must train
our kids -- and adults -- to be a part of the world," she explains. 
One quarter of jobs in the
U.S. are connected to world trade.  Paraphrasing
the former CEO of UPS, "we need an American workforce who knows the world.'
"We think we are global
with the Internet -- Facebook,
YouTube -- but this is only a virtual
connection.  Internet friends are not a substitute for real
experiences.  How one feels like to be a minority in another country or
culture."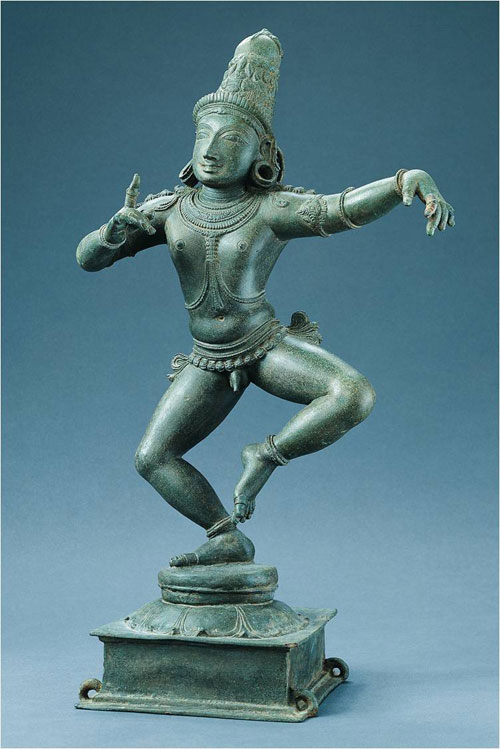 Saint Sambandar. Chola
period, 12th century. Copper alloy. Asia Society,
New York: Mr. and Mrs. John D. Rockefeller
3rd Collection, 1979.24.
On view in the exhibition Devotion in South India: Chola
Bronzes,
Oct. 6, 2009 through Feb. 7, 2010. (Photo: Asia
Society) 
The Asia Society can be
many different things to different people. 
"Ours is a complex institution, and those experiencing it can describe
it in the same way the blind men touch
and describe an elephant. 
"One man describes a leg,
another the trunk, or an ear – or the belly.  Each is so unique, yet
collectively makes the animal.  So it is with the Asia
Society," states Dr. Desai. 
Founded by John D.
Rockefeller 3rd in 1956, the Asia Society is the premier organization with a multi-dimensional
commitment -- combining culture, commerce, and current affairs -- with more
than 35 countries in Asia. 
Recent changes include a
strengthening of partnerships between Americans and Asians, to look at shared problems
- and shared solutions. 
The Society also pays special attention to the unique role of Asian-Americans as bridge builders
between different cultures. 
Education is a key and the
Asia Society is actively engaged.  Best
practices for teaching about Asia are promoted in inner cities.  This program is funded by the Gates
Foundation. 
The Society also supports
developing the best models for magnet schools and international high
schools.  This is done by helping create
globally-oriented curriculum. 
The goal is to bring
international content into America's schools.  And to promote an understanding of Asia as
part of the world. 
The Society's beautiful art exhibitions and cultural performances are well known to the
public.  However, work not visibly seen include the behind-the-scenes efforts in the
arena of public policy. 
Dr. Desai is as current
with Asian events as humanly possible.  I
saw Ustad Amjad Ali Khan in concert last week. 
She has known him for decades.  
Pakistan is much in the
news.  She insists we differentiate
between the Pakistani government and its people.  
"The video of the Taliban
beating the young woman sent out a message to Pakistan's middle class.  Moderate people were offended.  This was the tipping point," she said. 
I told her about my recent
trip to Sri Lanka.  "Whether the level of
militancy was justified is hard to determine. 
The proof is in the pudding.  What
will the government of Sri Lanka do with the hundreds of thousands of
refugees?  What with the northern city of
Jaffna? 
"The civil war there was
untenable.  The peace process could not
succeed. Now the conflict is over, the question is: How can minorities there
not be persecuted?"  As she said, the
proof is in the pudding. 
Dr. Desai has been a friend
of Hillary Clinton.  "I was impressed
with her going to China.  We need to
engage these countries as our partners. 
"Secretary Clinton hit the
ground running.  She is so familiar with
so many heads of states it has given her a real head start.  I am delighted she and the president have
worked out such a strong relationship based on mutual respect." 
Dr. Desai is a frequent
speaker at national and international forums on a wide variety of subjects that
include US-Asia relationships, cultural roots of Asian economic development,
regional connections within the Asia Pacific region, as well as the arts and
cultures of Asia and Asian-America.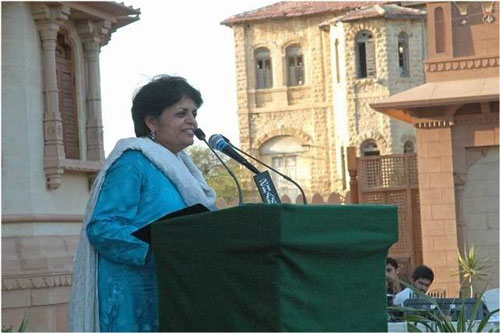 At the opening of Asia Society's
center in Seoul, South Korea. (Photo: Asia Society) 
She has authored many
opinion pieces that have appeared in over 50 publications around the world. 
As a scholar of Asian art,
Dr. Desai has published and edited several books and numerous articles on traditional
and contemporary art.  She has an
international reputation for introducing contemporary Asian art in the U.S.
through critically acclaimed exhibitions and scholarly catalogues. 
The Asia Society has
expanded the scope and scale of its activities under her presidency.  The opening
of new offices in India and
Korea, the inauguration of a new center on U.S.-China relations, and the
development of new initiatives focusing on the environment, on Asian women
leaders, and on partnerships among the next generation of exceptional leaders
in Asia and the U.S. reflect this.
Before joining Asia
Society in 1990, Dr. Desai was a curator at the Museum of Fine Arts Boston.  She has also taught at the University of
Massachusetts, Boston University, Columbia University, and Williams College. 
Dr. Desai holds a B.A. in
Political Science from Bombay University and an M.A. and Ph.D. in Asian Art
History from the University of Michigan. 
She serves on the boards
of the Brookings Institution, Citizens Committee for New York City, Asian
University for Women, and the New York City Mayor's Advisory Commission for
Cultural Affairs. 
Dr. Desai has served on
the boards of the Andy Warhol Foundation for the Visual Arts, the South Asian
Council of the Association of Asian Studies, ArtTable, and the Massachusetts
Foundation for the Humanities. 
She is married to Robert
B. Oxnam,
a China scholar, who was Asia Society's President from 1981 to 1992. 
Her intense passion for
the Society makes me confident that Dr. Desai is the right person at the right
time to lead the Asia Society into our new millennium. 
With her childhood in
India, an AFS experience in California, and decades of study and service since,
she is a thought leader and an extraordinary global citizen. 
Beyond that, she is a
major player on the world stage who knows her lines and delights her
audiences.  May her role bring Americans closer to the world she
represents.
I highly recommend the video
with Dr. Desai, "Welcome to the New Asia Society," which may be viewed here.  To join me as a fan of the Asia Society on Facebook,
click here.  To see incredible videos, such as of Hillary
Clinton, see the Society's YouTube site here. 
Calling all HuffPost superfans!
Sign up for membership to become a founding member and help shape HuffPost's next chapter