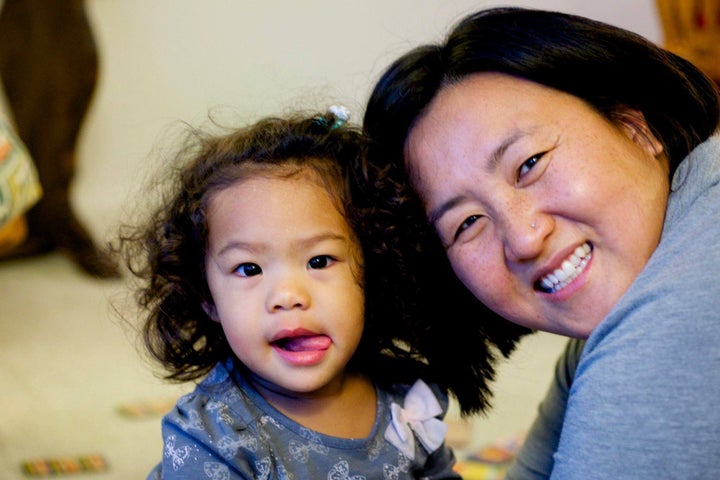 This year, women across the U.S. are facing unprecedented challenges to do the thing we celebrate each Mother's Day — to raise our families with dignity and on our own terms.
Being a mother is not a simple decision, and it's not a decision that all women choose. But the women who decide to become mothers deserve support in determining when and how to become parents and raise families. That kind of support is under deliberate attack.
As we celebrate mothers and all people who nurture the next generation, we ought to reflect on our rights, many of which are currently imperiled. When I put my two year old to sleep and give her a kiss good night, I am deeply reminded that not every mother gets to do this with their child every night. From our broken immigration system and the criminalization of mothers who just want to raise their children with more opportunity, to a broken criminal justice system that puts women of color behind bars without convictions, I am reminded that putting my two year old to bed each night is an immense privilege.
The right to parent how we want should include the ability to choose when we want to parent and how many children we want to parent. To have reproductive justice for Asian American and Pacific Islander (AAPI) women, trans, and gender non-conforming people is to have the social, political, and economic support to make decisions about our bodies and about the families we choose to raise. In order to raise our families with dignity, the needs of our communities have to be visible and heard.
Making decisions about parenting is especially difficult under the current administration that consistently values wealth and power over the lives and dignity of people of color. In a little more than 100 days, the President Trump has reinstated and expanded the Global Gag rule and the House has passed the harmful American Health Care Act (AHCA), both of which eliminate access to comprehensive reproductive health care. Threats to contraception and family planning services hinder people's ability to determine when and how they will have children — and how they can maintain their sexual and reproductive health. For AAPI women, the lack of culturally competent reproductive health care, as well as the attacks on immigrant communities, is a harmful sign that the administration does not want our communities to thrive.
The AHCA leaves many AAPI mothers questioning how they will receive care both during and after their pregnancy. AHCA would slash Medicaid and funding to reproductive health providers. When these services are decimated, women of color, LGBTQ and gender non-conforming people, and low-income and immigrant women have the most to lose. Two million Asian American and Pacific Islander (AAPI) people could lose health insurance coverage under the AHCA—leaving millions of AAPI parents struggling to support the health of their families.
Prenatal Nondiscrimination Act (PRENDA) has been introduced in several states since January. This law was brought forth by legislators who make racist and sexist assumptions about women of color, using the false rationale that they must protect girl babies from being aborted because it is a practice that Asian immigrants bring from our home countries. This stereotype only adds fuel to anti-immigrant sentiments in what is already a very hostile country towards immigrants since January.
Instead of restricting access to health and reproductive care, AAPI mothers need policies that allow us to define and make decisions regarding our bodies, families, and communities. Not only do we need policies that support our full range of health care decisions, but we also need policies that support economic security so AAPI people can access health care and financially support our families. The amount of money you make shouldn't determine whether or not you can comfortably have children, but amid rollbacks of economic programs that support families like school lunch and food stamps, this is the unjust reality for many mothers. We need policies that directly support AAPI mothers—including paid leave, pay equity, and fair wages. The lack of these policies leaves many AAPI mothers without an economic safety net by which to support their own needs and the needs of their families.
As an immigrant mother, I fight every day against racist and sexist policies in hopes of creating a world where my daughter will not face the same types of discrimination that I do. I want her to grow up knowing she has choices—that her body is hers and that she is part of a loving, caring community that will support her decisions. Like all parents, I want her to have safety and security. That is the vision of reproductive justice that I work towards.
I am just one of many AAPI mothers across the country reclaiming Mother's Day with acts of resistance and solidarity with mothers who are facing hardship. Mothers who are incarcerated or detained. Mothers who are struggling financially. Mothers whose families are subject to hate crimes. We are not asking for flowers or candy—we are demanding real political and social change so that reproductive justice is not just a vision, but a reality, for not just some, but for all of our families.
Sung Yeon Choimorrow is the Executive Director of the National Asian Pacific American Women's Forum (NAPAWF).
REAL LIFE. REAL NEWS. REAL VOICES.
Help us tell more of the stories that matter from voices that too often remain unheard.