After a decade in which nonprofit arts organizations suffered one blow after another, you can't imagine how nice it is to start off 2011 with a story about a corporate sponsor helping an arts organization make use of new technology so that they can boast of a win-win solution for all parties involved. Before we get into the details, let's pause for a moment to note the impact that President Obama's appreciation of and support for the arts -- for both his family and the nation -- have had on our community of artists.
When large corporate donors lend their support to nonprofit arts organizations, their help usually includes a donation of cash and/or services in kind.
Restaurants may provide food for a fundraising event or gift certificates for a raffle.
Hotels may provide rooms for visiting artists.
Airlines may provide transportation for artists attending an important premiere.
Banks may underwrite the costs of printing brochures and programs.
As new technology continues to push the creative envelope, some corporate sponsors -- even as they redefine their relationships with their consumers -- are discovering new ways to help the arts. Since launching its Video on Demand feature in 2003, Comcast has been able to use this feature as a way to build and strengthen its community outreach. Nowhere is this more effective than in the area of streaming video. The following clip shows me being interviewed last fall by David Perry for his Ten Percent program about LGBT people making waves in the San Francisco Bay Area.
While most of December's headlines were devoted to the legislative turmoil during the last Congress' lame duck session, Comcast announced an exciting new artistic partnership with The Center for Asian American Media (CAAM) timed to the launch its Asia-centric On Demand destination. Cinema Asian America (which offers a wide range of films created by and/or about Asian Americans) is now available to Comcast customers nationwide. This strategic alliance grew out of an idea that was carefully nurtured after Johnnie Giles (Comcast's VP for Government Affairs for the Bay Area) joined CAAM's Board of Directors.
One of the challenges faced by the San Francisco International Asian American Film Festival was that new films would often premiere at the festival and then never be seen again because of their failure to obtain a distributor. Together with CAAM's Executive Director, Stephen Gong, Giles explored what Comcast might be able to bring to the table.
At the time, Chi-hui Yang was the Director and Programmer of CAAM's San Francisco International Asian American Film Festival. Although Yang resigned from his position early in 2010 to pursue some academic goals (after a decade of providing some of the most consistently interesting and challenging film programs in the Bay Area), Chi-hui recently became the curator/programmer for Comcast's Cinema Asian America.
Yang plans to provide approximately 20 hours per month of new programming for those who subscribe to Comcast's digital service (people can find these films by pointing their menus to: On Demand >> Movies >> Movie Collections >> Cinema Asian America). As Chi-hui explains:
Asian American cinema reflects the stories and impulses of a very diverse community, whether seen through the perspective of a Bangladeshi-American youth in the Bronx, a Vietnamese-American refugee in New Orleans, a Filipino-American DJ in Los Angeles, or a fifth-generation Chinese-American cop in San Francisco.

I am thrilled to work with Comcast to help launch Cinema Asian America. There are so many incredible films made by Asian American filmmakers. Comcast is bringing viewers around the country an opportunity to discover and access cinema that is dynamic, forward-looking, and vital. I wouldn't define these films as simply Asian American films. They're American indie films, reflecting a range of experience and broad appeal.

Cinema is an incredible way to help reframe the world around you. It can satisfy, surprise, contradict, and inspire. The idea is to bring together a diverse and dynamic group of films to reflect the complicated and fascinating term that is 'Asian America.' I want to push people to re-imagine what this term means -- or could mean.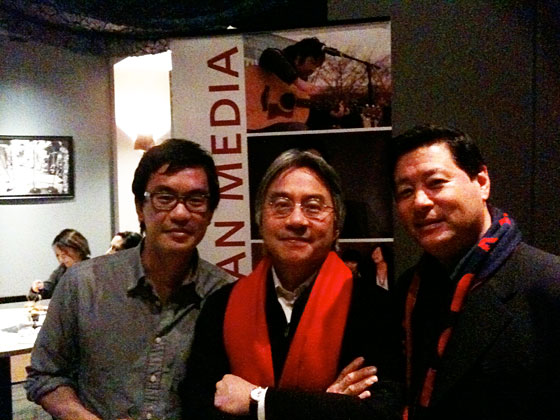 Chi-hui Yang, Stephen Gong, and Johnnie Giles at the launch party for Comcast's Cinema Asian America (Photo by: Leo Wong, Copyright 2010)
What kinds of films can viewers expect to find? Over the past 10 years, the always forward-looking Yang has introduced San Francisco audiences to audience-pleasing comedies (Ping Pong Playa, White on Rice, American Fusion ) as well as hard-hitting dramas like Ocean of Pearls, Out of This World, Half-Life, and Children of Invention. Documentaries have ranged from Na Kamelei: The Men of Hula, You Don't Know Jack: The Jack Soo Story, and The Mosque in Morgantown to The Grace Lee Project, Waiting For a Train: The Toshio Hirano Story, Whatever It Takes, and Hollywood Chinese.
Two of my favorites -- which I hope Yang will include in his programming for Cinema Asian America -- are A Moment in Time (about the role movie theaters once played in San Francisco's Chinatown) and Sing, China! (which follows the Los Angeles Children's Chorus on its recent tour of China).
While Yang's selections will explore a wide range of topics and experiences that exemplify the diversity of the Asian American community, he stresses that:
At its core, Asian American cinema is independent, a cinema that is built from the ground up and not afraid to push buttons. The combination of many more folks being trained in film schools, communities increasing with social media, diversifying funding sources, and amazing stories are all allowing filmmakers to produce engaging and really innovative work. This is also a really exciting time for Asian American cinema because there is a critical mass of creativity and daring emerging among these filmmakers.

In the past ten years, there has been an enormous growth of Asian American film festivals across the United States. Ten years ago there were probably five. Today, there are probably 25. The problem is that these films weren't very accessible. But we're changing that. Video On Demand is an exciting way for folks to see films that has really opened up a lot of opportunities for filmmakers to get their works seen.
Here's the trailer for Comcast's new Cinema Asian America:
It's interesting to note that, in his recent article in the New York Times entitled "In NBC's Shadow, Comcast Ponders An Olympic Plunge," Richard Sandomir outlined the financial challenges, potential losses, and questions about return on investment currently facing Comcast. While the size and scope of Cinema Asian America is microscopic compared to the task of acquiring the media rights to broadcast 2014's Winter Games in Sochi, Russia and 2016's Summer Games in Rio de Janiero, the real question is what kind of community-building bang Comcast wants for its arts-supporting bucks.
My personal hope is that Comcast doesn't just limit itself to working with the San Francisco-based Center for Asian American Media. If a a similar artistic partnership can be formed with the American Indian Film Institute (which is also based in San Francisco), then a wealth of information about the indigenous peoples of the United States and Canada can reach a much wider audience.
At present, much of the funding for independent films made by Native American filmmakers is derived from grants from casinos. However, there is a wealth of material about which the general public knows absolutely nothing. The following trailer from Byron Chief-Moon: Grey Horse Rider is just a drop in the bucket from a library of fascinating films begging to be seen by a larger audience:
Support HuffPost
The Stakes Have Never Been Higher
Related
Popular in the Community