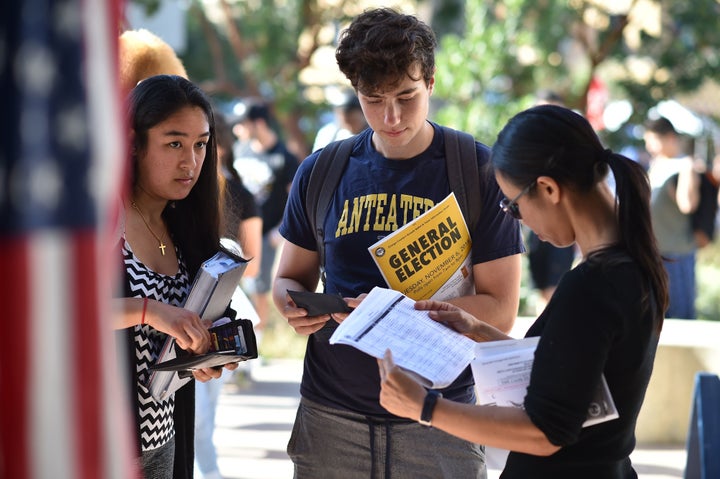 Data show that Asian-Americans are continuing to trend left.
It also showed that the lion's share of Asian-Americans disapproved of Donald Trump's performance as president and did not support candidates who embraced Trump and his policies.
Jerry Vattamala, democracy program director at AALDEF, told HuffPost that Trump's policies have distanced many Asian-Americans who immigrated through visas for high-skilled workers or via family-based immigration.
"Attacks on immigrants and racist rhetoric, increasingly aimed at Asian immigrants and Asian-Americans, had some harmful consequences for the Republican Party," he told HuffPost.
The exit poll, conducted in English as well as 11 Asian languages, was taken in 50 cities in 14 states. The poll revealed that in both Senate and gubernatorial races, Asian-Americans supported Democratic candidates at levels far higher than overall voters did. Asian-Americans' preference for Democratic candidates was corroborated by The New York Times' exit poll data that show the group has swung further left than any other racial group.
In Texas, 64 percent of Asian-Americans voted for Democratic Senate candidate Beto O'Rourke, who secured about 48 percent of the overall votes. About a third of the Asian community voted for Republican Sen. Ted Cruz, who won with about 51 percent of the vote.
In the Georgia gubernatorial race, Asian-American voters supported Democrat Stacey Abrams at more than 80 percent while only 15 percent supported Republican candidate Brian Kemp.
When looking at the Michigan governor's race, more than 90 percent of Asian-American voters supported Democratic candidate Gretchen Whitmer, who won with about 53 percent of the state's vote. Only 7 percent of the group voted for Republican candidate Bill Schuette.
Vattamala told HuffPost that the number of survey responses had doubled since the last election in 2016, indicating that Asian-American turnout has risen significantly. An exit poll from the AAPI Civic Engagement Fund also found that Asian-Americans had "unprecedented levels of civic engagement and voter mobilization," Taeku Lee, managing director of Asian American Decisions, said in a statement.
"It seems that voters were determined to make their voices heard and their opposition to Donald Trump and his anti-immigrant policies," Vattamala told HuffPost.
The group did encounter several barriers to their civic engagement on election day, the AALDEF exit poll noted, including encountering voting machine breakdowns, being directed to incorrect polling sites, being denied provisional ballots and access to language assistance, and facing demands for proof of identification and citizenship when it was not legally required.
Historically, the largest voting challenges the group has faced included the high rate of limited English proficiency, which affects about one-third of the Asian-American population. Almost 77 percent of Asian-Americans speak a language besides English at home. According to demographic data and the policy organization AAPI Data, many Asian immigrants rely on their children to translate materials for the voting process.
Information on voters with limited English proficiency has also been sorely lacking, and the group has long been excluded from mainstream polling, so often data on Asian-American voters aren't quite so accurate. For example, though Edison Research found that 65 percent of Asian-Americans voted for Democratic presidential candidate Hillary Clinton in the 2016 election, AALDEF's poll in Asian languages revealed the 79 percent of the group voted for her.
Vattamala added that by polling in a variety of languages, "we can capture this crucial data from voters that are always overlooked and ignored by the mainstream media and the parties and candidates as well."
Asian-Americans have also been neglected by the Democratic and Republican parties, who have failed to sufficiently connect with the group's voters, he said. The overwhelming majority of Asian-Americans reported that neither party reached out to them regarding the 2016 election, according to AAPI Data. Vattamala says there's still a long way to go.
"It is not easy because there are so many different ethnic groups with their own specific language, culture and needs. The outreach thus needs to be targeted and specific to each ethnic group," he explained. "There are definitely some shared characteristics for all Asian groups, but the parties will only outreach if they know who the voters are, what issues are important to them and if they know that these voters actually vote."
Popular in the Community