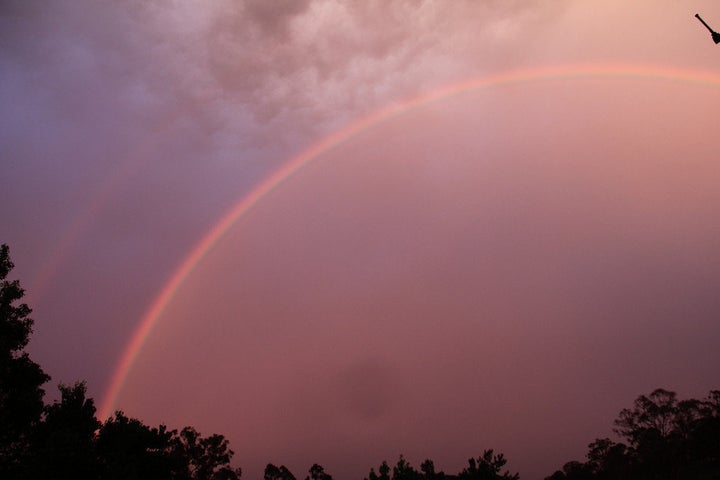 On February 9, 2001, the submarine USS Greeneville sank the Japanese fishing boat Ehime Maru in an unfortunate collision which led to the Bush administration's first foreign relations crisis. Writing to the editor of Salon.com, retired USNR Captain John DeShazo -- an instructor of seamanship and navigation at the United States Naval Academy in the late '70s and early '80s -- asserted that:
"The USNA recruits technocrats to be midshipmen, people fascinated by electromechanical gadgets. They place more faith in electronic sensors than their own eyes. Without an appreciation for the power of human senses, no one learns to focus the attention on the environment in which a seaman's vessel actually exists. Seamanship is not given a high priority in the U.S. Navy. I have personally observed this failing many times. On dark nights, while conducting offshore sail training operations, I used to turn off all the electronics and require midshipmen to steer using the wind on their faces, the stars, and the sea. They nearly always resented this exercise. They would say it was useless and saw no purpose in being deprived of modern electronic devices. They rarely understood their instructor's intentions of honing their ability to focus on details and concentrate on learning to understand the real life existence of their vessel in its environment. Modern American naval officers perceive themselves in the abstract, as if they were controlling their ships over the Internet."
Two fascinating new documentaries screened at the 30th San Francisco International Asian-American Film Festival focus on man's relationship with the Pacific Ocean. Each takes into account the legacy of an island culture's tribal ancestors who learned how to survive and thrive with the help of the ocean.
Directed by Na'alehu Anthony, Papa Mau: The Wayfinder chronicles a 30-year reawakening among Hawai'ians of an interest in the navigational techniques used by their ancestors to travel back and forth across Polynesia. During the 1970s, a small group of Hawai'ians formed the Polynesian Voyaging Society with the goal of building a voyaging canoe in the ancient style. Their dream was to sail the double-hulled Hokule'a using the ocean paths between Hawai?i and Tahiti.
The Polynesian Voyaging Society's two-hulled sailing canoe,
Hokule'a (Photo courtesy of Wikipedia)
Although such sea voyages had been described in oral traditions, the voyages had not been made for hundreds of years. As far as they knew, no Polynesian navigators still existed who could teach them an art form that had been passed down through generations of Pacific Islanders.
There was, however, a Micronesian man from the tiny Carolinian island of Satawal who had been invited to Hawai'i in 1973 by a Peace Corps volunteer named Mike McCoy. Born in 1932, Mau Piailug began his training at an early age by wading in shallow tide pools to gain a feel for the ocean.
He learned about the stars, the winds, and the ocean's currents from his grandfather (Raangipi) and father (Orranipui) and developed an intuitive understanding and deep respect for the sea. By the time he had turned 18, Mau was recognized as a master or "Pwo" navigator in the last ceremony of its kind to take place on Satawal for the next 50 years.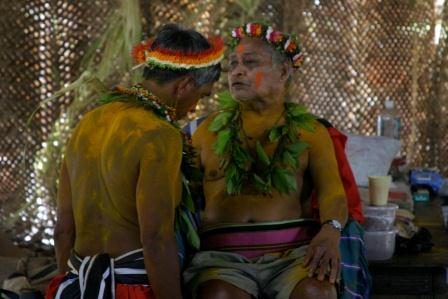 Mau Piailug initiates Hawai'i's Nainoa Thompson as a Pwo
navigator during a ceremony on the Micronesian atoll of Satawal
Acutely aware that Western cultural attitudes were eroding Micronesia's traditional lifestyles and values, Mau agreed to teach the Hawai'ians how to navigate the ocean without using any instruments in order to pass on his legacy of navigational techniques. Although he agreed to navigate the Hokule'a's maiden voyage to Tahiti, he insisted that there be no compasses, sextants, maps, or any other western-style navigational instruments on board. The journey across the Pacific would be guided simply by his knowledge of the stars and the sea.
Papa Mau: The Wayfinder documents that first voyage as well as Mau's subsequent mentoring of aspiring navigators. It also shows how Mau proved that the ancient canoe voyages throughout Oceania were carefully navigated, and did not just rely on luck.
Mau died of complications from diabetes on July 12, 2010. On July 24, 2010, members of the Polynesian Voyaging Society gathered at sunrise at Lana'i Lookout on O'ahu, Hawai'i (where Mau had taken Nainoa Thompson and others to study the elements of their land). The following emotional video clip ends with a sunset at Nanakuli.
This week the world marked the first anniversary of the devastating earthquake and tsunami that leveled much of the Iwate Prefecture in Tohuko, Japan, on March 11, 2011. Even for those who watched from the safety of their computer screens, the raging power of the water that rushed through the city was a horrific sight to behold.
The ocean may be a formidable opponent, but it is not always a violent one. With climate change melting so many of the world's glaciers, rising sea levels pose a threat to island cultures which most people simply cannot imagine.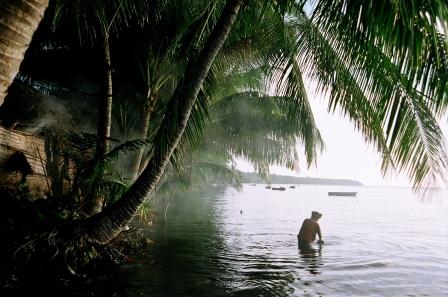 An idyllic moment on the coast of Takuu
Briar March's poignant new documentary, There Once Was An Island: Te Henua e Nnoho, looks at the tiny atoll of Takuu (also known as Mortlock), which is located off Papua New Guinea's east coast of Bougainville. At high tide, the atoll's highest point is about one meter above sea level. Over the past 1,200 years, the natives of Takuu have built a strong and sustainable culture built around agriculture (especially giant taro) and the fish they get from the sea.
Although Takuu has approximately 400 residents, a 2006 cyclone had a devastating impact on the community which, two years later, watched helplessly as three days of high tides in December 2008 washed away kitchens, personal belongings, and destroyed numerous homes and churches.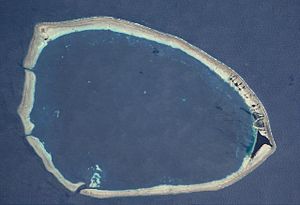 A photograph of the Takuu atoll taken from space by NASA.
(Photo courtesy of Wikipedia)
Although many inhabitants are reluctant to leave the only home they have known, the residents of Takuu have slowly realized that their only hope for survival is to let the government relocate them to Papua New Guinea's mainland (where they would live in a land-based culture as opposed to the water-based culture in which they were raised). But what can you do when there is only sporadic government assistance available and few boats stop at your atoll during the year? As Satty (a frustrated father) explains to one of his sons: "You can't climb up a coconut tree and stay there forever!"
Briar March was present in 2008, when oceanographer John Hunter and geomorphologist Scott Smithers visited Takuu to explain the science behind the rising sea levels. March's film contains many poignant moments -- especially the one in which two sisters must say their final farewells as one leaves to return to her home on the mainland while her sister insists on staying behind.
In her director's statement, Ms. March writes:
"We began making the film after seeing an article about Richard Moyle, an anthropologist who has worked on Takuu every other summer for the last 16 plus years. He mentioned that the atoll appeared to be suffering the first impacts of climate change, including salty gardens and coastal erosion. Richard was able to give us permission to make a film about the issue on behalf of the Ariki (chief) of the atoll. This documentary is extremely topical and discusses an issue of global importance. It is also a character-driven story told in an observational cinematic style (in contrast to other, more science driven, or journalistic films on the subject).

Takuu's plight draws attention to the situation of other people in the Pacific and in coastal areas elsewhere who will soon face similar problems. In addition to being an important record for all Pacific peoples, this film will help preserve the way of life and cultural identity of a unique Polynesian culture. The Takuu community has stressed to us that they feel they do not have a voice. We hope that, through this film, we will be able to give them one."
Popular in the Community