HOUSTON ― Thomas Nguyen's childhood likely mirrors that of many Asian-Americans growing up in the South. Fort Bend County, Texas, was a mostly white community in the 1980s, and many kids had never met an Asian person before, Nguyen recalls. His parents were "boat people" ― refugees from the Vietnam War who escaped the fall of Saigon in 1975.
They lived in Chicago, where Nguyen was born, before settling down in Texas. In school, he was quiet, and most kids left him alone. His race was never really an issue until he got to college at the University of Texas at Austin.
"We would almost get into a fight every weekend," Nguyen said. "It was always because some guy would get drunk. It was the first time he had ever seen an Asian, and he would have to say something stereotypical."
Nguyen said he's often been on the receiving end of stereotypes and mockery for being Asian, enduring everything from slant-eye gestures to sibilant accents.
Similar stories are not uncommon in the Asian-American community ― the more an ethnic group branches out, the greater the likelihood for discrimination. Asian-Americans have become the fastest-growing ethnic group in the U.S., and the growth is happening fastest in the South, according to Asian American and Pacific Islander (AAPI) Data, a policy research program at the University of California, Riverside.
The number of Asian-Americans in the South increased by 69 percent between 2000 and 2010, according to an analysis of U.S. Census Bureau data from the group Asian Americans Advancing Justice.
"The South is the new destination for Asian immigrants."
The growing Asian population in the South includes transplants from other regions of the U.S. and immigrants from Asia, with job opportunities and a lower cost of living drawing people to the region, according to demographers.
"The South is the new destination for Asian immigrants," said Karthick Ramakrishnan, the founder of AAPI Data.
In Georgia, for example, the number of Asian-Americans grew 136 percent from 2000 to 2016, and now accounts for 4 percent of the total population. The number of Asian-Americans in Virginia grew 113 percent in the same period.
The effects of the population growth are vast. In areas where Asian-American communities have been firmly established, experts say Asian-Americans have slowly gained the potential to affect school curriculums and influence elections.
Asians are also the only ethnic group in the U.S. with more members born outside the country than inside it, according to AAPI Data, with most Asian immigrants coming in on either employment-based visas or family-based visas. This leads to diverse Asian-American communities, with distinct challenges in navigating majority-white areas and gaining political influence.
Nguyen, now in his 40s, has witnessed those changes at home in Texas, where he's now the co-owner of the popular South African restaurant group Peli Peli in Houston.
"I'm just amazed at how a city that used to be very vanilla, very conservative, has now grown to be a city of innovation and diversity," Nguyen said. "It was steak and potatoes. It was pretty plain Jane, and now Houston is so vibrant to me."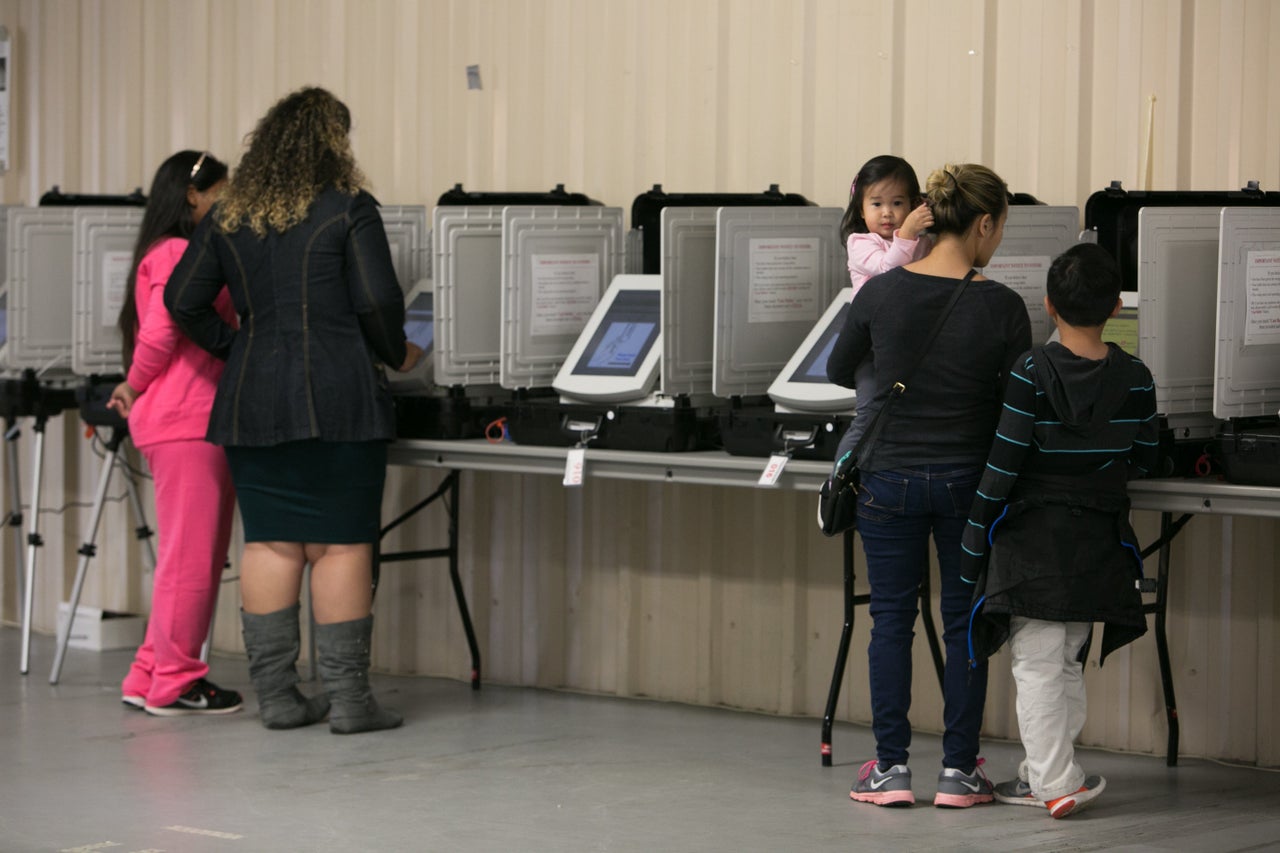 Voter Suppression And Shifting Politics In Georgia
Despite growing visibility, many Asian-Americans are still fighting to have their voices heard in politics.
During the 2016 election, Asian Americans Advancing Justice's Atlanta chapter launched a major initiative to register new Asian-American voters. The state rejected thousands of registrations because applicants' Westernized names contained middle names or hyphens that were slightly different from their other identification forms. These different spellings were the side effect of the various romanization systems used to translate Asian names ― not an example of voter fraud, AAAJ had argued.
"Voter suppression is very real here, and it's definitely institutionalized in a way I did not understand, coming from California," said Stephanie Cho, the executive director of AAAJ's Atlanta chapter. "Mostly people of color were getting kicked off the rolls. We saw all of these names come back from the secretary of state, and they were all Korean and Vietnamese names."
AAAJ, along with other civil rights groups, ended up filing a lawsuit against the state, arguing that Georgia's failure to recognize these voters was a violation of the Voting Rights Act. The groups won an injunction shortly before Election Day, which got more than 8,000 newly registered people added back to the voting rolls.
"Voter suppression is very real here, and it's definitely institutionalized in a way I did not understand, coming from California."
Community advocates still find challenges in getting Asian community members registered, especially in the South.
Many potential voters are still learning English, and may be daunted by language barriers or generally unaware of the registration process in their state. That means many may not even try to register to vote in the first place.
"In Georgia, as well as in many places in the South, there is little to no outreach into immigrant communities by state or local officials when it comes to elections," James C. Woo, AAAJ's outreach associate, wrote in an email. "We are just starting to see bilingual staff at one county elections office for Spanish [speaking] voters, but other than that, our State has yet to implement policies, procedures, or effective staffing to be able to work with communities of color, specifically immigrants."
But there has been progress. The number of Asian-Americans registered to vote in Georgia doubled from 2004 to 2012, and turnout increased 168 percent. Around 80 percent of Asian-Americans voted Democrat in Georgia, Cho said.
And even if Asian-Americans are the smallest racial group in Georgia, the number is still big enough that Asian voters could close the margin in a tight election. Asian-Americans have had the strongest impact in the Atlanta suburbs of Gwinnett County, which turned blue in 2016 when Hillary Clinton took 51 percent to Donald Trump's 45 percent. It's the first time the county has voted Democrat since Jimmy Carter was a candidate in the 1970s.
There are also more Asians seeking political office. In 2016, Sam Park, the son of Korean immigrants, was the first openly gay man ever elected to Georgia's state House and the second Korean-American to serve following B.J. Pak's election in 2011. In December, Georgia picked Bee Nguyen, the first Vietnamese-American woman elected to the Georgia House of Representatives in a close runoff for Dekalb County.
"There hasn't been enough Asian-American Pacific Islanders or immigrants that have really taken their power ... so it's just starting to turn," Cho said.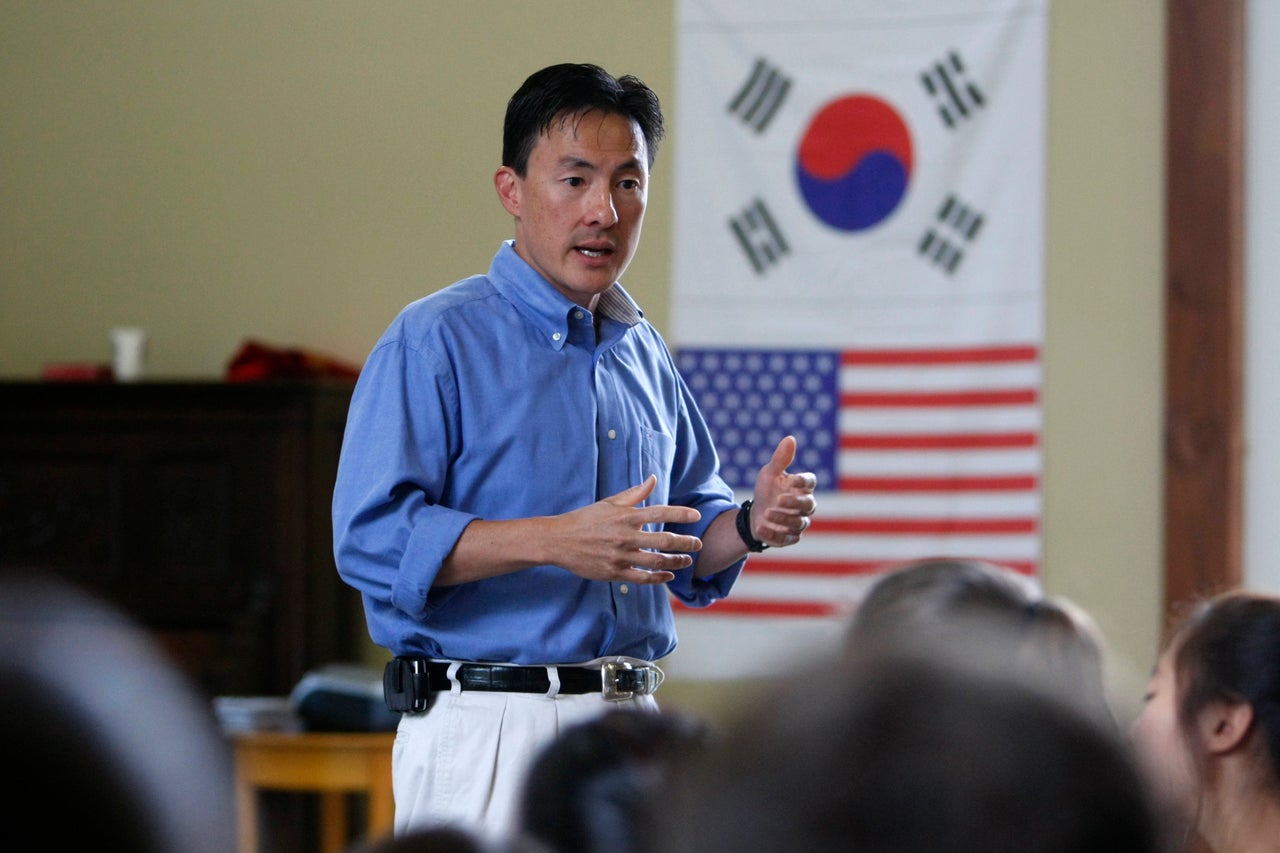 How A Tech Boom Brought Asian Immigrants to Virginia
Experts note that immigrants tend to migrate to established enclaves, either areas that relatives have scouted out and moved to already, or cities that have a community from their home county. These initial ethnic huddles grow into demographic hotspots.
Shekar Narasimhan remembers people staring at his wife when she wore her sari back when they first moved to northern Virginia from India in 1979.

"If you came here today and went into some of the shopping centers, and women were wearing … [their] native dress, you wouldn't even blink," Narasimhan, the founder of the Super PAC AAPI Victory Fund, told HuffPost. "It's just like California. It's changed that much."

Part of that change happened when AOL (now a brand of Oath, HuffPost's parent company) set up shop in northern Virginia in the 1990s, attracting a large number of Asian tech workers to the region. While Asians represented 3.2 percent of the northern Virginia population in 1980, they now make up about 15 percent, according to census data.
"Virginia is showing what the rest of the South can be in the next 15 to 20 years."
The growth of the Indian population in Virginia can be traced back to robust numbers of highly skilled software and engineering labor moving to northern Virginia, Ramakrishnan said. Virginia currently ranks third in the nation for the best high-tech industry economy.
"The move away from government contracting to technology innovation and entrepreneurship has brought people here, especially immigrants, and they've started businesses and weaved their way into the fabric," Narasimhan said.
Whereas 40 years ago, 1 in 100 Virginians were born outside the U.S., that percentage is now 1 in 9, according to University of Virginia researchers. Asian-Americans now make up an estimated 7 percent of Virginia's population, with people of Indian, Filipino, Chinese and Korean descent having the strongest presence. It's led to Asian cultures fusing into the townscapes, from restaurants to small businesses to prominent houses of worship.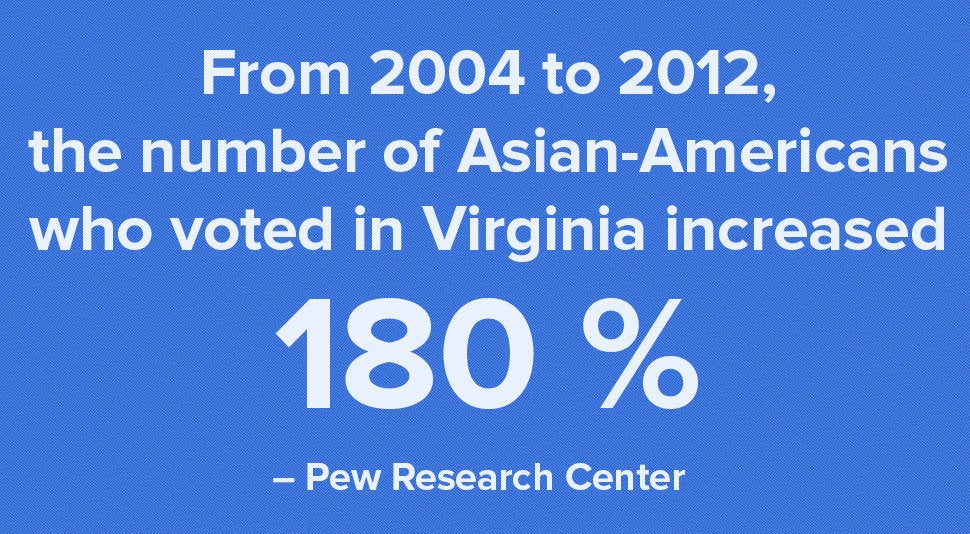 The level of civic engagement and political visibility within the Asian-American community of Virginia has never been higher, said J.R. Smith, the chair of the Virginia Asian American Advisory Board, which advises the governor. He pointed out that there are currently more senior AAPIs in the cabinet of Gov. Ralph Northam (D) than at any other time in Virginia's history.
From 2004 to 2012, the number of Asian-Americans who voted in Virginia increased 180 percent. Though it's taken a while for Virginia to build an Asian-American community, civic and political leaders feel that they finally have a seat at the table.
"Virginia is showing what the rest of the South can be in the next 15 to 20 years," said Mark Keam, the first Asian immigrant elected to the Virginia House of Delegates.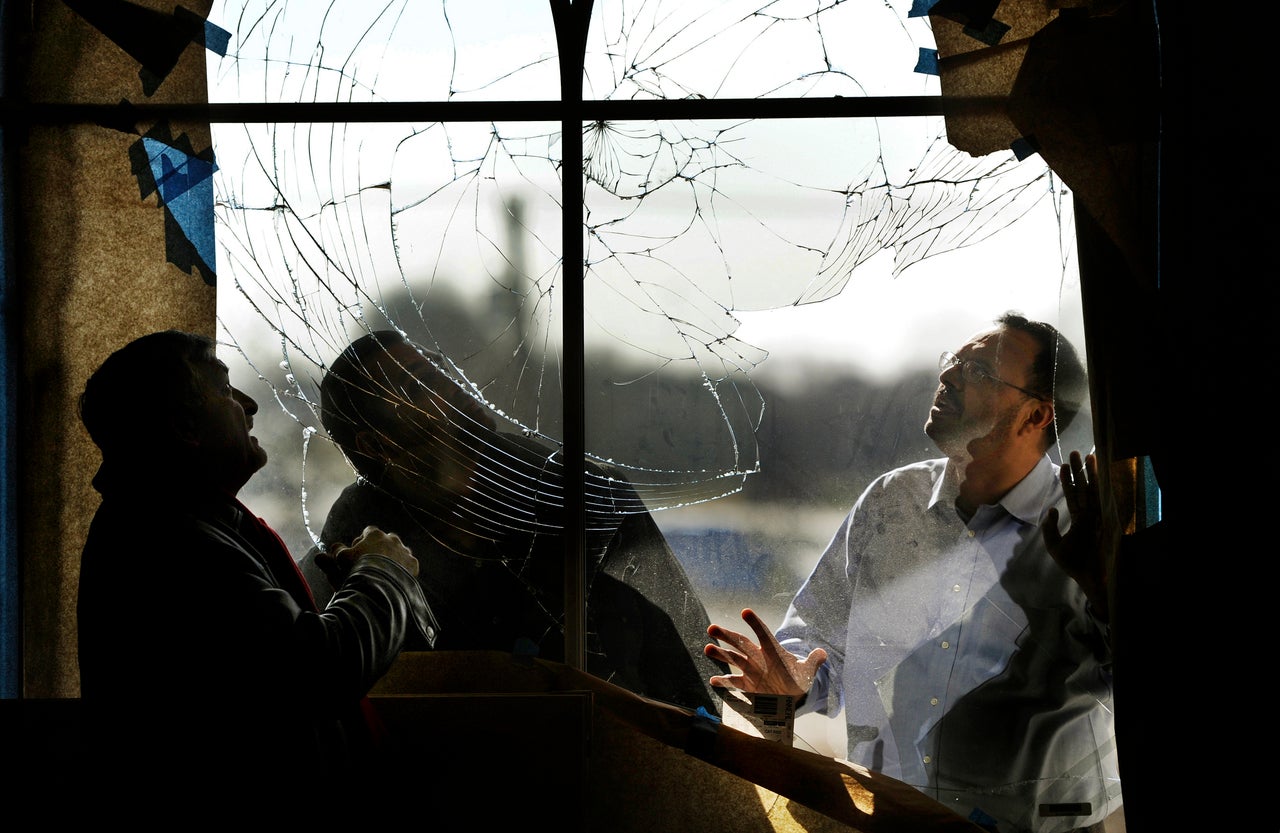 As Population Grows, So Do Racial Conflicts
The rising visibility of the AAPI community in the South has not come without its share of racism. A report released last year showed a higher number of hate incidents in the region during the 2016 election cycle than elsewhere in the country.
Nationwide, the overall number of reported violent and xenophobic incidents against South Asian and Middle Eastern communities increased 45 percent in one year, between November 2016 and November 2017, according to South Asian Americans Leading Together, a civil rights advocacy organization.
"What we've increasingly seen, which has frankly surprised us, was an uptick in the hate violence incidents occurring in places where our communities are well-established," said Suman Raghunathan, the executive director of SAALT.
Within the Asian demographic, South Asians are the fastest growing group, according to SAALT. In the South, the South Asian-American population has doubled from about half a million to more than 1 million since 2000.
"When our communities become more visible ... that, in turn, appears to spur hate violence and xenophobic political rhetoric."
"What we concluded was that when our communities become more visible by virtue of building houses of worship, by virtue of establishing community centers, by virtue of gaining prominence in local conversations and local politics, that, in turn, appears to spur hate violence and xenophobic political rhetoric," Raghunathan said.
SAALT blames the current state of politics and the rhetoric of the Trump administration for creating a climate that hurts the Asian community. The organization's latest report found that following the 2016 elections, 20 percent of perpetrators of racially motivated violence explicitly invoked a Trump administration policy, campaign slogan or the president's name itself. Of the incidents documented over the past year, 82 percent were found to be motivated by anti-Muslim sentiment.
A School System In Texas Integrates Asian Culture
When Chavez High School in Houston celebrates the Lunar New Year, you might see a parent picking up their kids on horseback while students practice a traditional dragon dance.
"Two horses, and each kid hops up onto the saddle behind the adult," said the school's principal, René Sanchez. "That's just Texas for you."
In 2004, the Houston Independent School District ― the largest in Texas ― formed the Asian Advisory Committee to address the growing Asian population and to make sure Asian immigrant parents' voices were being heard. Since then, the committee has led the way in celebrating Asian culture with regular district events and in making sure Asian parents who aren't fluent in English are well-versed on issues affecting the district.
"Amid the backdrop of a traditional dragon dance at Chavez High School, a parent might pick their kids up on horses."
"We're kind of like the odd one out in the Southern states," said Annie Song, the HISD representative on the district's Asian Advisory Committee. "You really don't feel a challenge being an Asian immigrant because the community here is so big."
Asians currently make up around 8 percent of the Houston area population, according to the U.S. Census Bureau, with Vietnamese people making up the largest group. From 2000 to 2016 in Texas, the Asian population rose 132 percent, per AAPI Data. The Houston school district has a Mandarin immersion school, and currently, the Asian Advisory Committee is working on introducing an Asian history and culture awareness curriculum in the schools.
HISD staff have also been on learning delegations to Beijing and Shanghai to enrich their programs back home. Various district schools are now partnered with nearly a dozen schools in China so students in Texas can practice their language skills via video chat with students abroad. In December, HISD's superintendent, Richard Carranza, was in Taiwan, where he signed a school partnership agreement.
Houston is also the most diverse city in the U.S., and the way this manifests itself in a school setting could be viewed as uniquely American. At the same high school where families can pick up their kids on horseback, a multicultural stage with Latino students participating alongside Asian-Americans in a Lunar New Year K-pop dance is just a normal celebration.
Support HuffPost
The Stakes Have Never Been Higher
Popular in the Community