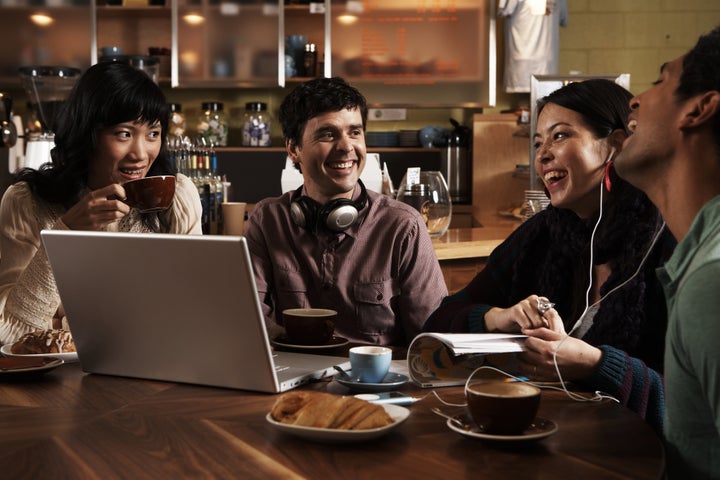 But though it may appear that the "model minority" myth about the 15 million Asians in America extends even to physical and mental health, experts say this finding obscures the truth about vast disparities between Asian subgroups -- and that the study's methodology may have prevented the elderly, immigrants and people who don't speak English from contributing to a more nuanced picture of the health status of Asians in America.
The report, published by the U.S. Center for Disease Control and Prevention's National Center for Health Statistics, found that, as a whole, the group has better-than-average measures of chronic disease, self-reported "poor" health, work limitations, social participation issues and serious psychological distress. But in addition to painting a very broad, largely positive health picture, the research also exposes biases in data collection that may be skewing the results toward younger, more assimilated Asian-Americans.
Though often tallied as such, Asian-Americans are not a monolith. Seventy-four percent of Asian-American adults were born outside of the U.S., and they come from more than 30 countries around the world. They represent dozens of different languages and have widely varied socioeconomic statuses, education levels, careers, immigration statuses and English-speaking abilities.
That's why it's a victory for health researchers -- and a point in the study's favor -- that the NCHS continues to publish disaggregated data on the largest Asian subgroups. They break up collected information into the six most-populated ethnic/national groups in Asian America (Chinese, Filipino, Indian, Korean, Japanese and Vietnamese), highlighting the sometimes vast differences between these groups. Chinese-Americans, for example, reported better health compared to the general population and to most other ethnic groups included in the report, which spans data from 2010 to 2014.
In the past, a report like this one may have presented Asian-Americans as one racial group, masking significant differences and disparities, said Gilbert Gee, a professor at the University of California, Los Angeles' School of Public Health. Gee and other experts say we need to try harder to more accurately capture the health statuses of the fastest growing racial group in America, lest we be fooled by the overall rosy picture presented by aggregated data on Asian-Americans as a whole.
Here are four surprising findings from the report that prove this notion:
1. Vietnamese-Americans may have worse overall health than all Americans.
About 12 percent of all Americans say their health is "fair" or "poor." Among Asians, however, that figure is about 10 percent, but that aggregated total masks the high percentage of Vietnamese-Americans who say their health is only fair or poor. At almost 17 percent, these responses from the Vietnamese community are significantly higher than the U.S. total.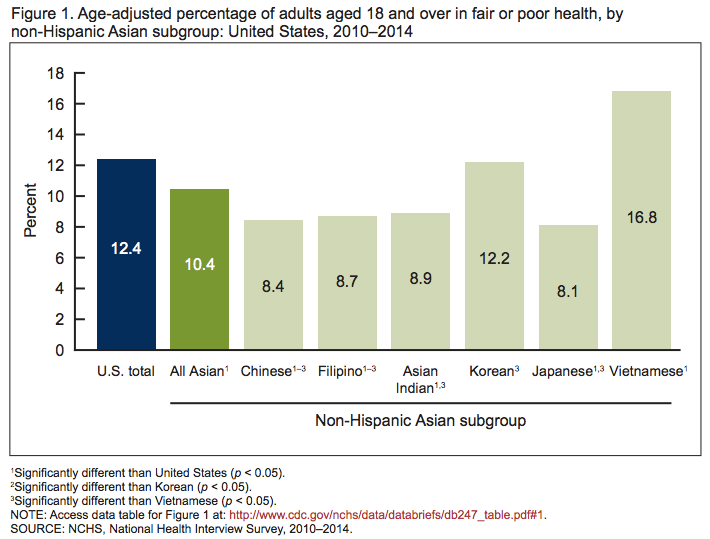 2. Filipino-Americans suffer from multiple chronic conditions at rates higher than all other Asian subgroups.
Twenty-four percent of Americans say they suffer from multiple chronic conditions, like hypertension, coronary heart disease, stroke, diabetes, cancer, arthritis, hepatitis, kidney disease, asthma, emphysema and/or chronic bronchitis. As a group, that number is about 16 percent for Asians. But Filipino-Americans were most likely out of all the surveyed ethnic groups (22.3 percent) to say they suffer from multiple chronic conditions, and their rate was about double that of Chinese-American respondents.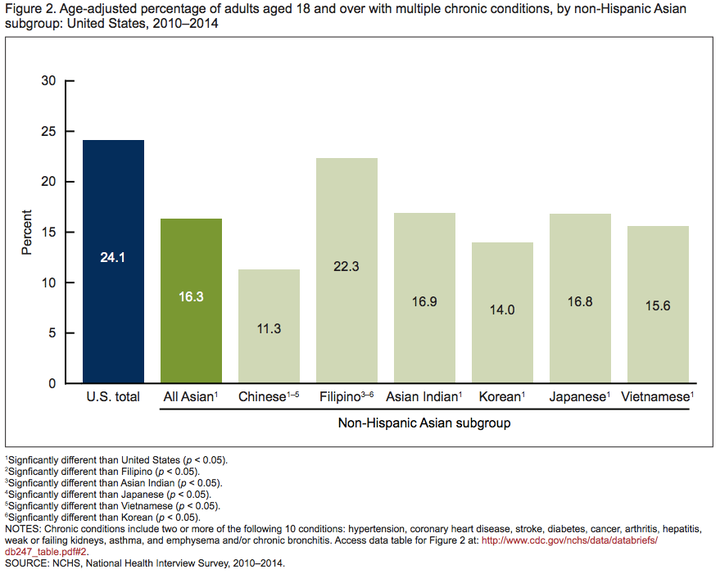 3. Vietnamese-Americans suffer serious psychological distress at higher rates than other Asian subgroups.
Vietnamese-American respondents reported serious psychological distress at higher rates than the other five Asian subgroups, but this reported rate was still lower than the rate of the general population.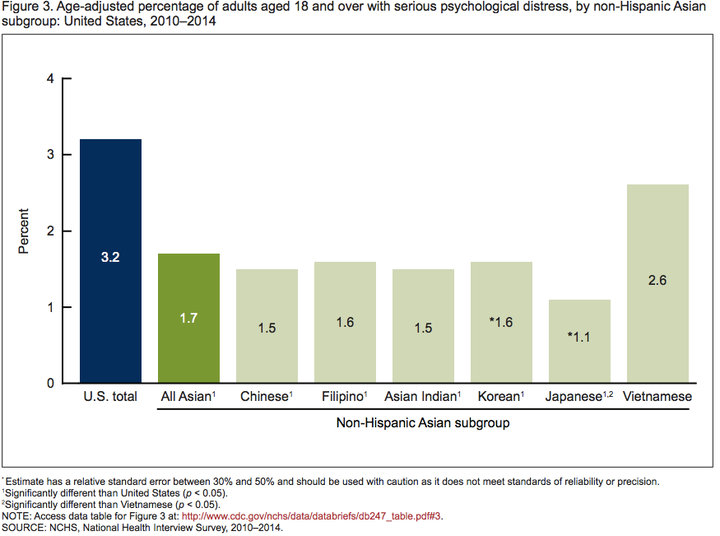 4. Korean-Americans are more likely to say that their health interferes with their social life than the general U.S. population.
Asian-Americans overall were less likely than the general population to say that they had a work limitation. Japanese-Americans reported the highest rate, but their four percent was still significantly lower than the U.S. general population's rate of 6.5 percent. Finally, Asian-Americans were significantly less likely to say they had health considerations that limited their social life.
But within Asian-Americans as a group, the difference between the Korean- and Japanese-American subgroup was more disparate than the difference between the general population and all Asians as a group. This shows that differences among Asian subgroups can be greater than the difference between the general population and Asian-Americans as a whole.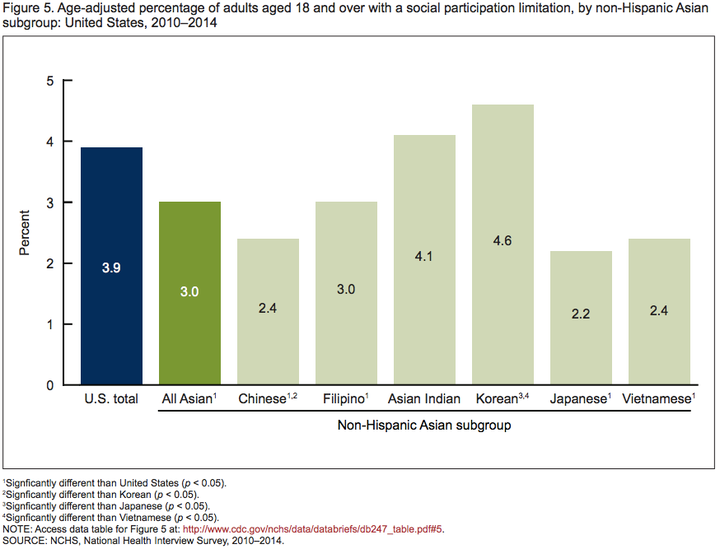 What the experts say:
Aside from the overall positive picture and the well-being of Chinese-American respondents, Barbara Bloom, a health statistician for NCHS and the lead author of this study, said there were no other clear data patterns, and that the other Asian subgroups presented a "very mixed bag" of health statuses. This is in keeping with past research that shows that there can be dramatic disparities in health insurance coverage, chronic disease and health behaviors among Asian subgroups, she wrote in the report.
However, researchers who were not involved in the study also point out that there are certain troubling aspects of the survey methodology that lead them to believe the data may be skewed toward English speakers, the young or those who are more assimilated than recent immigrants. For instance, past U.S. census data shows that only about 45 percent of Chinese or Korean speakers in the U.S. consider themselves proficient in English, and only 40 percent of people who speak Vietnamese say that they speak English "very well."
This makes the NCHS survey's eight percent interview translation rate suspicious, said Gee and Nadia Islam, deputy director of the Center for the Study of Asian American Health and assistant professor of population health at NYU Langone Medical Center. The small number of translated interviews could mean the data skews away from older immigrants who don't speak English and who might also be sicker, which could taint final results.
Most of those interviews were conducted not by trained professionals, but by family members, which introduces another layer of uncertainty because researchers aren't sure if language is properly interpreted. It's also possible a translating family member may shield either the surveyor or the participant from sensitive information. Islam called this part of the methodology "troubling."
"We know from a healthcare perspective that having a family member serve as your interpreter really can result in a lot of miscommunication," Islam told HuffPost. "There may be sensitive things that you might not want to relay to the family and there might be cultural barriers in terms of sharing particular information."
But until community groups and researchers work together to raise the political will to properly fund national surveys with trained translators, the NCHS study is probably the best report we have to understand the health of Asian-Americans, according to Gee. "The issue is that there's really not a lot of political will to do a good sample," he said. "It requires some money, it requires some resources, and it requires that people really want to do it."
Gee and Islam also said that unlike the last status report on Asian-American health, which was published in 2008 and included data on income, education, health behaviors and specific diseases, this NCHS report has no data except for ethnicity, making it difficult for experts and lay people to parse and interpret the data.
Bloom said her goal was to publish a simply, easy-to-understand report that the public can read. She also said that the NHIS survey these reports are based on will change slightly in 2018, but that big surveys remain very expensive to conduct.
"It's very expensive to run a big survey like this, and any survey would always want more money to do everything they're interested in," Bloom said.
How this could affect you:
Take all research about Asian-Americans with a grain of salt -- especially those that appear to present them as a "model minority" in any particular area. Asian subgroups can be extremely different from each other because they come from countries with distinct cultural and linguistic histories, and their immigration to the U.S. has been shaped by many different political and economic realities that do not apply to Asian-Americans as a whole.
Methodology is also key. Check to see how many of those interviews were conducted in a language other than English, and who translated them. Finally, because the Asian-American population is also a majority immigrant population, it's difficult to parse any survey results that don't also have information about immigration status, length of time in the U.S. or the generational distance from first migration to the U.S.
"With a report like this, there needed to be more nuanced and better presentation of who the survey population was," Islam concluded. "As it stands, it's very difficult to make sense of these results."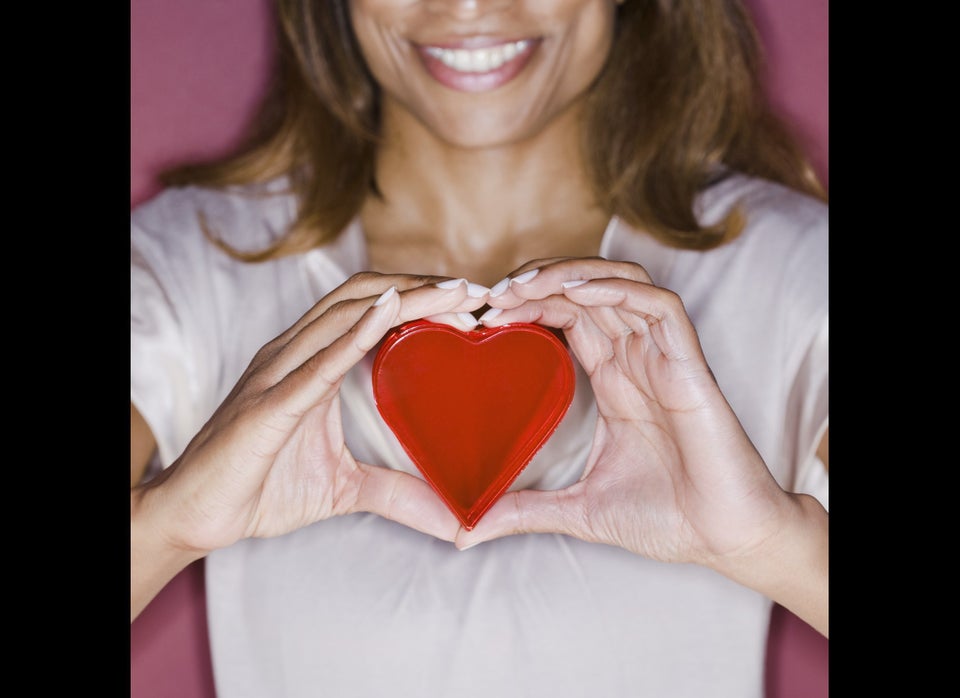 19 Healthy Reasons To Help Others
Popular in the Community