They notified Trump in a letter on Wednesday, NBC Asian America first reported. The departing commissioners constituted about two-thirds of those remaining on the 20-member panel, since another six had already resigned on Jan. 20, Inauguration Day. Only four commissioners are left.
"Although the Commissioners' term ends 9/30/17, we can no longer serve a President whose policies aim to create outcomes that are diametrically opposite to our principles, goals, and charge," the Wednesday letter reads.
The resigning commissioners pointed to how the Trump administration has characterized immigrants and anybody who isn't white and Christian.
"We object to your portrayal of immigrants, refugees, people of color and people of various faiths as untrustworthy, threatening and a drain on our nation," the letter says. 
Read the full letter below.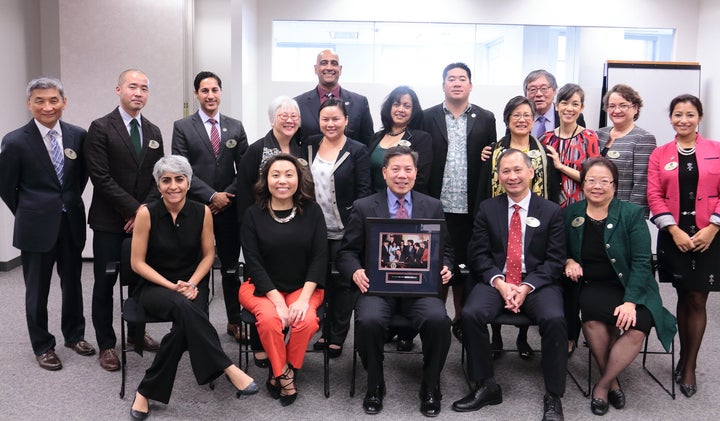 The departing commissioners singled out Trump's executive order temporarily banning all refugees and all travelers from seven Muslim-majority countries. "Banning Muslims bans members of our AAPI community," the letter says, using an acronym for Asian Americans and Pacific Islanders.
Southeast Asia is home to about one-quarter of the world's Muslim population.
The commissioners also objected to the administration's support for repealing the Affordable Care Act and its moves to increase immigration control and cut resources to sanctuary cities, two actions that would negatively affect the AAPI community. The letter notes that 2 out of 3 Asian Americans and Pacific Islanders in the U.S. are immigrants. 
Before any of the members resigned, they said they sent Trump a letter on Jan. 13 regarding its goals and principles, but never received a reply. 
"There was no way to influence any policy," Tung T. Nguyen, who resigned as chair on Wednesday, told AsAmNews. "Our assessment is only the viewpoints that fit the administration will be heard."
The White House did not immediately respond to a request for comment. 
The commission was set up under President Bill Clinton's 1999 executive order establishing the White House Initiative on Asian Americans and Pacific Islanders. Presidents George W. Bush and Barack Obama renewed that order.
Trump has not signaled what he will do when the remaining commissioners' terms end in September.  
REAL LIFE. REAL NEWS. REAL VOICES.
Help us tell more of the stories that matter from voices that too often remain unheard.