There has been a fair amount of sensationalist reporting on birth tourism by Chinese immigrants, with little understanding of the number of estimated "birth tourists," and how they compare to the overall number of Chinese immigrants or visitors to the United States. Below, we provide some numbers in perspective.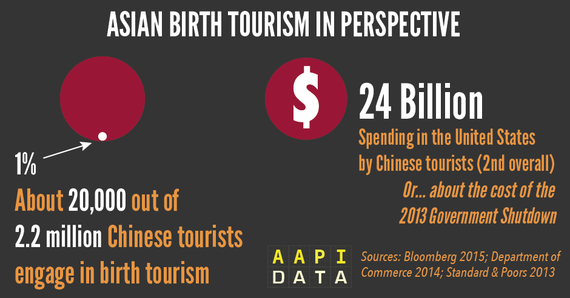 To put those numbers into perspective, Chinese birth tourists account for about 1% of all Chinese tourists visiting the United States, who numbered around 2.2 million in 2014. Chinese tourism is also a major part of total international tourism spending in the United States, accounting for $24 billion in tourism spending, according to the Department of Commerce, and second only to Canadian tourists who spent around $27 billion.
The federal government has already cracked down significantly on birth tourism establishments, with evidence suggesting that the overall numbers of birth tourists from China may be in decline. Targeting individuals who may be intending to engage in birth tourism is not only likely to invoke concerns about racial profiling and violations of privacy, it also puts at risk a robust and growing trend in Chinese tourism to the United States, which is expected to reach $81 billion in spending by 2021.
Popular in the Community