In mid-May, I sat in a room overlooking Lake Michigan, and the towering Chicago skyline, with U.S. Environmental Protection Agency (EPA) officials and 17 other leaders representing various Great Lakes organizations united by a shared passion for protecting and restoring the Great Lakes. Together, these members of the U.S. EPA Great Lakes Advisory Board will provide advice and recommendations to the U.S. EPA Administrator, who also oversees the federal Interagency Task Force. The Task Force is leading the development and implementation of a new Great Lakes Restoration Initiative (GLRI) Action Plan, continuing to support the largest investment in the Great Lakes in two decades. The GLRI's mission? To leave the Great Lakes better for the next generation. A daunting list of issues face the basin -- habitat degradation, toxic waste runoff, harmful algae and low lake levels, just to name a few. We are charged with the difficult task of prioritizing our key areas of focus for the GLRI's next five year plan, from FY2014 to FY-2019. At our inaugural meeting, we overwhelmingly agreed on one of our top priorities: to prevent the establishment or introduction of invasive species in the Great Lakes. But the billion dollar question remains: how?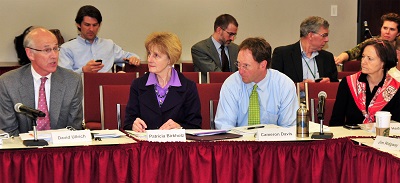 Great Lakes Advisory Board meeting May 2013 (L-R): David Ullrich, GLAB chair; Patricia Birkholz, GLAB co-chair; Cameron Davis, Great Lakes Czar; Susan Hedman, Administrator for EPA's Region 5
Only a week later at the Council of Great Lakes Governors meeting, leaders from each state reached a similar consensus. We must prevent invasive species, particularly Asian carp, from entering the Great Lakes, where they have the potential to wreak economic and environmental havoc. At the meeting, during a debate about how to address invasive species issues, Illinois Gov. Pat Quinn agreed for the first time that ecological separation is the "ultimate solution" to permanently keep Asian carp and other aquatic invaders out of the basin. To achieve ecological separation, the Great Lakes and Mississippi River must be physically and permanently disconnected. But of course, reversing a century-old canal that runs through Chicago and connects two giant watersheds is no small undertaking. Infrastructure challenges aside, there are also considerations for the native aquatic life and the economic impact.
At Shedd Aquarium, our unique position in the community helps us educate our 2.1 million annual guests about what ecological separation actually involves. We emphasize that this is not just a Chicago issue, or even just an Illinois issue. Invasive species can enter the Great Lakes at many places around the basin, and their presence affects us all, from the smallest freshwater mussel to the largest city on the shoreline. Communities from Ontario, Canada, to Buffalo, New York -- 140 cities to be exact -- call the Great Lakes shorelines home. If Asian carp enter the basin, they have the potential to devastate native fish species and alter our aquatic ecosystem, creating a ripple effect that could touch everyone who depends on this delicate web of life for water, food, and livelihoods.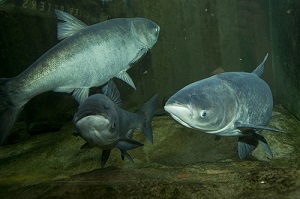 Today, a highly effective series of electric barriers prevents Asian carp from entering the Great Lakes, led by the U.S. Army Corps of Engineers and the U.S. EPA. Their efforts, supported by GLRI funding, have to-date kept the invasive fish 50 miles from the nearest lake. The Asian Carp Regional Coordinating Committee's Monitoring (ACRCC) and Rapid Response Plan (RRP), supported by GLRI funding, is also keeping the Asian carp in check. In fact, the Illinois Department of Natural Resources, a member of the ACRCC and RRP, last fall discovered several Asian carp in a Chicago lagoon and they are now on display at the Aquarium to educate the public on these aquatic invaders.
While they are shielding the Great Lakes for now, from my perspective it is prudent for the Great Lakes region to seriously explore effective solutions, some which maybe more "permanent", in order to prevent Asian carp from entering the Great Lakes. Thankfully at the bi-national, state and provincial levels, there continues to be a healthy discussion about what a permanent solution would entail.
As the U.S. EPA Great Lakes Advisory Board continues to meet over the summer, we are weighing the science, ecology, economics and community impacts of such solutions which will better align the GLRI Action Plan with current, critical needs across the Great Lakes basin. We are also listening to the public and stakeholders on these critical issues during public events and online webinars. If you want your voice to be heard, submit your thoughts or concerns at http://www.glri.us/index.html, or email your comments directly to actionplan@glnpo.net by July 12. Together, we can come up with a solution to keep our lakes great.
Photo 2: Asian carp at Shedd Aquarium's At Home on the Great Lakes exhibit ©Shedd Aquarium/Brenna Hernandez