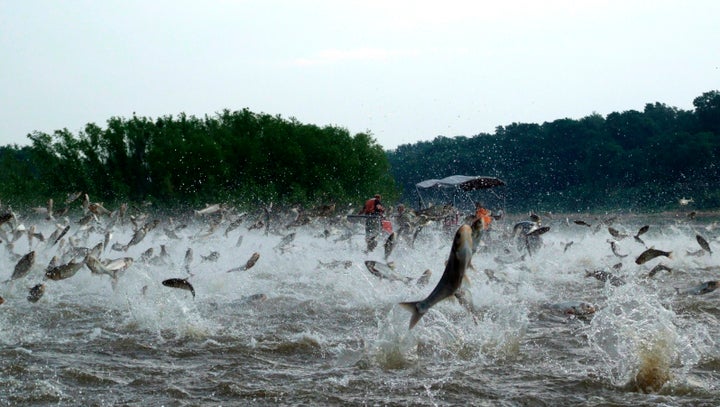 "Shotguns, jumping fish, and boats speeding along on bumpy water. What could go wrong?" Chicagoist wrote Friday, adding that Winters' bill is not the only strange solution to carp locals have come up with:
… there are already guys cruising the Illinois River in makeshift armor, swinging samurai swords and Wolverine gloves at Asian carp off of water skis. And shooting arrows at the flying fish is a big enough sport that there has already been at least one bow hunting cover model accident near Peoria.

"Fish translates to one thing: food," said Chef Philippe Parola. "It's one of the greatest natural resources we have."
Imported from China, the carp escaped into the Mississippi from Deep South fish farms and sewage lagoons in the early 1970s. They've fanned out across dozens of rivers, creeks, ponds and reservoirs. Bighead carp have turned up in 26 states and silver carp, the other Asian species on the Great Lakes' doorstep, in 17 states.
The bighead can reach up to 4 feet long and 100 pounds, while silver carp are notorious for hurtling from the water like missiles when startled, at times slamming into boaters with enough force to shatter bones. Biologists say it's uncertain how much damage they would do if established in the lakes. But under a worst-case scenario, they would unravel the food web by consuming huge amounts of plankton – tiny plants and animals on which most fish rely at some stage of life.
WATCH as Asian carp surprise a family as they drove their motorboat down the Spoon River of Illinois over the summer:

REAL LIFE. REAL NEWS. REAL VOICES.
Help us tell more of the stories that matter from voices that too often remain unheard.
BEFORE YOU GO