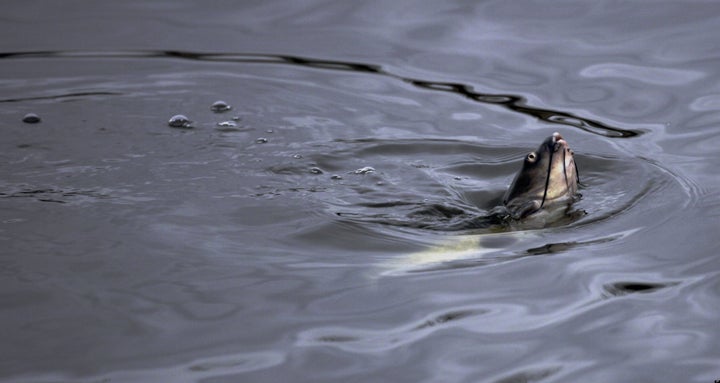 The announcement comes on the same day as the U.S. Supreme Court denied a request by the State of Michigan to force Illinois to address the Asian carp migration.
The ruling, or lack thereof, came down Tuesday morning, as the court denied review to a number of cases. Michigan was seeking a permanent injunction forcing Illinois to close waterway locks and take many other emergency measures to stop Asian carp from entering the Great Lakes system.
The carp are migratory fish that, according to the EPA, are "large, extremely prolific, and consume vast amounts of food." As such, they pose a threat to native fish species, and to the $7 billion fishing industry in the region. Michigan and other states, including Wisconsin and New York, are hoping that the waterways around Chicago will be shut down to prevent the fish from reaching Lake Michigan. Last week, reports showed Asian carp DNA within a mile of the lake.
But closing down the locks would have a deleterious effect on Illinois' shipping industry, and given its current budget crisis, the state is reluctant to do so.
Gov. Pat Quinn declined to say whether he favored closing the locks, but said: "We have to protect the ecology of the Great Lakes; we also have many, many jobs that depend on shipping, so there has to be a proper balance.

"There are ways of preventing the carp from getting into the Great Lakes without strangling our economy."
The Supreme Court has not yet ruled on Michigan's other plea, seeking to reopen a decision from 80 years ago. That ruling, a consent decree by the court, allowed Chicago to divert a certain amount of water from the lake. A revision of that decree could still force Chicago to close its locks entirely.
Without Supreme Court action today, though, Governors Jennifer Granholm of Michigan and Jim Doyle of Wisconsin are calling for a White House summit on the carp issue, seeking an "immediate" solution to the problem.
Meanwhile, such measures may already be too late, as the Army Corps of Engineers' report is expected to show traces of leaping silver carp already in the lake. "Environmental DNA," usually found in fecal samples, indicates that the carp are nearby. A sample from December 8 found eDNA in Lake Michigan, the report will say.