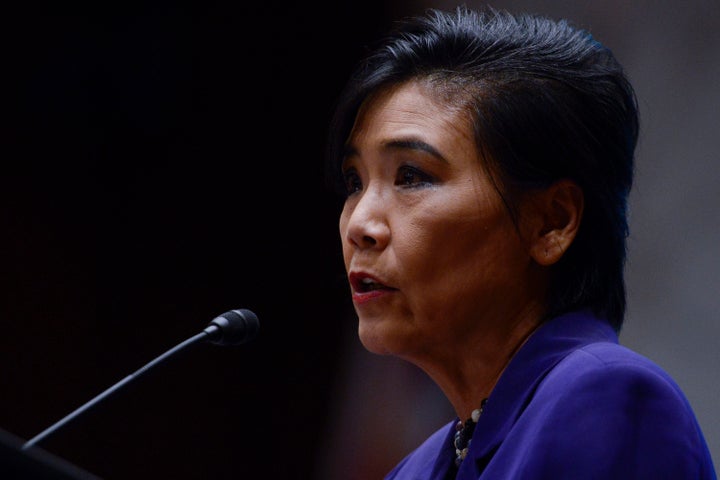 Asian-American and Pacific Islander members of Congress have requested a meeting with President-elect Donald Trump to discuss the issues that most affect their communities, while voicing their extreme concern over anti-Muslim discrimination.
The Congressional Asian Pacific American Caucus, which advocates for AAPI issues, sent a letter to Trump last week, citing immigration, civil rights and education as some of the critical topics the group wants to discuss.
The demands are straightforward: No Muslim registry, no mass deportations, keep the legal immigration system in place and reform it if necessary, Rep. Judy Chu (D-Calif.), the caucus' chair, told The Huffington Post.
Chu said her primary objective right now is to ask Trump not to establish any system that would unfairly discriminate against Muslims, such as a registry, which the president-elect said he supports.
"This would be a serious invasion of Muslim-American civil liberties in this country," Chu said. "Much like how the Japanese were the target of the internment camp experience. They lost their civil liberties due to fear, hysteria and accusations of espionage. We cannot have that happen again."
"This would be a serious invasion of Muslim-American civil liberties in this country. Much like how the Japanese were the target of the internment camp experience ... We cannot have that happen again."
Trump's transition team has denied the president-elect's support for a Muslim registry, though a video from the campaign trail last year in Iowa shows him detailing how a Muslim registry would involve "good management" and how he would "sign them up at different places."
Trump has also mentioned the Philippines and other countries with large Muslim populations as potential targets for immigration bans.
"We need to express our grave concerns on an outright ban on a country like the Philippines," Chu said.
Chu also expressed other preoccupations about immigration as it relates to Asian-Americans. From 2000 to 2013, Asian undocumented immigration increased 202 percent, according to the Migration Policy Institute. The number of undocumented immigrants from China and India now exceeds the population coming from Mexico and Central America, MPI reports.
Chu pointed out that Asian students make up about 40 percent of all undocumented students in the University of California system ― which comprises 10 schools, including UCLA and UC Berkeley.
Eliminating the Deferred Action for Childhood Arrivals program, authorized under President Barack Obama, could put those students and others at risk of deportation, Chu noted. DACA has prevented 700,000 young people who came to the U.S. illegally as children from being forced to leave the country. But that could change as Trump vows to "cancel every unconstitutional executive action, memorandum and order issued by President Obama."
Education is another issue Chu said she wishes to discuss with Trump. Southeast Asians have the highest dropout rates in the U.S., according to Johns Hopkins University. Forty percent of Hmong, 38 percent of Laotian and 35 percent of Cambodian students do not complete high school, the White House reported.
What's more, about 1 in 10 Hmong, Laotian, and Cambodian-Americans are out of work, according to The Asian American Center for Advancing Justice. That's higher than the unemployment rate for Latinos and similar to that of black workers.
Chu said she wants Trump to understand the need for disaggregated data and to recognize that the model minority myth ― the belief that all Asians are high achieving ― is just that: a myth. Otherwise, vulnerable Asian-American populations could miss out on critical resources and programs.
"There is a stereotype that all Asians are a model minority when it comes to education. But those from Cambodia, Laos, Vietnam, have the highest dropout rate in the U.S."
About 2.7 million Asian-Americans could be at risk of losing access to health care if the Affordable Care Act is repealed, the AAPI Health Forum estimates.
Trump's transition team did not respond to HuffPost's request for comment.
Chu has not heard from the president-elect's team either, she said. But she's not giving up: "If we do not hear, we will press again."
Popular in the Community