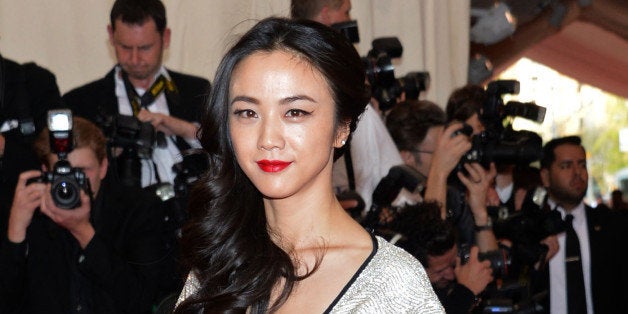 Jeffrey Paul is one of my beauty bff's and an insanely talented celebrity makeup artist with a spiritual bent that he brings to his work. A beloved beauty guru to top Asian and Bollywood actresses who fly him all over the world, Jeffrey somehow manages to merge East and West to create breathtakingly beautiful modern makeup. So how perfect that he was in New York making up actress Tang Wei (of the Ang Lee film Lust Caution) for the 2015 China-themed Met Ball. Lucky me got the lowdown over miso vegetables at my apartment when he stopped by before heading to the airport. Here's the scoop:
Tang was wearing a gorgeous crystal Burberry gown and wanted her makeup to be a modern take on a classic Chinese look. That translates to a traditional Chinese lined eye (how-to's in a minute) paired with glowy flawless skin and a burgundy lip.
Jeffrey accentuated and enlarged Tang's eyes using a traditional Asian makeup technique -- the liner veers straight out onto the skin after it passes the pupils, giving an uplifted wide-eyed effect. "It's a trick drag queens always use but the Chinese did it way before the drag queens," he says.
Step 1: Powder lids with a skin-matching face powder to matte them out from lid to brow.
Step 2: Begin lining eye with black liquid liner, starting inside the rim at the inner corner of upper lash line, moving onto the lash line itself before the pupil, continuing straight across after the pupil instead of following the true shape of the eye. Stop at the same length as the outer corner, and then fill in the difference between lash line and liner to create a cat-eye look.
Step 3: A lash strip was then applied starting at the pupil gluing it straight out following the liner (so the last few bits of the lash strip are glued onto lid skin, not lash line).
Jeffrey used an illuminating product under her foundation to give skin a glowy effect (I like NYX Born to Glow Liquid Illuminator, $7.50). A cream foundation was applied on top, and then buffed into the skin with a flat top synthetic makeup brush using circular motions to create the look of fine porcelain instead of makeup. A matte coral cream blush was applied to give cheeks a glow, again blended into the skin to appear internal.
Instead of the traditional Chinese red lip that's more orange-red, Jeffrey went with a burgundy lip color from Burt's Bee. "It's the color of a glass of Bordeaux," he said.
For photos, please visit my blog here.