The weather outside is frightful.
Which is a great reason to take advantage of all the amazing cultural corners of New York City that breathe life into memories of time past. Put on your coat, pull out your gloves, and enjoy the history that this city has to offer.
So here are my recommendations for what you should do this frigid wintry season... if you can get in.
Natasha, Pierre and the Great Comet of 1812
Kazino, 45th St. & 8th Ave., www.thegreatcometof1812.com, tickets start at $75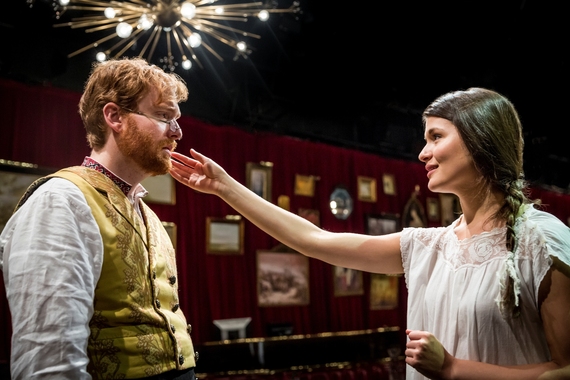 It's a musical, it's food, it's booze, and it's engaging for a full two and a half hours.
Generally, I'm pretty lukewarm on the idea of dinner theater, but here, the musical performance is a satisfying the main entree.
The Great Comet of 1812 takes place in Moscow, during the time of Tolstoy's War and Peace. There is no bloodshed to be seen, just a slice of life from upper class Russia and a blossoming ill-fated romance. The musical starts off with a song introducing all dozen or so characters, which makes it easy to follow for the duration. The actors interact with the audience song after song, and they take over the entire dining space, dancing in one corner, singing in another, and sometimes even pulling a chair up to your table. After intermission, you are given a small shaker and encouraged to join in the percussion for a number.
The vocal talents of the radiant Phillipa Soo as Natasha are mesmerizing as she emotes with each word she sings. Amber Gray brings her spunk (and a voice that will give you goosebumps) to the role of "the slut" in the cast, Helene. The entire cast, from leads to ensemble, commit fully to being in 1812. You leave feeling immersed in 19th century Moscow -- having attended an opera, visited a prince, and fallen in love with a scoundrel.
Rao's
455 E 114th St, New York, NY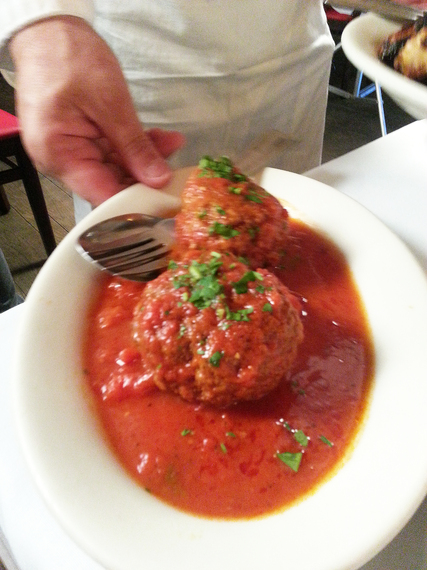 Ah, one of the notoriously difficult reservations to get and one of the most magical places where you can eat dinner in this city.
Rao's has come to be known as a lot of things: celebrity hangout, mobster supper club, impossible reservation. And perhaps it is all of these things, but the one truth that people don't seem to whisper about is that Rao's is a sliver of the past.
When you walk into Rao's for dinner service, no one is sitting at a table. Everyone is crowded around the bar, chatting with each other, because yes, everybody knows your name. And since Rao's only does one seating a night, you can take your time saying hello to old friends and making new ones. When you sit down for dinner, there is no menu. The manager, comes up, tells you what they have, and asks you what you like. It's a conversation that leads to plates piled high with homestyle Italian food. Get the meatballs, they are the stuff dreams are made of. The food is made in Italian mother fashion: simple flavors and a dash of love. With only 10 tables, the restaurant staff really does come to love each diner, a sensibility of another time.
I have no answers for how you can get in. But if you do, you will feel transported back to the early 1900s when this part of East Harlem was predominantly working class Italian families creating their meals from bread crumbs, boxes of pasta and San Marzano canned tomatoes.
Nom Wah Tea Parlor
13 Doyers St, New York, NY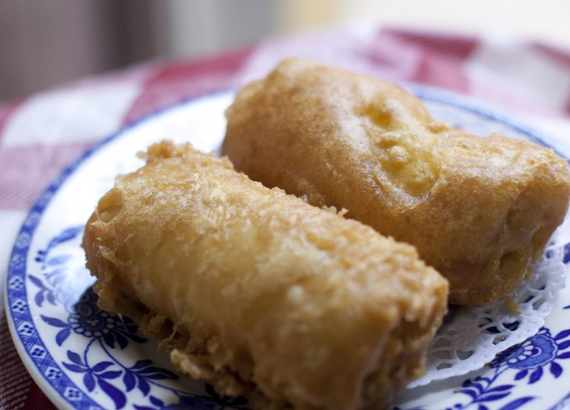 Nom Wah Tea Parlor is the oldest dimsum parlor in Chinatown. It's been there since the 1920s, when Doyers Street was a meeting place for gang fights. But it weathered all the bloody times and now sits in that odd corner, with it's big yellow letters that look like they are 100 years old.
That isn't far from the truth. The restaurant still keeps much of its furnishings from half a century ago. There have been very few changes to the menu over the decades. Of course, the most marked difference is that the clientele has gone from Chinese immigrants to hipsters, but the charm remains. There are no dimsum carts here, everything is made to order, ensuring that your food is precisely as it should be: hot, savory and dripping with the flavor of Chinatown past.
Order the egg roll, because it comes in an actual egg crepe. The shrimp rolls, scallion dumplings and sticky rice are also must-haves. The only gang fighting to be had will be over the food, so order a lot. And when in doubt, ask the freakishly tall Chinatown-born owner, Wilson, for some recommendations.
See you on the flip side, New Yorkers!
REAL LIFE. REAL NEWS. REAL VOICES.
Help us tell more of the stories that matter from voices that too often remain unheard.