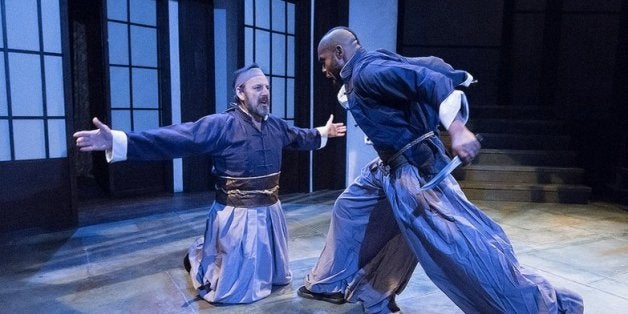 "The Tragedy Of Julius Caesar" was supposed to be set in an alternate version of ancient Rome, according to director Charles MacMahon, one which had been conquered by "a sort of feudal Japanese society."
Instead, a bunch of white dudes and one black man -- Tony nominee Forrest McClendon -- ended up sporting kimonos and blowing bamboo flutes on stage. These and other critical missteps have turned what was billed as a season "highlight" for the Philadelphia-based Lantern Theater Company into a punch line.
Now MacMahon has responded to accusations of insensitivity, first raised in an open letter penned by a Philly artist of Japanese descent. Titled "How to Stage Your Show Without Being Super Racist," the bulleted list calls out the production for several issues, including its cast, a misrepresentation of the Japanese concept of seppuku, and a tendency to swap Japanese props (clothing and weapons) for Chinese versions.
The dustup is the latest in a line that began in the early 1990s, when the Broadway musical "Miss Saigon" famously drew protesters into the streets, for its portrayal of Vietnamese women. More recently, a British adaptation of "The Orphan Of Zhao" made headlines for starring zero performers of Asian descent, a casting choice made worse by the company's official squib hailing the Yuan-era drama as the "Chinese Hamlet."
Directors often defend their choices as the result of the widespread policy known as "color-blind" or nontraditional casting. The approach is intended to level the playing field, as the majority of characters on Western stages are written to be white. But statistics show a complicated effect: white performers actually land significantly more "colorblind" roles than their peers.
In the case of "Caesar," cultural insensitivity was arguably more of a problem than casting. Reviewers latched onto the confused setting ("Rome-pan," as one blogger put it), rather than McClendon's apparently "magnetic" performance in the title role. It's a shame, because the missteps seem borne of an almost endearing cultural obliviousness, down to the kitschy, ninja-esque font used in the play's literature, which one Philly magazine has dubbed "the Asian version of Comic Sans."
In a video uploaded to Vimeo last month, MacMahon sat down with Makoto Hirano, the author of the viral letter, to discuss what went wrong with his Shakespeare adaptation. Citing his own "ignorance," he also addressed the challenge of democratizing theater more generally. The "chronic underrepresentation" of Asian performers is reflected in the numbers that show up to casting calls: only two auditioned for Lantern productions last year, according to MacMahon, and in recent years, only three have been cast.
Those demographics, however, are unique to cities with a small theater community. Given the steady wave of backlash against each poorly-conceived Asian-inspired production, the theater establishment should by now be clued into the scores of Asian actors and actresses in other zip codes who would kill for parts.
"You can put a casting call out in a city like New York or Los Angeles -- where most actors are," wrote Erin Quill, a mixed-race actress who often weighs in on matters of diversity in theater, and tackled the Lantern production on her personal blog. "And they could do this amazing thing that actors do... travel."
Calling all HuffPost superfans!
Sign up for membership to become a founding member and help shape HuffPost's next chapter