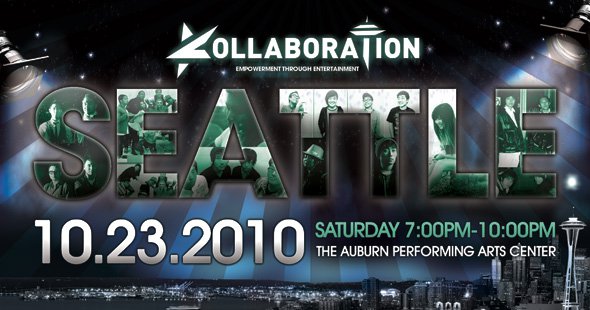 Ok, it's a sensationalistic title. Asian-Americans are clearly not taking over the music industry because it's clearly dominated by Justin Bieber but I do have other exciting news to share.
The rumors are true. I am guest-judging for an event called Kollaboration and specifically, for their installment in the beautiful and talented city of Seattle.
While I'd rather be recognized for my undergrounds skills as an emcee (My underground emcee name is Minister Sinister], I get to do the 2nd best thing by doing my best Simon Cowell impersonation at this event which will be held on Saturday October 23, 2010 at the Auburn Performing Arts Center. Kollaboration, now in its 10th year, is the premier Asian-American Talent/Entertainment showcase. This year's show will feature 8 acts competing for the $1,000 grand prize as well as special guest performers and judges. [tickets]
Kollaboration is an annual event and movement produced by young Asian and Pacific Islander (API) professionals and students to promote a strong API presence in entertainment and media. Our high-energy shows across the nation provide a unique chance for young API artists to showcase their talents.

Kollaboration's current mission is "Empowerment through Entertainment." We hope to empower API youth by providing a creative outlet and leadership opportunity for them. For API families, our movement offers a platform for communication that bridges generational and cultural differences. Finally, for the API community, we aim to raise awareness for critical community issues and NGOs.
Why do I believe in the vision?
As in... not very visible. As in... APIs are invisible in the music industry. As in...it's really difficult to break in. I can only assume the difficulties of trying to "make it" in the entertainment industry for anyone but consider how much more difficult it must be for APIs in an industry where you rarely see any Asian-Americans.
And when the road is that much difficult, I've been very encouraged how Asian-Americans, rather than playing the role of victim, have created their own opportunities. Case in point: The New York Times wrote an article a few months ago of how Asian-Americans are utilizing You Tube to get their music and art out there.
What's the takeaway? Don't be discouraged. Work hard. Be creative. Create your own market. Utilize the mediums that are "helping" to quasi even the playing field. Or at least, make it a little more accessible.
I resonate with Kollaboration because I don't want entertainment's purpose to simply be about entertainment. I don't want to see Asian-Americans simply excel in the entertainment industry so that we can grow full of themselves. I want us to be part of larger trajectory and movement of hope, beauty, and courage. It's another reason why I'm really excited and humbled that not only have they asked me to be a judge but they've asked One Day's Wages to partner with them as one of the organizations they'll be featuring through the event. I get a chance to speak briefly about this new vision and grassroots movement to fight extreme global poverty.
Anyway, if you're in the larger Seattle area, I invite you to support the event. Check out their promo video:
And speaking of some emerging Asian-American artists, here's a couple:
And bringing great pride to the Seattle hip-hop scene: Blue Scholars. Geo is one of the most talented lyricists out there. For the life of me, I don't quite know how they haven't blown up bigger.
And speaking of really unknown but gifted talent, check out this band called Feats and Inches.
REAL LIFE. REAL NEWS. REAL VOICES.
Help us tell more of the stories that matter from voices that too often remain unheard.