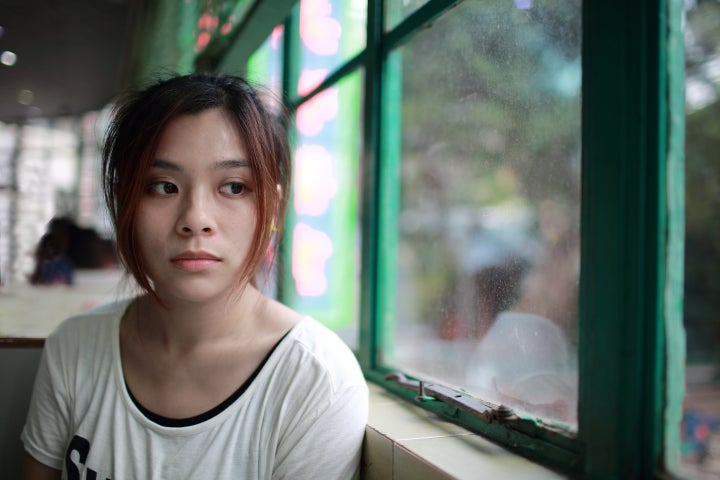 Quyen Dinh's parents fled Vietnam for the U.S. in 1981, six years after the fall of Saigon. She was born a year later in California and grew up living in Section 8 housing and relying on food stamps with her family.
Their lives reflect a notable part of the Asian experience in the U.S. ― the too-often overlooked people who didn't soar to the top of the income charts.
Economic inequality among Asian-Americans is now greater than that of other large racial or ethnic groups in the U.S., according to a new report from the Pew Research Center. While Asians overall still have the highest median income, researchers found there is a huge gap within the Asian community ― between those in the top 10 percent and those in the bottom 10 percent.
The study looked at incomes from 1970 to 2016. At the beginning of that period, Asian-Americans had the smallest gap and black Americans had the largest.
"Asians are often pictured as the highest achieving group in America, but Asians are actually the most economically divided or diverse group," Pew senior researcher Rakesh Kochhar told HuffPost.
Researchers attributed the growing gap largely to shifts in Asian immigration. The study highlighted two very different waves of migration: the immigrants who came after the Immigration and Nationality Act of 1965 made it easier for Asians to settle in the U.S., joined by the refugees who arrived after the Vietnam War ended, versus the highly skilled job seekers who came more recently under the H-1B visa program.
Kochhar suggested the economic divide mainly increased "this decade ― the last five to 10 years."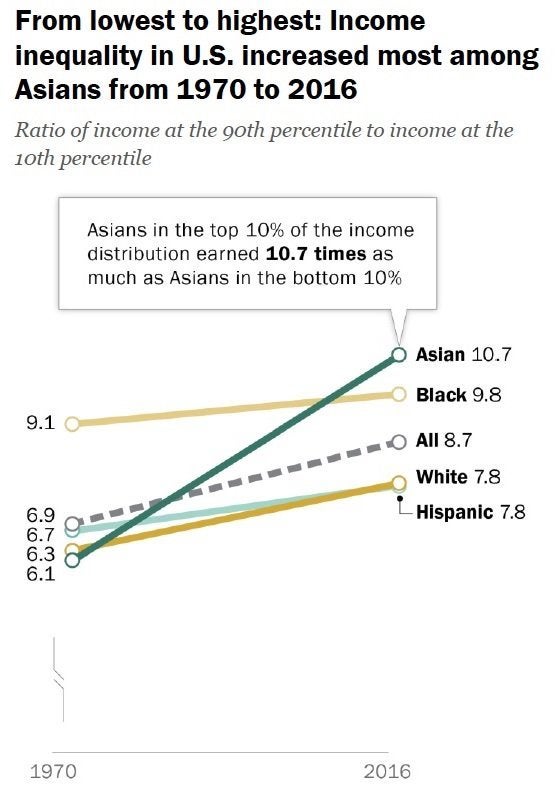 According to the Pew study, Asians in the top percentile had a median income of $133,529 in 2016, compared with $12,478 for those in the bottom percentile. The gains for lower-income Asians over the study period trailed well behind the gains for their counterparts in other ethnic groups, Pew reported.
Dinh ― who is now executive director at the Southeast Asia Resource Action Center, a national advocacy group for Cambodian, Laotian and Vietnamese Americans ― sees in the report a chance to get more help for those who are struggling economically.
"The opportunity that's revealed is that policies from health to housing also need to take into account Asian-American communities," she said, adding that low-income Asians have not always been "on the radar of policymakers."
When Dinh's family arrived as refugees, her father went to work in the air conditioning industry and her mother was employed in retail. Like many other immigrants, they lived in a low-income community with opportunities for low-skilled jobs. Her family is now lower- to middle-class, she said, but not everyone in that post-war generation has done as well. Nearly 1 in 5 Cambodian families in the U.S., for example, live in poverty.
"You never get out of the cycle completely. What we've seen from research is it takes multiple generations to move out of poverty."
Immigrants accounted for 81 percent of the growth in the Asian adult population during the period of the Pew report. And now there's an aging population who never held jobs that would provide Social Security benefits. According to Dinh and other immigration experts, these factors can keep families in poverty across generations.
The poorest Asian groups in the U.S. are the Hmong, Malaysians, Burmese and Bhutanese, whose poverty rates hover between 28 and 33 percent ― compared to 15 percent for the general U.S. population.
"That is what generational poverty looks like. You never get out of the cycle completely. What we've seen from research is it takes multiple generations to move out of poverty," Dinh said. She hopes the report will push policymakers to focus on ways "to really disrupt the cycle of poverty."
The Pew study revealed some other less surprising facts: Whites and Hispanics had the lowest levels of income inequality in 2016, and whites and Asians still out-earn blacks and Hispanics at all income levels.
But it's the people who may be stuck at the lower end of the gap that concern Dinh and other Asian-American advocates.
One problem for lower-income Asians is that service agencies are not always aware of them.
"Unless you do the type of research that Pew did with this and look at different segments of the community on their own, the aggregate numbers do look good for Asian-Americans," said Josh Ishimatsu, deputy director of community impact for the National Coalition for Asian Pacific American Community Development. "This is a population where the median income has been rising. But that's driven by the success of only one segment."
Language barriers can present another difficulty, Dinh pointed out.
"Often because communities have such limited English capacity, there's really a lack of knowledge about housing, employment, food stamps," she said.
Fifteen percent of immigrants from South and East Asia haven't even graduated from high school, compared to 9 percent of native-born Americans.
Ishimatsu called for more data and more support, including from all those higher-income Asian-Americans.
"I'd like to see more disaggregation of AAPI [Asian American Pacific Islander] data and more attention to the most vulnerable in our communities," he said. "I'd like to see more resources directed toward these segments of our communities, whether it's from the public sector or a charitable source, and also from the most well-off in our communities."
Even some Asian-Americans buy into the model minority myth, Ishimatsu said.
"A lot of Asian-Americans don't know there are Asian-Americans who are less well off, too. It's not just the mainstream public who doesn't know."
Popular in the Community