As Taiwan moves ever-closer to becoming Asia's first country to recognize marriage equality, record numbers gathered in downtown Taipei over the weekend for the region's largest LGBT Pride. The celebration of diversity culminated in an historic advance for locals, as the LGBT Pride flag flew above the island nation's capital for the first time.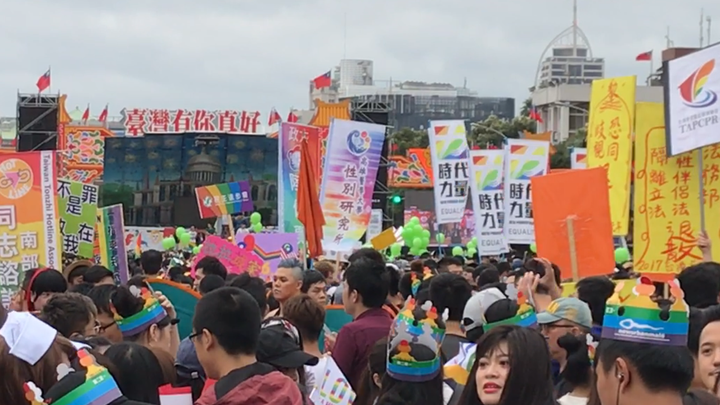 Now in its 14th year, Taiwan's LGBT Pride celebration drew a reported 80,000 to the country's political hub Saturday, October 29. Unfettered by light rain throughout the day, revelers filled the city's Jhongjheng District with signs urging the country to finally pass marriage equality and colorful Pride flags, a smattering wearing festive costumes, as the parade snaked in orderly fashion through Taipei's busy downtown.
"It's not huge by Western standards but there is nothing like it in East Asia," said local drag personality Magnolia La Manga, an ex-patriot from the United Kingdom who has attended the last eight consecutive Taiwan Pride events. "Tokyo and Bangkok can't compare."
A far more subdued, peaceful demonstration than the raucous affairs known to many cultures around the world, La Manga said the first Taiwan Pride 14 years ago drew approximately 500 -- but grows in attendance by thousands each year. This year's Pride carried special significance, the entertainer indicated, because governmental discussion of marriage equality finally reached a tipping point.
WATCH: Taiwan Pride 2016 - A Video Recap
"The gay scene here is amazing," La Manga stated. "Since I came in, things are going to get better and only continue to get better. We're going to be the first place in Asia to get gay marriage -- either this year or early next year!"
It appears the drag diva's "prediction" is far more accurate than anyone might have expected! Already one of the most advanced Asian countries as relates to LGBT rights, just two days after its historic pride, Taiwan's executive branch — the Executive Yuan — announced a majority opinion in support of same-sex marriage. With its legislative body handing down its first official vote on the matter, they have urged a special session of the Taiwanese Justice Ministry to amend to the country's civil code to recognize gay unions.
It's been a long struggle, but progress has come quickly since Taiwan's May elections. There the Democratic Progressive Party (DPP) displaced the more conservative Kuomintang (KMT) party in Taiwan's publicly-elected Executive Yuan for the first time. It also saw the election of Taiwanese President Tsai Ing-wen, an advocate for marriage equality.
The first woman ever elected to Taiwan's top office, President Ing-wen has gone on record saying she will ultimately support whatever decision the Executive Yuan makes. However, preceding Saturday's Pride activities, her official Facebook page made her individual stance clear: "Even though my role has changed (as President), my values remain unchanged."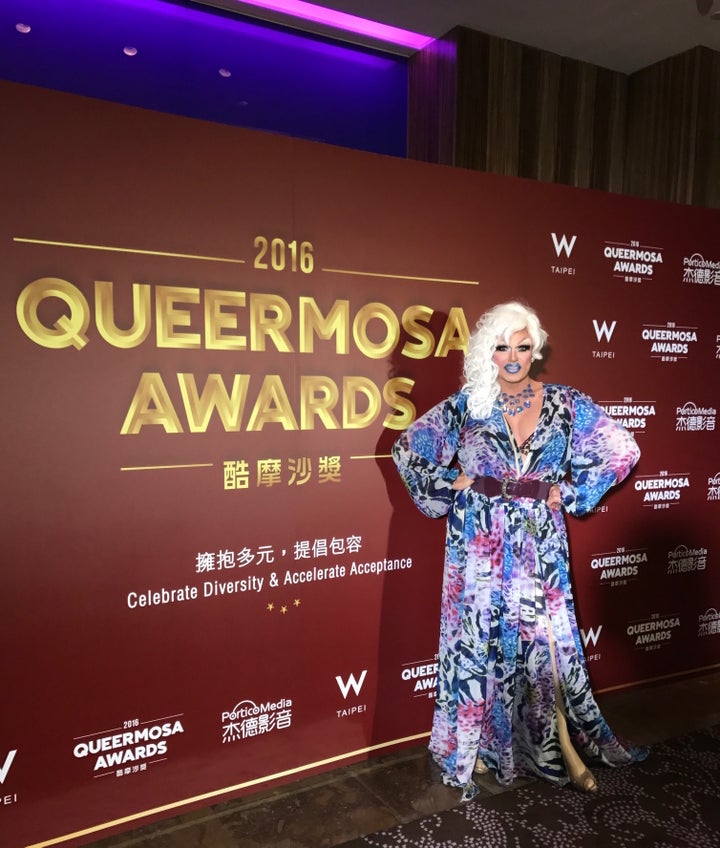 Taiwan Pride anchored a weekend of LGBT celebration. Other highlights included the country's First-Annual Queermosa Awards and 2017 Mr. Gay Taiwan Pageant.
Held Oct. 28, the Queermosa Awards proved a star-studded affair drawing hundreds of glamorous guests, a performance by popular, Award-nominated Taiwanese singer Hush and more to the luxurious and thoroughly modern Taipei W Hotel. Founded by the Taiwan International Queer Film Festival, sponsored by Portico Media, and similar in feel to the U.S. GLAAD Media Awards, the evening recognized contributions by the Taiwanese LGBT community and its allies in areas of entertainment, industry, culture, society and more.
The Awards Banquet often reiterated numerous recent advances which make Taiwan increasingly accepting of LGBT residents — and a trendsetter on the subject in Asia. As a result, LGBT travelers are beginning to take note.
In addition to a clean, vibrant metropolitan area featuring internationally-acknowledged levels of safety for all (including LGBT people), areas of Taipei often draw comparisons to New York City (one even dubbed "Taipei Manhattan"). The largest city in Taiwan, with a cumulative population approaching 8 million, it offers thriving nightlife, untold culinary delights, world-class retail and vast cultural and historical sites.
The world's tallest green (energy efficient) building, Taipei 101, offers high-end shopping at street level and a 360-degree view of the city and surrounding mountains from its observation deck. The Chung Kai-Shek Memorial guides visitors through the life and historical impact of Taiwan's most revered modern leader.
With a current exchange rate of 30+ New Taiwan Dollars for each U.S. dollar, Taipei is proving an affordable, increasingly attractive international destination. And, given the country's growing embrace of the LGBT community and rights, locals anticipate its appeal will continue to grow among LGBT travelers seeking an exotic escape ― both during Pride season and year-round.
"Rights don't just fall from the sky," said Queermosa founder Jay Lin, originally from Davis, CA, of LGBT advances in Taiwan in a pre-ceremony press release. "There is so much work that needs to be done to work with like-minded advocates, including politicians, officials, and [non-governmental agencies] to lead the general masses to see the 'beacon' light, and finally make those rights equal and real.'
According to this week's events, that's exactly what's happening in this beautiful Asian nation.
Pollo Del Mar was in Taipei for the city's historic 2016 LGBT Pride events. She is presently enjoying an eight-day excursion through cities large and small across Taiwan promoting her new single "I'd Rule the World (A Woman's Got the Power)".
Calling all HuffPost superfans!
Sign up for membership to become a founding member and help shape HuffPost's next chapter