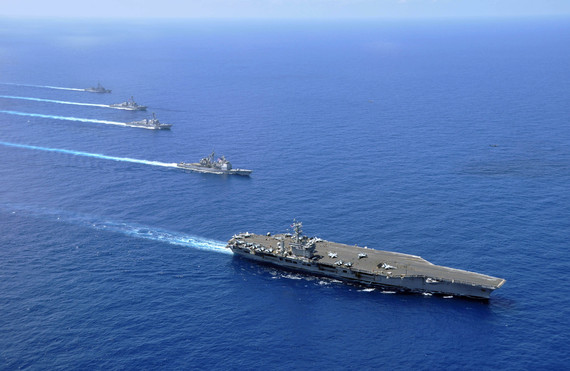 Note: This article was based on the author's recent participation at the Shangri-La Dialogue, Singapore, which hosted the world's leading defense officials and experts.
Singapore - "The vast Pacific Ocean has enough space for two large countries like the United States and China," claimed Chinese President Xi Jinping during his intimate retreat in Sunnylands with his American counterpart, Barack Obama, back in 2013. Optimistic about a new era of cooperation, Xi espoused a "new model of great power relations." Three years on, the two superpowers are on a collision course in the South China Sea.
Four centuries after the publication of British jurist John Selden's "The Closed Sea," which made a (dubious and self-serving) case for great powers' exclusive sovereign control of international waters, China is inching closer to transforming the world's most important waterway --- hosting a third of global maritime trade, four times oil trade than Suez Canal, and a tenth of global fisheries resources --into a domestic lake.
In direct rebuke of Hugo Grotius' call for "Open Seas" (Mare Liberum, published 1609), which served as the basis for the development of modern international maritime law, Selden argued:"The Sea, by the Law of Nature or Nations, is not common to all men, but capable of private Dominion or proprietie as well as the Land." No less than China, which calls the South China Sea its "blue national soil", has taken up the cudgels for Selden's doctrine of exclusive waters. And the whole Asian security architecture as well as the fate of $5 trillion in annual trade is at stake.
It is not a battle between China and America, but between benign status quo and dangerous revisionism. It is a contest between a giant revisionist power, China, and a whole host of smaller and outgunned littoral countries, from Malaysia to the Philippines. The South China Sea disputes and their global reverberations were well on display during the latest edition of the Asian Security Summit, better known as the Shangri-La Dialogue, which brought together the world's leading defense officials and experts in Singapore.
Though less strident than expected, the United States Secretary of Defense Ash Carter's speech was an attempt to provide unequivocal justification for America's growing military footprint in Asia and its deepening security alliances with a wide array of regional powers. He boasted about Washington's huge military qualitative edge, namely its new undersea drones, the Virginia-class submarines, and the new B-21 Long-Range Strike Bomber. Presenting America as a benign power, he lauded its willingness to share "most advanced capabilities to the Asia-Pacific" partners, particularly Japan and Australia.
His tone, however, shifted once theme of China and its regional ambitions came up. He openly accused China of taking "some expansive and unprecedented actions" that put into doubt its "strategic intentions." He warned, "if these actions continue," China would end up erecting a "Great Wall of self-isolation." Carter went so far as characterizing China's actions as "provocative, destabilizing and self-isolating".
Defense ministers of other Western and regional powers, from France to India, Japan and Vietnam, also expressed their concerns with China's growing military footprint in the South China Sea. Over the past two years, China has reclaimed 3200 acres (1,295 hectares) of land across disputed waters, building humongous artificial islands that host dual-purpose (civilian and military) facilities. No other claimant country, including Vietnam, comes even close.
In recent months, China has deployed advanced military hardware to some of its islands in Paracel and Spratly chain of islands, ranging from high-frequency radars and surface-to-air-missiles to state-of-the-art fighter jets. The growing presence of Chinese fishermen-cum-militia forces is another source of concern. As China builds a sprawling network of military facilities in the area, there is growing fear that China may soon be in a position to establish an 'exclusion zone', denying freedom of overflight and navigation to regional and external military forces.
Carter mentioned the word "principled" 38 times, trying to present China's activities in the South China Sea as a threat to international law and the interest of the broader international community, particularly when it comes to global commons such as freedom of navigation and overflight.
One theme that often appeared in the speeches of and exchanges among top defense officials was the Philippines' arbitration case against China. Beginning in 2013, few months after a dangerous standoff over the Scarborough Shoal, Manila filed a case against Beijing at an arbitral tribunal under the aegis of the United Nations Convention on the Law of the Sea (UNCLOS).
A final verdict is expected in coming weeks. Most experts anticipate an unfavorable outcome for China, which has boycotted the whole proceedings; questioned the jurisdiction and competence of arbitration bodies under UNCLOS to oversee the South China Sea disputes; and accused the Philippines of violating prior bilateral and multilateral agreements by initiating a compulsory arbitration case at The Hague.
The Philippines' arbitration case, however, has gained momentum, overcoming both admissibility and jurisdictional hurdles. Anticipating a landmark verdict, the influential Group of Seven (G7) industrialized powers, Australia, and practically al relevant players in the region have either openly or indirectly expressed their support for the arbitration proceedings.
During the US-ASEAN meeting in Sunnyland earlier this year, both sides mentioned the centrality of international law, particularly UNCLOS, in resolving South China Sea disputes. The joint statement calls for "full respect for legal...processes" by concerned parties. To China's consternation, Southeast Asian powers such as Indonesia and Vietnam, which have closely followed the Philippines' legal maneuver against China, have also threatened similar actions.
In response, China has sought to undermine the legitimacy of the arbitral body by setting up its own international arbitration bodies -- essentially an artificial, parallel international legal regime -- while rallying the support of up to 40 countries -- mostly poor, and many landlocked/continental -- to question the Philippines' arbitration case. Meanwhile, it has also reached out to the incoming Filipino President Rodrigo Duterte, who has expressed his willingness to reopen bilateral dialogue with China and even pursue a joint development agreement if necessary.
"We were not isolated in the past, we are not isolated and we will not be isolated," Chinese Admiral Sun Jianguo, deputy chief of general staff of the People's Liberation Army, asserted during his speech at the Shangri-La Dialogue. He began, in a rather composed manner, by providing a broad overview of China's contribution to international security and development, ranging from its peacekeeping operations in Africa to its generous development aid to and large-scale infrastructure investments in developing countries around the world.
Similar to Carter, Sun presented his country as a responsible global power. The Chinese admiral, however, shifted to a higher pitch, with a more pugnacious rhythm, once he discussed the South China Sea disputes. He singled out the Philippines, in particular. He accused, quite astonishingly, the Southeast Asian country of being "the first country to invade the South China Sea" and undermining regional peace by initiating an arbitration proceeding without securing China's consent.
Claiming that China's (dubious) claim in the area is based on objective history, something that few non-Chinese experts will agree with, he warned that "Chinese people believe in truth, not heresy" and that "belligerence doesn't make peace". Admiral Sung went on accusing America and its allies of indulging in "cold war mentality and prejudice", warning that China is "not afraid of any trouble." Asserting that China bears no responsibility for rising tensions in the area, and that it holds no hegemonic ambitions, the Chinese official accused, albeit cryptically, America and its allies of engaging in "provocations" in pursuit of "their own selfish interests."
He also (credibly) claimed that China, as a major trading power, would never pose a threat to (civilian) freedom of navigation in any international waterway, especially the South China Sea.
The two most anticipated speeches, namely by Carter and Sung, underlined the depth of strategic faultlines in the region. Instead of providing reprieve, or facilitating a modus vivendi among concerned parties, the Shangri-La Dialogue simply exposed the fracturing pan-regional security architecture and its potentially disastrous consequences for Asia. The South China Sea has become Asia's new battlefield.
Popular in the Community