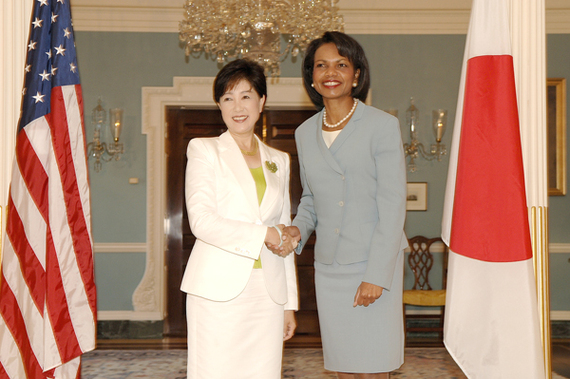 Yukiko Koike and Condolezza Rice in August 2007. Source: Wikimedia
The presidential nomination of former First Lady and Secretary of State Hillary Clinton has received extraordinary attention across the globe. That heightened awareness has brought into focus how well other women - particularly in Asia - have done in terms of rising to political leadership. While Clinton's supporters celebrate her historic campaign, female presidents and prime ministers from several Asian countries have the American presidential hopeful beat by decades.
The latest Asian woman to win a major election is Yuriko Koike, who just claimed a historic victory in the race for Tokyo governor. A former defense minister, the 64-year-old Koike is a Middle East expert who speaks fluent Arabic and previously worked as a television presenter. Koike was elected by a wide margin, receiving 2.9 million votes as an independent when her own party refused to endorse her. These voters, who watched two of Koike's predecessors resign because of financial scandals, responded to her promises of transparency and her vow to "put the metropolitan government back into the hands of Tokyo's people."
The Tokyo campaign was incredibly negative, and Koike's gender prompted serious hostility -former Tokyo governor Shintaro Ishihara publicly said a world-class city of 13 million couldn't be trusted to an old woman with too much makeup. Nonetheless, Koike won both the race and the task of setting Tokyo's preparations for hosting the 2020 Summer Olympics back on solid financial footing. Tokyo has been the target of attacks after being awarded the 2020 Games, with French authorities looking into an alleged payment to a Senegalese businessman on the International Olympic Committee. Some pundits see ulterior motives as France is staging its own bid for the 2024 Olympics and could bolster it by seeming tough on corruption. Of course, Tokyo's challenges are nowhere near the problems overshadowing the start of the 2016 games in Rio. While Brazilian officials have had to deal with political turmoil, the Zika scare, insufficient funds, polluted venues, and safety concerns, Japan still boasts one of the world's biggest economies and a track record of smoothly pulling off major international events, from the 1964 Olympics to last May's G7 summit. It's no wonder Koike made the Games a central issue of her governorship. Tokyo's new governor may have taken the election attacks in stride, but her battle demonstrates how difficult it is for women who take the helm in Asian nations. That seems counterintuitive, since countries ranging from the Philippines to Pakistan have had female heads of state long before North American and otherWestern counterparts. Corazon Aquino, the first female president in Asia, led the Philippines from 1986 to 1992. Benazir Bhutto, who became Pakistan's prime minister in 1988, was the first woman elected head of state in a Muslim-majority country.
And yet, there is one key similarity between these women and Clinton: their political ascendancy was made possible by familial ties. Even though these leaders have been eminently qualified in their own right, Aquino (the wife of an opposition lawmaker), Benazir Bhutto (the daughter of a prime minister), and even the celebrated Aung San Suu Kyi all benefited from the lineage and privilege of a male family member. Their careers have been shaped by fathers and husbands, and their paths to power paved by dynastic relationships. Wives, daughters and sisters Following this same pattern, female leaders like South Korean President Park Geun-hye find fertile terrain for their own political careers. At the same time, candidates who lack a pedigree have a much harder time breaking through the glass ceiling. The case of Park, elected in 2013 to lead South Korea, illustrates both the power of the familial connection and its liabilities.
Park is the daughter of Park Chung-hee one of the founders of modern Korea. South Koreans remember well the military coup that brought him to power and his 1979 assassination. They also remember the human rights violations and the iron fist that were a hallmark of his regime, The 62-year-old Park Geun-hye, elected by 52 percent of the voters, succeeded with her message of economic growth and security, but she also inherited the trauma of her father's memory. In late 2015, more than 70,000 protestors took to the streets of Seoul to protest far-reaching government policies that South Koreans said weakened democracy and whitewashed the legacy of President Park's father.
There are strong similarities in the case of Thailand's Yingluck Shinawatra, who was elected prime minister in 2011 but forced from office during the 2014 military coup that put former general and current strongman Prayut Chan-o-cha in the post. Shinawatra, the sister of former Thai leader Thaksin Shinawatra, followed his footsteps closely. Perhaps too closely: after all, he was also overthrown by the military in 2006. While Yingluck's link to Thaksin was one of the main factors behind her rise, it also meant she inherited his powerful opponents in the Thai establishment.
Hopes for a new era in China and Taiwan In other cases, even familial ties aren't always enough to overcome gender discrimination within the political sphere. In China, Liu Yandong serves as one of four vice-premiers. She is a former chemical engineer whose father was a top official in Shanghai and close to former president Jiang Zemin. She is one of precious few women in the highest echelons of the Chinese state, where senior leaders are reviewed just once every ten years. Only one other woman, Sun Chunlan, was serving in the 25-member Politburo when Liu took office. Despite her achievements and her family connections, Liu is still subjected to sexism by her colleagues within the government and observers outside of it.
For a new generation of Asian women connected to the world by unprecedented levels of education and technology - but not fathers and husbands - there are fewer role models and mentors. In Taiwan, at least, President Tsai Ing-Wen has helped buck the existing trend. Tsai, an unmarried 58-year-old woman with a PhD from the London School of Economics, was elected president this year without a family name in politics. Even though her focus is on security and economics as opposed to gender-related issues, her achievement has helped rewrite longstanding rules of female political participation on this side of the Pacific.
Calling all HuffPost superfans!
Sign up for membership to become a founding member and help shape HuffPost's next chapter