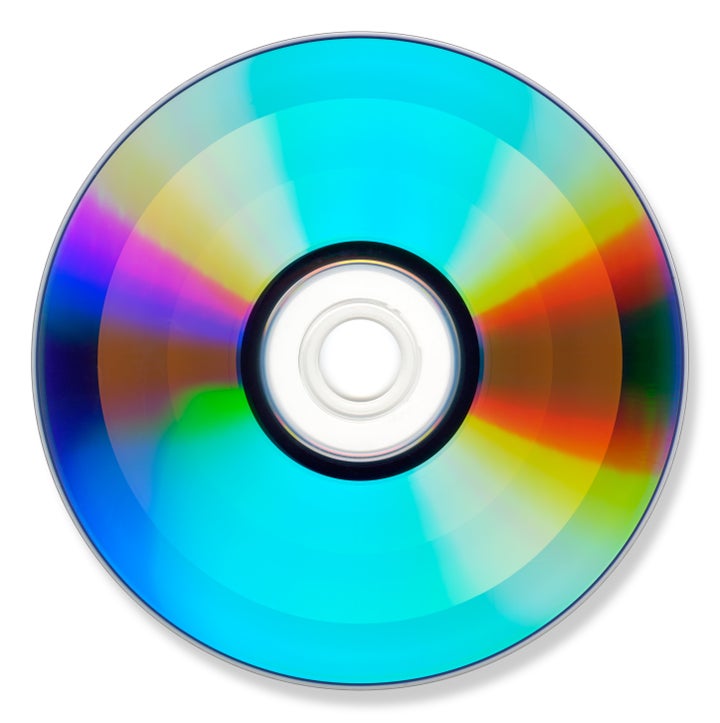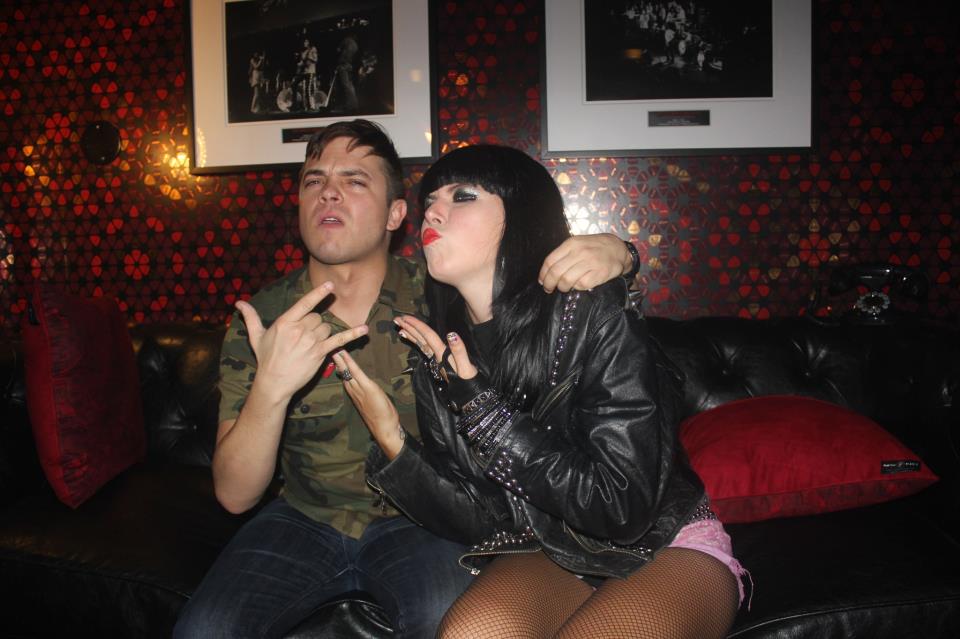 Sleigh Bells photographed inside their dressing room at The Capitol Theatre in Port Chester, NY. Photo/Jon Chattman
In most art form, it's way too easy to fall into a sophomore jinx. If you don't believe that statement, ask Terence Trent D'arby, all of Hootie & The Blowfish, and the writers behind season two of Glee. Yes, I could list dozens upon dozens of examples of how a follow-up album, television season, film, or anything really fails to live up to the promise of a "first.: Brooklyn's Sleigh Bells, however, bucked that trend when they released their follow-up to their breakout debut Treats in February. Reign of Terror was everything you'd expect from the duo of Derek Miller and Alexis Krauss: loud and in your face electro beats matched with some really good vocals. The album was critically acclaimed, and launched the pair into the mainstream with appearances on "Saturday Night Live" and a gig warming the crowd for Red Hot Chili Peppers. Currently, the breakout act are headlining their own tour, and true-to-form, they're killing it. (To listen to their show with ear plugs in is like being an awesome swimmer who uses floaties. Get it? No? In other words: listen loud!)
Thankfully and refreshingly, fame and success hasn't gone to Miller and Krauss' heads. If anything, it's barely registered other than giving them momentum to continue doing what they love doing. On Friday, Oct. 5 hours before they'd take the stage and make many a fan's ears bleed with joy, I met with the pair backstage at the newly restored Capitol Theatre in Port Chester, NY, and discussed their insanely good year and what it means to them.
It's around 5:15 p.m., and Alexis Krauss is curious where the interviewer is. She just walked her dog Rizla, and she knows he's 10 to 15 minutes late. "Is he coming?" she asks her tour manager. I was right behind them - just getting there after spending many minutes in traffic in Port Chester, NY. Krauss, who is wearing an opened black-and-red checkered shirt and short black shorts, greets me with a hug and a smile. "Jon, right?" She asks me three times as we walk upstairs to their swanky dressing room at "The Cap." The Capitol Theatre, by the way, had been closed for years up until a month ago. For decades, the venue had been used for Bar Mitzvahs and special occasions, but back in the 1970s, it was king. Janis Joplin played there. Pink Floyd did. The Grateful Dead's Jerry Garcia once called the venue (and Fillmore West) the best ones in the country to perform at. The new Capitol Theatre has already landed Bob Dylan, David Grey, The Roots, and many walks of pop life from yesterday, today, and tomorrow since reopening. Sleigh Bells are up tonight.
The spunky - and I say that in a non-threatening way- Krauss has a smile a mile wide throughout the short stroll upstairs to meet up with Miller. It compliments her partner in Bells. In many ways meeting the pair felt more like meeting friends of friends at a bar who you hit it off with instantly. They're real versus a version of real. I talk shop for a bit, and then open my MacBook Pro to type away. As Miller, wearing a camouflaged bottle-down shirt and jeans, explained and sort of apologized for, he doesn't like to do video interviews. (My A-Sides are usually filmed). "It's not because of you, it's just I'm so self-loathing," he explained. "Whenever I do them, I watch it back and just look and sound like a fucking idiot," he said.
Miller and Krauss sound like anything but over the course of a 30-minute interview. They just sound like two workaholics determined to stay relevant in an industry that regularly serves up one-hit wonders and flavorful novelty acts. Miller, in particular, is a perfectionist who constantly struggles with the insanely high bar he sets for himself and it doesn't matter how successful they get.
"We're really hard on ourselves. Nothing is ever good enough," he said when asked if he felt Sleigh Bells "made it" in 2012. "We're not patting ourselves on the back. I couldn't watch 'Saturday Night Live' for weeks, and when I watched it, of course I hated it. Whatever success we've had, I find critical faults with it whether we didn't sound up to par or something. It's always something. I'm that guy. I only see and hear the flaws."
Bells is the brainchild of Miller, a Florida native whose musical experience veered on the metal side with the band Poison the Well. In 2008, he moved to Brooklyn in search of a female singer who could lay vocals on some music he was messing around with. He met Krauss at a restaurant he was working at, played her a few demos, and the two clicked. Eventually Krauss, then an elementary school teacher who dabbled in pop music as a teen, joined him. They released an EP followed by Treats and their beats went boom. Miller said he can't really listen to the EP or 'Treats' much because of his 'self-loathing' ways. That said, he realizes his neuroses and "self-loathing" have its benefits. "I'm fully aware of how useful it can be," he explained.
Case in point: because he's always critiquing his current work, he's onto mastering the next thing fairly quickly. Krauss is the same way, and that's why even though they just dropped their second album earlier this year, they're already working hard on their third. Yep, you heard it hear first (or maybe not) a third Sleigh Bells album will drop in 2013. "We'll have three full-length albums in three years," said Miller. Pretty prolific, huh?
No, it's just what they do.
Krauss said the success of the first two full-length albums has made them motivated to pound out a third and just keep moving along. "Success never paralyzes us," she explained. "It pushes us forward constantly. We're half-way through the new record."
The studio is where Sleigh Bells feel most at home. They love the road, and feed off the energy of their fans, but when they have time off, they need to get in the studio to lay down new tracks. It's not like they can just create songs on the road. Krauss said it's somewhat easier for the duo to put out new albums quicker than most because they're not a "conventional band." Elaborating on that, she said since they don't have a drummer, and can't exactly jam on stage and spontaneously create new music on the spot, the best time for them to test out stuff and create is in the studio. "We have to have that final, polished package before taking the road," she explained.
Miller concurred. "Bands are complex units with four of five guys or girls, and everyone needs to agree. Alexis and I get along and we're electric so we don't need a practice space... we can just work on this or that." The this or that, by the way, is respectively a MacBook he points to at one side of the room and another device I'm not hip to know anything about sitting beside me on the couch.
So in a nutshell, for Krauss and Miller, creating in the studio is the shit, and they hate downtime. Remember Alec Baldwin's razor-sharp speech in "Glengarry Glen Ross" that stated the ABCs as in "always be closing?" Well, for Sleigh Bells, it's following ABCs where the initials stand for always be creating.
The pair hate downtime of any kind. "That's my sense of purpose. When I'm home, I get a sense of 'what are we doing?'," Krauss explained. "I used to be a teacher and was up at 5 a.m. We're both workaholics."
Miller added, "I hate vacations. When I'm home, I could go out and get drunk every night, but what's the point? Downtime is awful."
Throughout the entire process, Miller said he'll feel out his songs by sharing them with Krauss and others. "I met Alexis, I mean, by just saying 'you've got to hear this.' I'll be like, hey pizza guy, 'wanna listen to this?'" And once it's out there, Miller said the song doesn't belong to him anymore. "It belongs to other people not just you. It doesn't devalue it. It's part of the process," he said.
Many of Sleigh Bells songs have been used in commercials and films, and that too is part of it. No sell out, Miller said it's just how the business goes. And Krauss said it's not like they'll sell the rights to their songs to anyone, their mother, or Mitt Romney.
"We have standards," Krauss said. "We make money touring but everything we et goes into production. Were not stingy with our crew or anything. The extra money helps."
Miller added, "It's good money. It's almost ridiculous to say no. We have to eat and pay rent."
As the interview winded down, and as the band prepped for dinner before taking the stage for the show, I brought up the third album again. What's it going to sound like? Is it going to be as dark as "Reign?" Probably not.
"I wanted to make a metal record with a different context - without being self-serious. I wanted to play guitar again. Reign of Terror comes from a horrible period of my life. I just needed to get it out of my system," Miller said. Of album #3, he said, "Sonically, it's a lot more clean...it might sound surprising."
Krauss said you can expect her to use her voice more "melodically" with a hint of R&B. "I use my voice in more of a, dare I say, traditional way," she said. "We're fully collaborating now."
Miller said it also marks the first Sleigh Bells album that, for him, feels like a true collaboration.
"'Comeback Kid' was a huge turning point for us. I gave her the instrumental, and within five minutes, we had a whole song. It opened my eyes. I felt like she was extremely underutilized. I'm not spread quite as thin this time. She's doing most of the heavy lifting on this."
Three songs are already done for album three. Sure, Miller said, they may be tweaked. It's all, yes, part of the process. But, those three are pretty much done sans mastering.
As we ended the interview, I asked Sleigh Bells what else we could expect from them. Perhaps, Miller would want to score a few films or maybe the pair would want to lend some original tunes to a soundtrack? The answers were split. Scoring? Yes. Soundtrack? Probably not right now.
"We've had multiple opportunities but we've really been very focused on making our own records," Krauss said. We love what we're going. I don't see a ceiling."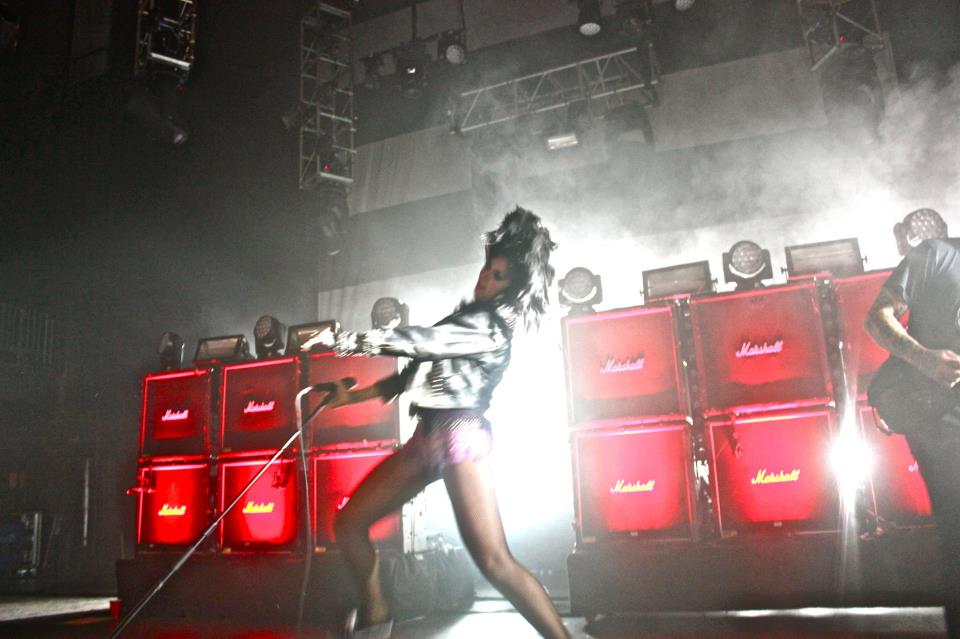 Photo/Jon Chattman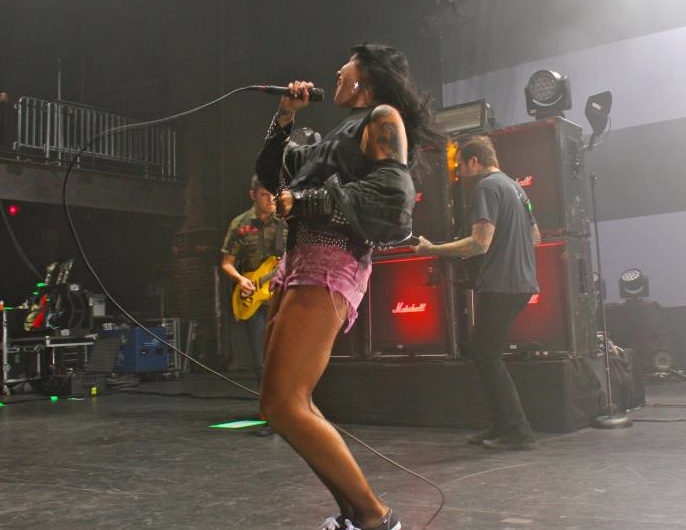 Sleigh Bells perform at The Capitol Theatre in Port Chester. Photo/Jon Chattman
Side Salad
Sleigh Bells aren't the only dynamic duo in pop culture. For gits and shiggles, I hypothetically asked them who they'd be able to take in a fight. Visit asidesmusic.com for a quick tale of the tape.
About A-Sides with Jon Chattman
Jon Chattman's music series typically features artists (established or not) from all genres performing a track, and discussing what it means to them. This informal series focuses on the artist making art in a low-threatening, extremely informal (sometimes humorous) way. No bells, no whistles -- just the music performed in a random, low-key setting followed by an unrehearsed chat. In an industry where everything often gets overblown and over manufactured, I'm hoping this is refreshing.
Popular in the Community