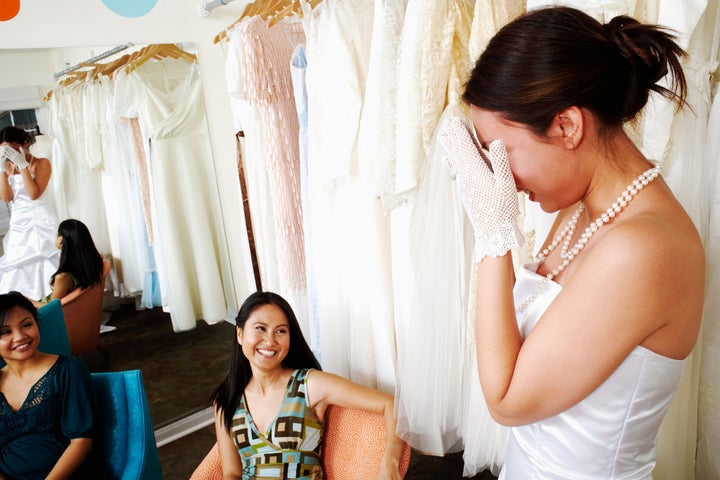 As a couture bridal designer, I have helped countless brides find the perfect wedding dress. But my love of weddings goes beyond the dress -- I'm inspired by each bride's individual story, and after working with so many unique brides over the years, I relish the chance to share my thoughts and help overcome challenges a bride-to-be might encounter while planning her dream wedding. So I decided to head up HuffPost Weddings' first advice column, "Ask Amsale," to answer all of your bridal questions and concerns. From the dress to décor details, whether you're a bride-to-be, a bridesmaid, or the MOB, tweet your questions to @huffpostwedding with the hashtag #AskAmsale and I'll share my best advice for achieving sheer perfection on the big day.

Q: I just got engaged and am ready to start dress shopping -- where do I begin?

A: Make sure you know what kind of wedding you want to have before choosing your dress. Will you be getting married on the beach or in a ballroom? Would you prefer a glamorous black-tie affair or a festive cocktail wedding? Take the time to set the date and book a venue first. It will be much easier to pick a dress when you know the style of your wedding.

Also, the most important thing to focus on in the beginning is the silhouette. If you tackle the shape first and detail later, you'll find it easier to focus and you won't waste time getting hung up on a bow or a brooch.

Q: I just don't look good in white -- how can I still look like a traditional bride without looking pale and washed out?

A: Ivory, another traditional gown color, is often easier to wear because it is flattering on most skin tones. Also, more and more brides are expressing their individuality by wearing variations of white and ivory, like a rich caffe, blush or champagne.

Q: My bridesmaids are all physically very different (tall, petite, plus-sized, large-busted, athletic...). I wish I could put them all in the same dress, but at the same time, I want them all to wear something that will suit their shape. Help!

A: If your bridesmaids have different body types, sizes and heights, you can choose bridesmaids dresses to accommodate these differences. If you want all of your bridesmaids in the same dress, look for a style that will flatter all body types. If you choose to dress each bridesmaid individually, different styles for different bodies, then choose the same color and fabric for all of the dresses so that they all complement each other.

Q: I found a gown I love, but it's really simple. Are there ways I can accessorize it without going over the top?

A: Accessories are the area that gives a bride the opportunity to really express her individuality. It is important to decide what you can add that will make you feel comfortable. The one great accessory that I would suggest is a veil. This can be simple or elaborate, but a great veil complements a simple, beautiful gown.
Check back soon for more answers to your burning big day questions. And don't forget to tweet your questions to @HuffPostWedding using the hashtag #AskAmsale. Or find HuffPost Weddings on Facebook and leave your questions there.