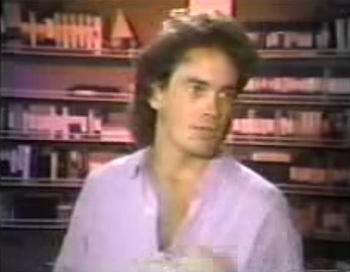 Just over a week ago, we sent out the
: To be reuinted by a glowing, shining icon of my frostbitten Canadian childhood in the form of video footage of my early crush,
J.D. Roberts
. J.D. was a MuchMusic veejay, the host of "The New Music" on CityTV and the dashing, causally-mulleted flame of my secret heart. I am pretty sure I had a crush on him somewhere between hearting
Scott Baio
(Rachel loves Chachi!) and taping up pictures of
Michael Jackson
on my wall, circa "Thriller." Years went by, I discovered real boys to ignore me, and I forgot all about young J.D. and his chiseled jaw, pretty much not to think about him until one day I started writing about media and someone mentioned that this dude at
CBS was Canadian, did I know who he was? Did I ever — and so does every Canuck of a certain age (quoth one prominent Canadian: "I well remember JD, he did "lite" interviews of City and Much Music"). No longer a "lite" weight, now our Canadian Son has the gravitas to go with his grey* — but is it me, or does a trace if the handsome, boyish heartbreaker of yesteryear still linger in that manly jawline> Or am I eleven again? Who can tell over the frantic beating of my heart? Anyhow, fair readers, I figured you'd want to know, and see for yourself. There is magic that happens up in the snowy climes of Canada, if you let it.
Thanks to the anonymous reader who sent in this YouTube clip! In this interview with "Wall Of Voodoo" lead singer Stan Ridgeway , you can just hear a foreshadowing of White House Press Corps showdowns and hard-hitting exposes, if you cock your head just right.
(Um, I really hope this isn't creeping John Roberts out. I'm just kidding around, Canada isn't THAT snowy.)
Update: So apparently this was around earlier this summer and the evil, evil people at Atrios, The Politico and Inside Cable News selfishly kept it to themselves. Well, fine! THE WANTING MAKES THE HAVING SWEETER.
(No, seriously, it is just really too easy to be creepy. But I'm not. Mostly.)
Update to the Creepy Update: A reader tipped us off to this excellent post at All Things Anderson containing a virtual treasure trove of vintage JD Roberts fare (interviewing Strange Advance; emoting with Erica Ehm; sporting a muscle-showcasing neon-printed MuchMusic tee). We couldn't resist adding the two pics below, because he looks so much like Rex Smith (swoon) on the left and because the CityPulse Newsroom brings back warm childhood moments on the right. If you don't know who Rex Smith is, well then, I'm freaking old. (Sooner or Later? Anyone? Let him take your breath away here. Swoon. Er, 1980's thirteen-year-old-with-braces swoon.)
Update to the Creepy Update's Update: We originally, and incorrectly, stated that JD Roberts was the host of "Toronto Rocks" - not true, unless you count the times he guest-hosted as a fill-in, because he's a team player, dammit. He actually was the host of avant-garde music newsmagazine "The New Music" (and that's sort of like the difference between "Access Hollywood" and "60 Minutes"). Sorry, J.D.!
Popular in the Community