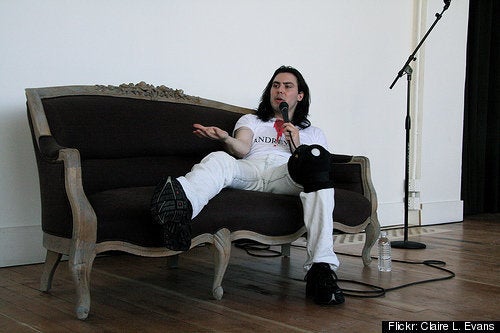 Tuesday night's sold out Ask Andrew W.K. Anything almost felt like an inside joke. Striking a note of high comedy for those on the inside, it infuriated those left out.
Rifling through his notes as if looking for a prepared statement, the hard-partying, motivational-speaking rocker addressed the question the evening was built on with the stutter of a scandalized politician in the midst of his swan song: "I am Andrew W.K., the same that has been here from the beginning... I am... I am, I am the same Andrew W.K. at this appearance as at all Andrew W.K.-related appearances."
Andrew W.K.'s career has long been rife with conspiracy. The accusations began with claims that W.K. is a persona manufactured by Steev Mike, a corporate marketer credited as executive producer on W.K.'s debut, "I Get Wet". Perhaps more consequently, lately the internet has been a-buzz with rumors of multiple actors playing "Andrew W.K.".
Early in the night, W.K. stipulated that he would not be able to answer some questions.
"I made promises in 1999 when I signed up for this, and I am going to hold to those promises for better or worse," W.K. commented. "The core of me has made promises to stay true to this vision."
This vision was best articulated later on, again with performance jitters, with W.K. asserting, "This is a party for the human race. This is a celebration where we blow our own minds. Everybody is allowed at the party I've started."
And this is a vision that W.K. has, to some extent, turned to reality with Santos Party House, of which he's a partial owner. In its three years, it has collected various NYC nightlife awards without employing the dress or appearance screening policies common in the nightlife scene.
If W.K.'s shifty, evasive demeanor that night wasn't a performance, it was received as such by most present. When asked whether it was indeed his voice on the Andrew W.K. albums, he paused and then briefly scurried off stage. This act came off as nothing but a perfectly-executed punch line.
Yet for every serious controversy-related questioner, there were several more jesters. Crushes, shopping habits and shampoo were all addressed, and one astronomy-savvy questioner even asked, "What do you think about dark matter?"
Andrew W.K. doesn't know much dark matter. To the rest, his notes showed that he has a lovely wife and a beautiful home. He only washes his hair semi-annually and doesn't shampoo. And he has an affinity for tailored suits inherited from his father -- which amounted to $150,000 spent on clothing since 2005.
Did the February 23 Ask Andrew W.K. Anything event, avant-comedy quality and all, address the many conspiracies that haunt Andrew W.K.? In short, no.
It did, however, prove the extreme genius behind Andrew W.K., the puppet or puppet master. And it's this genius that makes it impossible to find sinister in the man who bellows in the chorus of one hit, "I love... New York City. Oh Yeah! New York City!" What's there to hate?