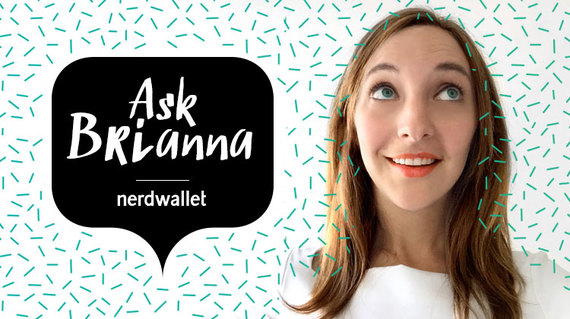 Welcome to "Ask Brianna," a Q&A column that helps 20-somethings prepare for the job search, handle money and manage student loans. Every other week, a new "Ask Brianna" will address these topics with tips I've picked up while writing about this stuff.
Have a question? Send it to askbrianna@nerdwallet.com, and I'll send back my best answer. Your question may appear in a future column.
You couldn't pay some college grads to go back to school. Working full time, and no longer having papers due or finals to study for, is too good to pass up. Others, myself included, soon feel an itch to go to grad school so they can learn something new, change a career or specialize in the field they chose in undergrad. When you start thinking about an advanced degree, a natural next question is:
I want to go to grad school but it seems really expensive. What's the best way to pay for it?

There's no one way to pay for grad school. Students often cobble funds together using savings, student loans, income from work (at the university and elsewhere) or an employer stipend if that's available. Since a lot of graduates interested in an advanced degree are still paying down loans from undergrad, it's perhaps most important to make sure grad school is the right decision before you apply.
Taking on more loans, and not earning full-time wages while you're in school, will have both short- and long-term effects on your finances. Here's how to make sure you're giving grad school the full consideration it deserves, and how to get the most from your money if you go.
Step 1: Pick a school you know you can afford
A big part of your decision will depend on the graduate programs available to you. Even a comparatively low salary after graduation can be feasible if you choose an affordable school.
I had thousands of dollars in student loan debt from undergrad at New York University when I made the tortured decision to go to grad school for journalism. Everyone told me I didn't need a master's degree to be a journalist, but I also knew I didn't have the experience to get a reporting job without one -- or the self-discipline to build my skills by freelancing on my own.
So I searched for a program that wouldn't cost a lot. I saved as much money as I could the year before I started school so I wouldn't have to take out loans to pay for living expenses. I lived in an impossibly tiny room in Brooklyn for too long because it was cheap. Looking back, I'm glad I chose to go to the City University of New York, a public school, because I graduated with almost no debt at all. I did this because journalism traditionally is not a well-paying field. I had to be realistic.
You can also consider moving to a place where your rent, food, transportation and other expenses will be lower when you decide to go to school. Affordable rent combined with in-state tuition at a public school may make your grad school choice more feasible.
Step 2: Exhaust scholarships and grants before you take out loans
You probably remember hearing this when you applied to college, but there's a huge number of scholarships available, some of which don't get a lot of applicants. Search for professional organizations focused on the field you're interested in, for instance, and see if they offer graduate scholarships.
To get access to federal, state and school-specific financial aid, including grants you don't need to pay back, fill out the Free Application for Federal Student Aid (FAFSA). It's available from Jan. 1 to June 30 every year, and the earlier you fill it out, the better chance you'll have of getting aid through programs that have limited funds. Complete it even if you don't think you'll qualify for need-based support; you never know what funding might be available to you. NerdWallet's FAFSA guide can help.
[Want more advice on money, student loans and life after college? Get it delivered straight to you weekly in the NerdWallet Grad newsletter.]
Step 3: Borrow only the amount you need
You'll also need to complete the FAFSA to be eligible for federal student loans. When you're accepted to grad school you'll get a financial aid award letter, which will include federal and private loans to cover the cost that scholarships, grants and your personal contributions won't. But you don't need to take the full amount of loans your school offers you.
Most grad schools will have an online portal where you accept your loans before they're disbursed to you. Consider whether you really need that amount of money, or if you can use savings or income from part-time work to cover some expenses. You also have 120 days to return loan money you've realized you don't need.
Minimize the amount of loans you take on by graduating on time, so you don't have to borrow additional money, and by paying the interest on your federal loans while you're in school. That will prevent the interest from capitalizing, or being added to your balance when your loans go into repayment.

Step 4: Pick the right student loan repayment strategy
When it's time to pay back your grad school loans, there are lots of ways to make your monthly bills manageable. If you have federal loans, you can choose from six repayment plans, some of which tie your monthly payments to your income. If you don't earn enough to afford the 10-year standard repayment plan, you can pay up to 10% of your income on income-based repayment or the Pay As You Earn plan instead. Your loans will be forgiven after 20 years of payments on those plans too.
Work in certain jobs after graduation and your student loans could also be forgiven. Public Service Loan Forgiveness cancels your remaining federal loan balance after 10 years of payments if you work as a teacher, nurse, firefighter or in other public service jobs. The government offers additional forgiveness programs for teachers who specialize in certain subjects or who work in low-income areas.
Finally, if you earn a steady income after graduation and have excellent credit history (or access to a co-signer), you can refinance your student loans to get a lower interest rate and monthly payment. This is especially useful for doctors, lawyers, pharmacists and Master of Arts grads, a recent NerdWallet study found. Although you can refinance both your federal and private loans, it's best to keep your federal loans separate if you plan to take advantage of the government's flexible repayment options or forgiveness programs. You'll lose those benefits when you refinance federal loans.
NerdWallet's resources will help you make sense of your grad school loans:
In the end, grad school might be a step you need to take to get you where you want to go. But as with most adult decisions you'll make, it's not one you want to jump into without thinking hard about your finances first.
Calling all HuffPost superfans!
Sign up for membership to become a founding member and help shape HuffPost's next chapter