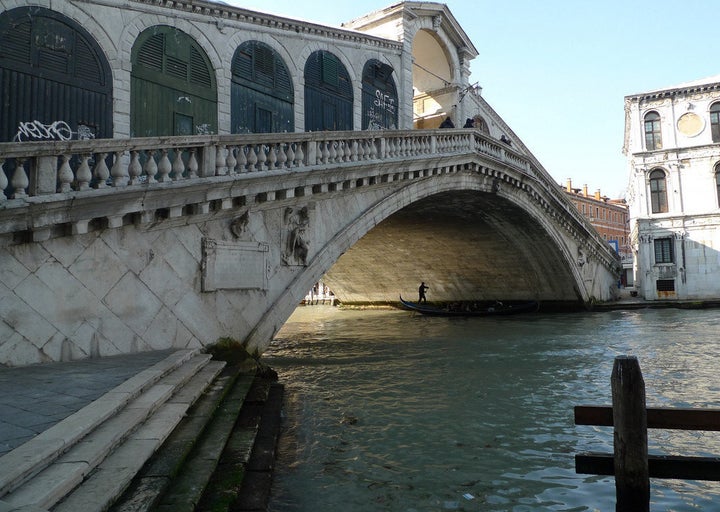 From time to time, the editors at Fathom answer letters from travelers in need of trip-planning advice. Founder Pavia Rosati shares notes from Italy 101.
Dear Fathom,

I've been all over, but never to Italy. (Embarrassing, I know.) We have two weeks, and we want to see as much as possible -- Rome, Venice, Tuscany, the Amalfi Coast -- but we also want it to feel like a vacation and see what la dolce vita is all about. And of course we want to get far off the typical tourist route.
For starters, no embarrassment. The important thing is that you're going. Italy is great for travelers. For seconders, those places you mentioned are pretty damn touristy. But for good reason: They're amazing. I've been going to Italy since before I could walk, and even the tourist-filled spots have their charms.
Logistics: Where to Begin, When to Go
Let's make this a top-down trip. Fly into Venice, work your way down to Florence and Tuscany, then to the Amalfi Coast, and leave from Rome. Or go from Tuscany to Rome and end your trip with a few days of total relaxation on the Amalfi Coast, with a flight home from Naples, the world's most incompetent airport.
As for when to go, avoid August at all costs. August 15 is the national holiday Ferragosto. Everyone takes vacation in the surrounding weeks, prices at holiday resorts shoot up, and the cities become a wasteland of "closed" signs. Winter can get foggy and dark, which makes for moody fun, especially in Venice, but Italy is at its loveliest in May, June, and October.
The trip will be an intensive crash course in Italy, with frenzied city visits mixed with mellow countryside days. I'll write less about the big cities and more about the less likely stops.
Two Days in Venice
Except in the dead of winter, Venice is a madhouse, a frustrating, tourist-clogged mess. But it's Venice, and it's breathtaking, even as you're cursing it under your breath. You'll see splendid St. Mark's, a glass-blowing demo in Murano (I did this last year at the Seguso factory and loved it; they were making glass fronds for a chandelier destined for the new Wynn casino in Vegas), get lost wandering the tiny warren of streets, and eat lots of seafood and cichetti (small plates).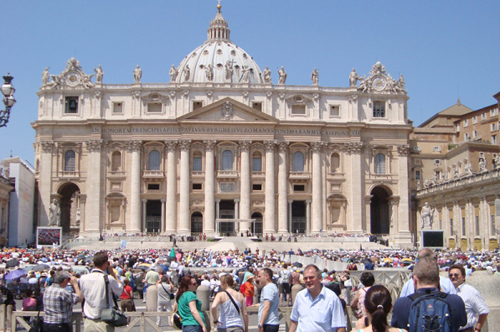 One-Two Days in Bologna
Not usually hit on the whirlwind first tours of Italy, but Bologna is a great stop en route from Venice to Florence. Bologna is my favorite city in Italy, a microcosm of what makes Italian cities great: The food is incredible, the politics are a fantastic mixture of communist and haute bourgeoisie, the porticos are made for long passegiatas. The hotel I like best is Corona D'Oro. The other reason to come here is to see a big small city. Which is to say that the other cities you'll visit, Venice and Florence and Rome, are more touristy, and you'll get a different perspective in a city with fewer travelers but just as rich a cultural patrimony.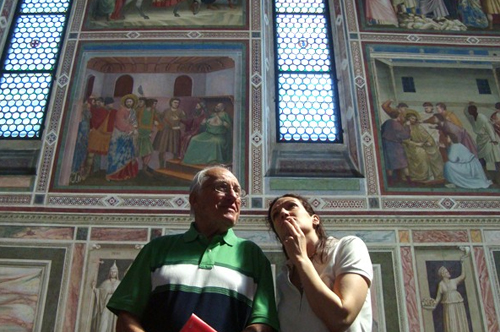 Padova
An option from Venice is a day trip to Padova, which is 40 minutes west by train and a must for art lovers. Giotto's Scrovegni Chapel is a mini Sistine Chapel, and it was restored to magnificent splendor a few years ago. The frescoes tell the life cycle of Jesus and Mary, and the damnation hell tableau would put Hieronymous Bosch to shame. This isn't a full day; it's an afternoon detour en route south, and be sure to make reservations before you go. But while you're in Padova, stroll Piazza della Frutta ("fruits") and Piazza delle Erbe ("herbs"), have a zabaglione at Caffè Pedrocchi (Stendhal considered it Europe's best cafe) and the incredible food stalls under il Salone, the massive Palazzo della Ragione ("justice"). Padova is a full day if you want to make a foodie side trip to Le Calandre, the three-Michelin star restaurant in Rubano outside Padova. Chef Massimiliano Alajmo is a star of Italian cuisine for his avant-garde tweaks on traditional Italian cuisine.
Two Days in Florence
Florence is a small jewel box: totally walkable, charming, compact. Amazing art, architecture, churches. Your first reaction will be, of COURSE the Renaissance was born here.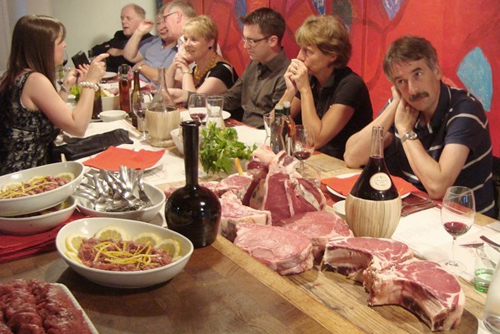 Two or Three Days in Tuscany
How much do do you want to chill out? Tuscany is a series of sweet and picturesque little hamlets. None can really lay claim to greatness over another, much as the Tuscans will try to convince you that their town is the best. The most touristy towns are San Gimignano and Lucca. Siena is cute, but that's really all I have to say about it. (Mine is a minority opinion. Everyone else adores Siena.) I love what I found in Panzano on my first visit to Tuscany, and I keep going back. Villa Le Barone is a family-run inn with beautiful vineyard views. Dario Cecchini owns the butcher shop in town. He's a leading, if controversial, force in the Italian food scene, and I just love him. He has two restaurants, Officina della Bistecca (the Steak Workshop) and Solo Ciccia. Both are convivial, no-menu, eat-too-much restaurants. (Read more on Fathom: Big Night in a Tuscan Butcher Shop.)
Logistics: Trains and Cars
You will have done the trip thus far by train. Trains in Italy are easy and convenient and not too pricey. There are high-speed or local options between big cities, and stations are usually in the center of town. Don't worry if you hear talk of sciopero -- "strikes" which happen frequently and are usually resolved within a day. (It's Italy; the chaos will make for charming stories when you're back home.)
It will be easier to rent a car to potter around the Tuscan hillside, especially if you like driving. A meander from Florence to Panzano on route 222, then Panzano south on the 408, then farther south on the 326 and 146 is a beautiful way to spend a day or two. Further down in Tuscany you'll find beautiful towns like Castelnuovo Bernardenga, Sinalunga, Pienza, Bagni Vanoni, and Montepulciano. Drive around, stop for lunch, potter some more. Lazy and easy is the agenda. Depending whether you want to end your trip in Rome or on the Amalfi Coast, you can drive down to the Amalfi Coast and keep the car to explore the area, or return it in Rome. For me, half the thrill of Italy is the driving, and why deny yourself the fun?
Two or Three Days in Rome
Rome will require a few intense days of museums and churches and sites. You don't have to go far to find them: Rome's ancient walls are on view at the Termini train station. The hotels to book are Casa Howard or Hotel Locarno. Wake up early to see the Vatican before crowds hit, go to the Forum and use an audio guide because it's engaging and you need help making sense of the crumbling columns, go to the Coliseum. I never come to Rome without eating gnocchi alla gorgonzola at Fortunato al Pantheon, snacking at 'Gusto, and eating as many meals as possible at Roscioli.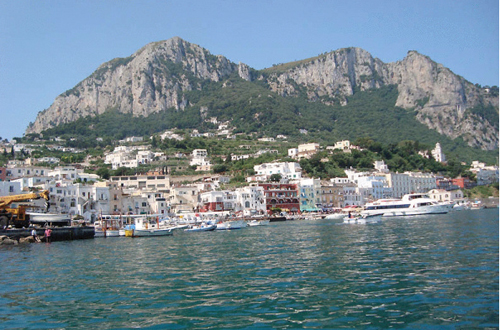 Lo Scoglio
Lo Scoglio in Nerano is a slice of heaven on the Amalfi Coast, and I visit at least once a year. It's a family-run restaurant and hotel in the Sorrentine Peninsula, perched on the water two coves over from where the Bay of Naples meets the Bay of Salerno. I like to go uphill to Don Alfonso for meals, a stay, and cooking classes to get a fancier version of the Amalfi living. You can go to Pompei from here, as well as Positano, Amalfi, and Ravello, but you should avoid Sorrento because there's really nothing good there except a train station to get in and out. Of course, you could stay put and never leave the Lo Scoglio compound. Life gets easy when it turns into an endless procession of risotto pescatora or spaghetti with fresh clams and the freshest vegetables you've ever had.
And then you go home. Depending how you do it, this is 10-12 days. It's Italy 101 to be sure, and I've left out Umbria, the Marche, Puglia. Stay tuned, because we'll be covering all these places very soon. But don't expect to get enough: Italy will always leave you wanting to come back for more.

Need more help planning your trip to Italy? Visit Fathom.
Related