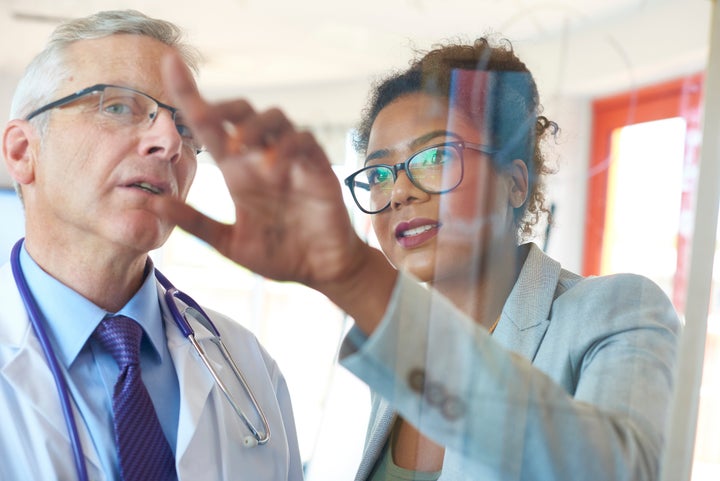 Two years ago, when actress-singer Rita Wilson was 58, she underwent a double mastectomy and had this to say about it: Getting a second opinion saved her life.
Wilson was right to insist on a second opinion, according to a Mayo Clinic study released this month. Of 286 patients who sought a second opinion from the clinic over a two-year period, 88 percent received a diagnosis that was either modified or completely different from the first one they received. Sixty-six percent of patients received a refined diagnosis and 22 percent received a completely different one, the study found.
Only 12 percent received confirmation that their original diagnosis was complete and correct.
"Knowing that more than 1 out of every 5 referral patients may be completely [and] incorrectly diagnosed is troubling," Dr. James Naessens, the study lead and a health care policy researcher at Mayo Clinic, said in a statement. "Not only because of the safety risks for these patients prior to correct diagnosis, but also because of the patients we assume are not being referred at all."
The study involved patients with provider referrals for a second opinion, meaning their first diagnosis was serious or complicated enough to warrant more attention, Naessens said.
"Either the provider felt it was important to get additional information or they agreed to facilitate the referral for the patient," Naessens told HuffPost.
"Our study should not be interpreted to say that 20 percent of all diagnoses are wrong," he said. "However, it is also important that health care reform efforts do not prevent patients from getting second opinions when their providers feel they need further study or when the patient is not responding as they expected."
The study, published in the Journal of Evaluation in Clinical Practice, examined the records of 286 patients referred by primary care providers to Mayo Clinic's General Internal Medicine Division in Rochester, Minnesota, from Jan. 1, 2009 to Dec. 31, 2010.
Second opinions are on the decline.
In Wilson's case, she has an underlying condition of lobular carcinoma in situ, abnormal cell growth that was being monitored through yearly mammograms and breast MRIs. In a breast biopsy, she was told that the pathology showed no cancer ― and was greatly relieved.
But a friend who had had breast cancer strongly urged Wilson to get a second opinion anyway. The second pathologist found invasive lobular carcinoma, and yet another pathologist confirmed his diagnosis.
"I share this to educate others that a second opinion is critical to your health," Wilson said. "You have nothing to lose if both opinions match up for the good, and everything to gain if something that was missed is found, which does happen."
"You have nothing to lose if both opinions match up for the good, and everything to gain if something that was missed is found."
Seeking a second opinion was once considered routine advice for any serious diagnosis. But for several reasons, that's not always the case today.
One reason is that health insurers often restrict patients to care within their provider network, effectively limiting referrals in an effort to manage costs.
Patients' reluctance to seek a second opinion is often based on finances, according to Erin Singleton, chief of mission delivery at the Patient Advocate Foundation, which helps people with financial assistance related to second opinions.
"It may be that the MRI that they want to do again won't be approved," Singleton said. Many insurers won't pay for diagnostic or other tests to be redone, she noted to NPR.
Patients who see an out-of-network specialist for a second opinion may encounter significantly higher out-of-pocket costs, particularly if they subsequently want to receive treatment from that provider.
They may also use online second opinion sites like the Cleveland Clinic's MyConsult service, which is one of the most recognized. Getting a second opinion from MyConsult costs $565, plus $180 if a pathology review is required. The service does not accept Medicare or any private insurance at all ― just credit cards or checks ― though patients can submit their bills for reimbursement if they have out-of-network coverage.
Another reason primary care providers don't send more patients for second opinions is that they "may be more confident in their diagnostic expertise than warranted," according to the Mayo Clinic study.
In other cases, patients may lack the knowledge or assertiveness to request a referral, said the study. Some patients are reluctant to challenge their doctor's knowledge.
But the consequences can be major. Failing to seek second opinions "may prevent identification of diagnostic error, and could lead to treatment delays, complications leading to more costly treatments, or even patient harm or death," says Naessens.
Conversely, getting second opinions could lead to quicker access to lifesaving treatment or stopping unnecessary treatments, the study noted.
Other studies affirm the value of a second look.
Past research also suggests that seeking multiple opinions often impacts the treatment course.
In a 2006 University of Michigan study of breast cancer patients, more than half of participants changed their treatment approach after getting a second opinion from a "tumor board" of oncologists, surgeons and radiation experts.
Another study that reviewed the biopsy slides of 6,171 patients referred to Johns Hopkins medical institutions for cancer treatment found that 86 patients had diagnoses that were significantly wrong and would have led to unnecessary or inappropriate treatment. While the error rate was low ― 1.4 percent ― it is not insignificant. Across the country, it could add up to an estimated 30,000 mistakes a year.
The Mayo Clinic researchers also identified the costs associated with second opinions and found that they were significant. "Total diagnostic costs for cases resulting in a different final diagnosis were significantly higher than those for confirmed or refined diagnoses," Naessens notes, "but the alternative could be deadly."