Creative Commons has announced the release of the Public Domain Mark. Artists and others are using multiple images from the web for just about every conceivable purpose including making artwork. Now, the new mark can be attached to images that are free of copyright and are a part of the public domain.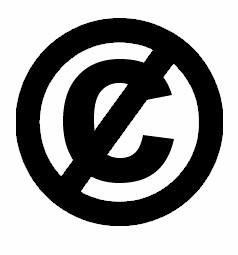 The New Public Domain Mark
Even with creative commons searches for images, it is not always clear if those images are copyrighted. With this new mark, we will no longer be guessing. The symbol is the traditional copyright symbol with a slash through it. Think copyright symbol meets the international "no" symbol.
Just to be clear, an image becomes a part of the public domain when their copyright expires or when the artist or creator decides not to copyright and make it part of the public domain. What this means is that people can use the image themselves as is, modify it, or distribute it freely. You do not need permission to use a public domain image. Commercial use of the image becomes possible.
Europeana -- Europe's digital library, museum and archive -- is the first major adopter of the Public Domain Mark. It is announcing the launch at the European Open Culture 2010 Conference, Oct 14-15. The PublicDomain Mark, to be used for marking works already free of copyright, complements Creative Commons' CC0 public domain dedication, which provides an easy and reliable way for adding new works to the public domain prior to the expiry of copyright.
"The Public Domain Mark is a further step on the path towards making the promise of a digital public domain a reality," said Michael Carroll, a founding board member of Creative Commons and a law professor at American University. "Marking and tagging works with information about their copyright status is essential. Computers must be able to parse the public domain status of works to communicate its usefulness to the public. The metadata standard underpinning the Public Domain Mark and all of CC's licensing and legal tools are what makes this possible."
For artists and others, this opens up a clearer distinction of copyright. So watch for this symbol to become a part of your online life, and happy hunting for images.
Related
Popular in the Community