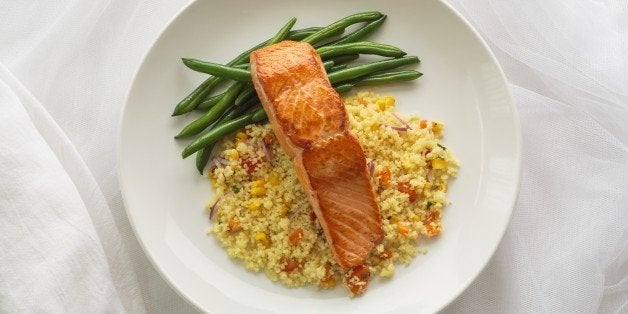 Dear JJ: Around this time of year, I feel a sudden pressure to tackle everything at once to ditch those last 20 pounds before beach season. Inevitably, I end up crashing. I heard you recently describe simple food shifts to lose weight. Could you explain those here?
"I just became overwhelmed with everything, said 'to hell with it,' and devoured my best friend's lemon tart," a reader recently confessed, recalling how tackling a new diet plan that included exercise, supplementing, and a slew of other weight-loss tactics quickly left her feeling overwhelmed and defeated.
Mind you, all of these strategies are perfectly legitimate, but too many become information overload that usually backfires during an 11 p.m. butter pecan freezer raid. We've all tried to do everything at once when it comes to fat loss, and usually it leaves us defeated and swearing at the scales.
Big changes happen from seemingly small strategies, and rather than overwhelm you with a herculean list of obligations to get lean and healthy by summer (or really, any time), I want to propose three simple shifts that can simplify fat loss.
Shift your meal timing.
• Have a protein-rich breakfast (my favorite is a shake) within an hour of waking. One study among adolescents found a high-protein breakfast prevented weight gain and curbed hunger throughout the day.
• Eat every four to six hours with lean protein, healthy fats, non-starchy veggies, and slow low carbs like quinoa. Have a substantial dinner and then close up the kitchen about three hours before bed.
• Minimize snacking, which studies show can stall fat loss.
• If you want to step things up, try intermittent fasting. You'll find lots of ways to do this. My favorite involves having a big breakfast and lunch, then skipping dinner a few times each week, which creates a 16 - 18 hour "fasting" - read: fat burning - window.
Shift your environment.
• Plan ahead and minimize trigger situations. If you know you're attending a big dinner, arrive pleasantly full rather than starving and grabbing the nearest high-sugar impact concoction. If you've got to try something sweet, try three polite bites and step away from the dessert!
• Keep the enemy out of the house, whether that means homemade chocolate chip cookies or even healthy stuff like almond butter if you overeat it.
• Keep healthy food at eye level. One study with 96 college kids put fruit and veggies in clear or opaque bowls either nearby or about seven feet away. Most gravitated to the closer bowls.
• Surround yourself with like-minded people whose focus involves lean and healthy, not nose diving into chips and salsas with margaritas. One study proved what we all know: Our friends can become good or bad influences regarding food choices. And support groups - including online groups - can help you better stick with your fat loss plan.

Shift your food.
• Practice lateral shifts, or healthier options for your favorite foods. Be creative and any food can work. So instead of mashed potatoes, try faux-tatoes (mashed cauliflower with ghee and salt).
• Add before you take away. Rather than say "I can't eat this," add nutrient-dense, high-fiber foods. Any time you remove something, you've got to add something else. Fill up on the good stuff, and you won't want the bad stuff. Green tea, fiber, high-protein foods, and non-starchy veggies are among my favorite "adds" to crush cravings and hunger.
• Become a sugar sleuth. Pinpoint and eliminate hidden sugars in so-called healthy foods like fruit-on-the-bottom yogurt. (I've identified nine more suspects here.)
• Eliminate food intolerances. Soy, gluten, and other highly reactive foods (that unfortunately even hide in "healthy" foods) can stall fat loss even when you're doing everything else correct. Try an elimination diet for three weeks and see if those common offenders aren't hijacking weight loss. One animal study found a gluten-free diet could reduce body fat, inflammation, and insulin resistance.
Popular in the Community