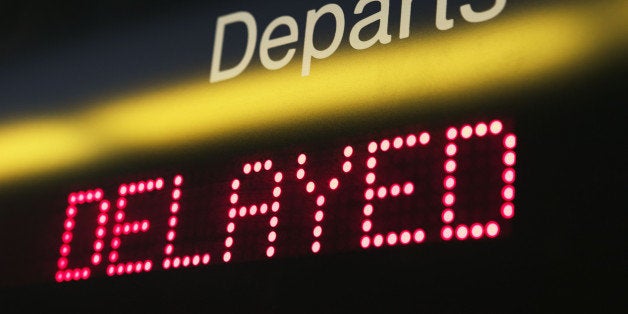 Dear JJ: You're on the road a lot. Airports and roadside diners are hardly the place for healthy eating. How do you make the best choices when you're traveling?
Roughly half the year I'm traveling, so I understand how making smart choices when you're on standby, stranded at your carb-loving in-laws, or when your only options include fast food isn't always easy.
Over the years I've encountered every travel-related dietary debacle you can imagine. That doesn't mean you've got to nose dive into a sloppy bacon cheeseburger or otherwise abandon dietary logic. The path of least resistance when you travel usually backfires around your waistline.
A little planning can become your biggest ally here. You wouldn't forget to pack clean underwear or your medications. Make healthy, portable foods like slow-roasted or dehydrated almonds an equal priority.
My friend Mark Hyman, M.D. always carries what he calls an emergency pack. Mine includes a low-sugar impact green drink powder, green tea, dark chocolate, and nitrate-free beef jerky. That way, you always have healthy options if your flight gets delayed or your client dinner suddenly becomes postponed two hours.
More adventurous travelers might also opt for aseptic-packed wild salmon, hard-boiled eggs (if you don't have food intolerances), kale chips with guacamole, and turkey and avocado in Romaine wraps. You should have no problem getting those through security, and a small cooler keeps them fresh for hours.
You can usually find a few healthy food options on the go. Most airports now have design-your-own-salad places, and you can find a grilled chicken breast with a side salad at most fast-food place and diners. Just don't mess up an otherwise-healthy salad with sugary, creamy dressings and high-sugar impact toppings.
Whether I'm at a conference or taping a TV show, breakfast often becomes the biggest on-the-road obstacle. Succumbing to a stale low-fat muffin and high-sugar impact latte become all too easy when those are your only options. That's why I always travel with protein powder and little containers of unsweetened coconut milk. Whipping up a protein shake saves time, money, and calories.
I also scout out health food stores or other hot bar options, where you can create a simple meal for far less than you'd pay at your hotel restaurant.
When you dine out on the road, make lateral shifts. Some ideas include swapping another veggie for the starch, sending back the breadbasket for olives, and being very specific with your server about food intolerances and other modifications.
Healthy travel food options will always present more of a challenge than cooking at home, but a little creativity coupled with pre-planning can make on-the-go eating simple and stress-free.
What healthy-travel strategy would you add to this plan? Share yours below. Keep those wonderful questions coming at AskJJ@jjvirgin.com!
Popular in the Community